BBG Watch Commentary
Radio Free Europe / Radio Liberty (RFE/RL), which together with the Voice of America (VOA) and other U.S. taxpayer-funded international broadcasters is overseen by the federal Broadcasting Board of Governors (BBG), has joined VOA in posting online a highly partisan, one-sided anti-Donald Trump video. RFE/RL posted its video on the website it shares with VOA for their joint Current Time TV program in Russian.
The RFE/RL anti-Donald Trump video is slightly different from the VOA video, which was Hillary Clinton's television commercial against Donald Trump versioned and subtitled by VOA at taxpayers' expense in Russian. The RFE/RL video contains a number of anti-Donald Trump statements translated into Russian from Hillary Clinton's recent speech. No attempt is made in this particular RFE/RL video to present Donald Trump's views on Russia which were criticized by Hillary Clinton.
Critics have said that the dysfunction and mismanagement are spreading from the Broadcasting Board of Governors in Washington to the previously better-managed RFE/RL in Prague, Czech Republic. RFE/TL is a non-federal entity under the BBG. BBG and VOA are federal entities.
Hillary Clinton had called the BBG "practically defunct" in 2013 when she was Secretary of State and an ex officio member of the bipartisan BBG board. These editorial failures have continued under new BBG CEO John Lansing and new VOA director Amanda Bennett and deputy director Sandy Sugawara. RFE/RL has not had permanent leadership for over two years.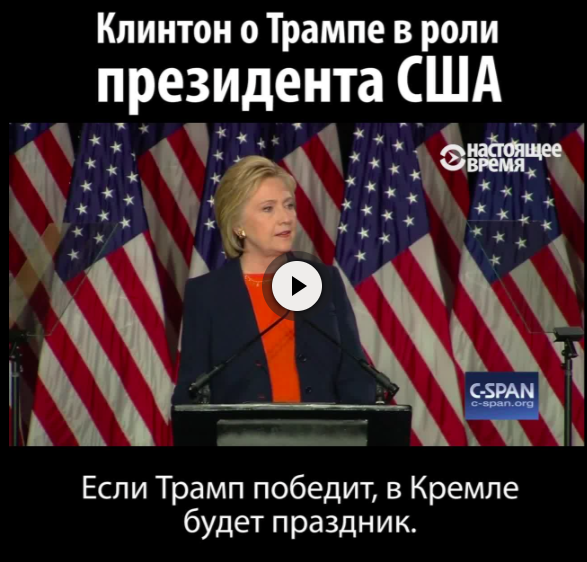 A journalist working as a U.S. government employee for the taxpayer-funded Voice of America has been reported posting anti-Donald Trump memes on her personal but publicly accessible Facebook page. One was a GIF with a Nazi swastika swinging over Mr. Trump's face. The journalist, who collects a government salary, self-identifies on her Facebook page as a Voice of America employee.
Commentator Sierra Rayne writing in American Thinker reported that "[o]ne of VOA's flagship programs is Issues in the News, where "[p]rominent Washington correspondents discuss topics making headlines around the world," has two American journalists who should be balancing one another but who are both strong critics of Donald Trump.
The VOA Charter, which is U.S. law, states that "VOA news will be accurate, objective, and comprehensive,". It also states that "VOA will represent America, not any single segment of American society, and will therefore present a balanced and comprehensive projection of significant American thought and institutions." The VOA Charter does not apply to RFE/RL which has its own editorial guidelines to ensure balanced news reporting.
Other RFE/RL and VOA reports on the U.S. presidential campaign have been balanced, but some are not. These two videos are completely one-sided and lacking any balance whatsoever. After seeing the VOA video, a foreign viewer was wondering whether U.S. law allows VOA to engage in partisan electioneering and posted a comment on Facebook to that effect. The answer is that the U.S. law does not allow this kind of one-sided reporting by VOA.