BBG Watch Commentary
Resistance to reforms from the entrenched bureaucracy equals not enough respect for Voice of America (VOA) abroad and in Washington, an Asian newspaper and a former VOA journalist concluded.
The Straits Times, a Singapore-based English-language daily, reported about "Voice of America's (VOA) short-wave broadcasts to Asia abruptly going off the air, raising howls of protest from many of the US government-funded broadcaster's listeners across the region."
THE STRAITS TIMES: "But as the broadcasts had already been greatly diminished, this was not a surprise. The big Western radio broadcasters have gradually ceded the political "soft power" space they once dominated to a new heavyweight: China Radio International (CRI).

In recent years, Radio Canada International and Radio Netherlands Worldwide have shut down while the British Broadcasting Corporation (BBC) and VOA have cut back on their range of languages and hours of programming. Now, the VOA has left Asia."

"Reach of short wave

From the high mountains of Nepal to the rice fields of Sumatra and Sri Lanka, the distant sound of a voice or music that you hear in the silence of late evening still comes from a radio. Hundreds of millions of people across half the planet still rely on little radio sets, which far exceed television sets and vastly outnumber Internet connections, to keep informed."
See more at: Western radio broadcasters tuning out – They are ceding the short-wave, or political 'soft power', space to China instead, By Nirmal Ghosh, Indochina Bureau Chief In Bangkok, The Straits Times, July 27, 2014.
As the executives in charge of the Broadcasting Board of Governors' (BBG) International Broadcasting Bureau are eliminating VOA's radio reach, they have failed together with VOA executives to develop VOA's reach and audience engagement through digital media.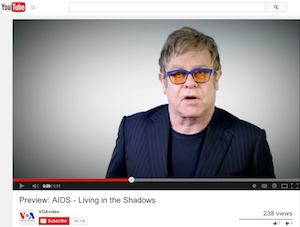 A recent promo for a VOA Special Video on AIDS introduced by Elton John showed last week less than 250 YouTube views while one of Russia's RT news videos posted even later than the VOA AIDS special had over 700,000 YouTube views.
VOA Preview: AIDS – Living in the Shadows Video with an introduction by Elton John was posted by VOA on YouTube on July 15. Ten days later, on July 25 as of 7:30PM EDT, the VOA video had only 238 YouTube views.
Russia's RT YouTube video: RAW: Moment of MH17 Malaysia Airlines plane crash in Ukraine caught on camera, posted on July 17, shows 776,008 YouTube views as of July 25, 7:30PM EDT.
RT news videos regularly get tens of thousands of YouTube views; VOA videos a few dozen or at best a few hundred.
"Former VOA Staffer" responded to BBG Watch question as to how long "U.S. taxpayers would continue to pay for VOA English News that has fewer Twitter followers (slightly over 100,000) than the UN Peacekeeping Force and multiple times fewer than other English-language media outlets, even nearly ten times fewer than the U.S. State Department Twitter which has almost one million Twitter followers?"
Former VOA Staffer: "Just as BBG Watch has questioned BBG audience data, I would question use of Twitter followers as the best metric to assess VOA effectiveness. That said, it is sadly true that the VOA English website offers no real reason for anyone to follow it. I submit that is because it is NOT run by Central News or professionals who understand the true function of U.S. International Broadcasting: to serve audiences who need access to uncensored information, including information about U.S. policies."
Another former VOA staffer has accused BBG Watch of trying to damage Voice of America' reputation by raising such questions.
Gary Thomas: "It is truly sad that the effort to make needed reforms has been hijacked by extremists (many of whose commentaries appear on this website) who rejoice at seeing their blind hatred of the Voice of America embodied in legislative form."
And yet, if it were not for BBG Watch, the Broadcasting Board of Governors Chairman and members may have not learned how International Broadcasting Bureau (IBB) and Voice of America executives have shown contempt not only for VOA audiences in Asia, abandoning them without any warning to China Radio International, as reported by The Straits Times, but also for VOA program hosts who were not even given time to say proper good bye and thank you to their listeners.
Thank you shortwave listeners of Daybreak Asia and China Focus. I had less notice we're off the air than many of you. #blindsided

— Jim Stevenson (@VOAStevenson) June 29, 2014
Apologies China Focus shortwave listeners that @VOAWilliams and I were not allowed to say goodbye to you on the air. http://t.co/CvHjIOytls

— Jim Stevenson (@VOAStevenson) June 30, 2014
#VOA will abruptly cease English language shortwave #radio transmissions to #Asia after tomorrow (Monday).

— Steve Herman (@W7VOA) June 29, 2014
Exchanges about these controversies can be seen under a commentary by The Federalist: Voice of America Reform – Wishful Thinking Versus Reality, BBG Watch, July 25, 2014.
Dan Robinson, former Voice of America senior White House correspondent, former foreign correspondent, and former VOA service chief, has offered his own commentary. Whether it's radio broadcasts or digital social media platforms, Voice of America needs reforms to regain respect because it still fails to cover news and engage audiences.
Resistance to reforms equals not enough reach and respect for Voice of America
By Dan Robinson
"Former VOA Staffer" observes that it is "sadly true that the VOA English website offers no real reason for anyone to follow it". . . .

Mismanagement of VOA English web operations, for years based in the VOA central newsroom in a bizarre and inefficient exercise of bureaucratic bumbling, is among the many factors that came to the attention of members of Congress, in large part due to the efforts of BBG Watch.

"Former VOA Staffer" asserts that the web operation was not run by Central news or professionals. True in one sense. The English web operation some years ago came under the control of alleged Internet/Web experts whose primary concern was producing the highest metrics figures, and who merrily proceeded to eliminate the voices of VOA correspondents from reports posted on the English website.

It's also a fact that the English web desk has been under the bureaucratic control of long-time VOA managers frequently promoted by the VOA/IBB leadership.

The so-called Internet/Web experts presided over numerous embarrassments, notably major breaking news stories delayed for multiple hours, or not being updated. Rewarded with promotions, these experts were recently given the responsibility by the VOA director and his deputy of presiding over the latest "reorg" of Central News. Apparently (according to a written account by one VOA broadcaster), one of them had no idea that VOA still put out English newscasts 24 hours a day.

And it's also a fact that the English web desk was run for much of the past year or so, by newsroom staffers, one of which was a former correspondent and editor, another a former newspaper journalist with short VOA experience, brought over from the main newsroom in a desperate attempt to (supposedly) make the web desk more efficient.

"Former VOA Staffer" correctly observes that it has been a "huge mistake" for VOA's website to try to compete with other major news outlets. Again, it is none other than BBG Watch that repeatedly drew light to other media organizations ability to routinely leave VOA in the dust, even on major U.S. domestic stories. Those "extremists" at BBG Watch — at least in this respect they revealed the emperor to be truly naked.

The observation of VOA web dysfunction in comparison with the State Department, White House or other Twitter government and news media accounts is accurate. But another observation by "Former VOA Staffer" deserves attention, as it underscores how far down the ladder VOA plummeted when it comes to respect within the corridors of official Washington.

This former staffer suggests that if U.S. officials "were encouraged to give VOA reporters first access to news or more exclusive interviews or provide sources with groundbreaking news, then VOA's reputation would soar."

Forget it, to put it bluntly. Things are too far gone. Any sudden renaissance that might bring a flood of sudden interview offers or access, should be treated with suspicion because not enough has been done in the Cohen Building to repair the shattered reputation of the BBG/IBB and VOA.

More likely, any sudden wave of respect for VOA and USIB/USIM would likely be the result of back-channel appeals by the VOA director and IBB officials — which by the way only serves to emphasize the extent to which VOA and government-funded media are, in fact, intensively intertwined with the foreign policy and national security structures of the U.S. government.

Remember, a key criticism by opponents of HR 4490 has been that the legislation would make VOA an "arm" of the State Department. The next time someone on the 3rd floor of the Cohen Building sends an email to State or picks up a phone, suggesting that BBG/IBB be given some special access to an official, or be used to "get the word out" in some conflict zone, remember this rallying cry of the anti-HR 4490 crowd.

"Former VOA Staffer" also suggests that VOA executives do more to press reporters to "break stories". You can't separate the two issues.

There is still not enough respect for VOA or for that matter other US international broadcasting journalists to get USIM/USIB to the point where it will enjoy anything approaching the level of access of mainstream media.

I participated in meetings with VOA managers who cluelessly enjoined correspondents to obtain "scoops" that were simply not possible because quite simply, the reputation of BBG had fallen so far as to completely rule out such favors by official Washington.

Of course, the next time VOA actually is granted an interview with the Secretary of State, Secretary of Defense, or even with President Obama — whose staff have studiously avoided giving BBG entities another interview opportunity with him since the one granted in 2011 — VOA executives will undoubtedly crow about it: VOA EXCLUSIVE INTERVIEW WITH PRESIDENT OBAMA!

And the existing IBB/VOA crowd will thus justify their SES or GS14/15 salaries for another year, though nothing actually will have changed in terms of longer term respect for VOA in official Washington. As VOA's former Pentagon correspondent (who moved to the White House after I departed earlier this year) quoted a high-ranking military official saying: "You guys have no [expletive] reach!"