USAGM Watch Commentary
By Ted Lipien
Russian President Vladimir Putin thinks that he can silence Radio Liberty in Russia. He can't. Radio Liberty is known in Russia by its Russian name Radio Svoboda. Putin's latest actions will only make Radio Free Europe / Radio Liberty (RFE/RL) stronger in its journalistic message and Radio Svoboda more popular because it is needed now in Russia more than before his new attempt to muffle independent journalism. But RFE/RL will need help from American taxpayers, the U.S. Congress, and the Biden administration to emerge stronger and bolder from this crisis.
Friday (May 14, 2021) morning, Russian court bailiffs arrived at Radio Free Europe/Radio Liberty's (RFE/RL) bureau to notify the organization about the beginning of enforcement proceedings against the company for unpaid fines.
Responding to this latest action by the Russian authorities against Radio Liberty (Radio Svoboda), RFE/RL President Jamie Fly criticized the Kremlin's intensifying attacks on independent media. He also refuted recent Russian Foreign Ministry claims that "foreign agent" labeling laws, which are intrusive and punitive beyond anything compared to foreign media registration requirements in the United States, were somehow reflections of "media pluralism" within a "truly free society."
"RFE/RL's journalists in Russia are patriotic Russian nationals – not Americans," Fly said. "They provide independent news and information so their fellow citizens do not 'get used to untruth and living …live in lies,' as one of these journalists recently put it. RFE/RL will continue to fight these desperate attempts by the Kremlin to censor uncomfortable truths. We will not be silenced by these heavy-handed tactics and we will not abandon our Russian audience."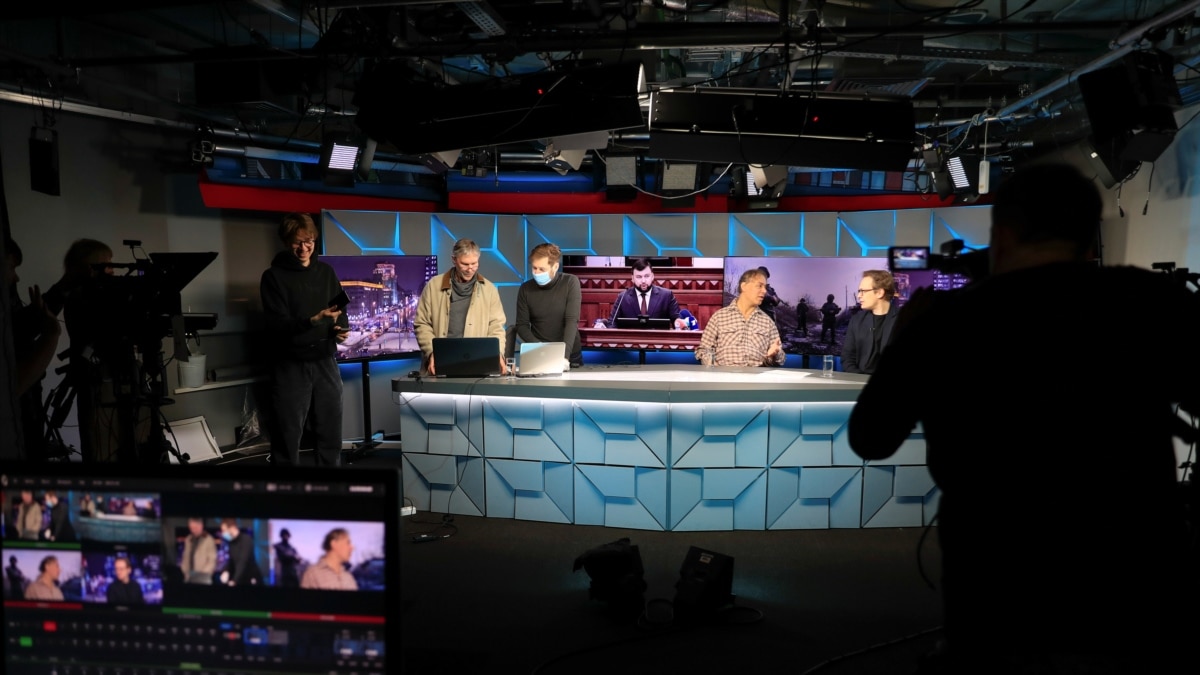 RFE/RL's Russian Bank Accounts Frozen Following Bailiffs' Visit to Moscow Bureau
RFE/RL's bank accounts in Russia have been frozen following a visit by court bailiffs to the U.S. agency's Moscow bureau.
Former RFE/RL presidents and journalists have expressed their support for Radio Liberty and for RFE/RL President Jamie Fly for resisting the blackmail by President Putin.
I'm encouraged to see that Jamie Fly, my predecessor and successor as RFE/RL's president, has strongly rejected the latest court fines against the U.S. tax-funded international multimedia broadcaster, but the Biden administration and Congress will have to do much more to counter Russian authorities' attempts to undermine the work of Radio Liberty journalists. The White House and Congress need to agree on a rescue package to continue RFE/RL's news coverage from Russia if its staff reporters and some freelancers have to leave the country to avoid going to prison. … Radio Liberty's dedicated and courageous staffers deserve the best treatment from their American employer. Congress may have to move quickly to provide additional funding to pay for any relocation costs and to compensate for new hardships.
Putin is blackmailing US taxpayer-funded Radio Liberty
Radio Free Europe/Radio Liberty, where I served briefly as president and CEO until earlier this year, is under assault by Russian President Vladimir Putin.
Ted Lipien is a journalist, writer, and media freedom advocate. He was Voice of America's Polish service chief during Poland's struggle for democracy and VOA's acting associate director. He also served briefly in 2020-2021 as RFE/RL's president. He is a co-founder of USAGM Watch.