BBG – USAGM Guest Commentary
RFE/RL from Headline to Impact

By Ted Lipien

How a U.S. taxpayer-funded media entity achieves a pro-Iran regime "Hate America" impact.

Scandal-ridden Radio Free Europe / Radio Liberty (RFE/RL) seems to have perfected the art of presenting Iran regime propaganda to achieve the kind of international impact Iranian Mullahs could only hope for from their own media but now get it, paid for by U.S. taxpayers, from the mismanaged U.S. Agency for Global Media (USAGM) which funds and oversees RFE/RL.
The RFE/RL headline, "Iran Condemns IRGC Blacklisting, Accuses U.S. Of 'Global Terrorism'," the body of the RFE/RL report giving extensive airing to Iran regime propaganda without an effective challenge, and especially the last sentence about killing American soldiers, all contribute to the overall "Hate America" message.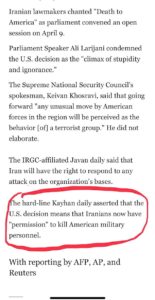 FROM RFE/RL REPORT: "The hard-line Kayhan daily asserted that the U.S. decision means that Iranians now have 'permission' to kill American military personnel."
If this was not enough, RFE/RL editors put their story on Facebook. For even greater impact, they included this Iranian regime quote as the introduction to their Facebook post: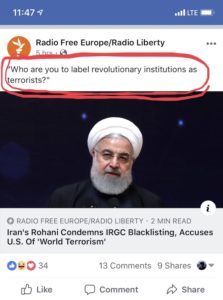 RFE/RL QUOTING IRAN REGIME IN FACEBOOK POST INTRO: "Who are you to label revolutionary institutions as terrorists?"
What kind of impact does such RFE/RL reporting and social media activities have?

The answer can be found on Facebook.
Here are transcripts and screenshots of the comments which Facebook has shown under the RFE/RL post and labeled them "Most Relevant." Facebook considers them to be "most relevant;" they were not selected by me. In any case, there are not too many comments under the RFE/RL post, and most fit the same pattern.
Unless the person is an Iranian troll, at least one comment appears to be from an American, which shows that RFE/RL's Iranian regime propaganda may also have an impact in the United States. Both RFE/RL and the Voice of America had been accused before by The New York Times and the former chairman of the House Foreign Affairs Committee, former Rep Ed Royce (R-CA), of targeting Americans with illegal Facebook ads. These illegal RFE/RL and VOA ads were also paid for by U.S. taxpayers.
COMMENT UNDER RFE/RL FACEBOOK POST: I live in the U.S. but I have known this for a long time. My government spends $750 billion a year of our tax money to bring war to other country's and lies to its own people telling us the money is for 'Defense" when its actually for world dominance.
COMMENT UNDER RFE/RL FACEBOOK POST: You mean the country caging children?
COMMENT UNDER RFE/RL FACEBOOK POST: Seems like we're all terrorists. All of us pointing fingers at someone.
COMMENT UNDER RFE/RL FACEBOOK POST: Presumably the redesignation of the CIA is coming then?
COMMENT UNDER RFE/RL FACEBOOK POST: Hard not to agree with this. 🙁
COMMENT UNDER RFE/RL FACEBOOK POST: He's got that right.
Is this the kind of anti-U.S. impact U.S. taxpayers want from RFE/RL?

RFE/RL writers and editors came up up with the right headline to create sympathy for the Iranian regime and contempt for the U.S. (Trump administration). They presented the Iranian regime's dubious claims in depth and in the best possible light with minimal effective challenge. They got the Facebook audience to agree with Iran. This is particularly dangerous because the RFE/RL report mentioned the Iranian call for killing Americans.
This kind of headline and story would have never been written in this way by RFE/RL or the Voice of America (VOA) during the Cold War. The VOA report and Facebook post were somewhat better written but still treated the Iranian regime claims as perfectly legitimate and reasonable. The VOA headline read: "Iran Labels US as Real Leader of World Terrorism."
I'm not saying that RFE/RL should not report on some of the outrageous Iranian propaganda threats, but it has to know how to do this without helping the Iranian regime achieve what it wants: contempt and hatred for the United States.
The Facebook comments show that this is exactly what happened. If RFE/RL and VOA continue to write headlines and present news this way, it will only benefit the Iranian regime and the forces of anti-American hatred.
Many Iranians in Iran and abroad have accused VOA and Radio Farda of repeating propaganda of the Iranian regime. Radio Farda operates under the direct management of RFE/RL and USAGM executives.
The charge that RFE/RL and VOA have been amplifying propaganda of the Iranian regime was confirmed in an independent study conducted by American Foreign Policy Council (AFPC) in 2017 at the request of the Broadcasting Board of Governors (BBG), which was the agency's name before it was renamed last year as the USAGM.
The AFCP study concluded that "This dynamic, on the whole, perpetuated to audiences the appearance of pro-regime propaganda, rather than objective reporting, on the part of both the VOA and Farda."
In 2013, the then Secretary of State Hillary Clinton said that the agency in charge of the Voice of America and Radio Free Europe / Radio Liberty was "practically defunct."
In his appearance on March 27, 2019 before the House Appropriations Committee's Subcommittee on State, Foreign Operations and Related Programs to discuss the Department of State Budget Request for FY 2020, Secretary of State Michael Pompeo called for leadership change at what is now known as the U.S. Agency for Global Media. The agency is currently headed by Obama administration era holdover appointee USAGM CEO John F. Lansing. Responding to questions from Rep. Nita Lowey (D-NY), Chairwoman of the Subcommittee on State, Foreign Operations, and Related Programs, Secretary Pompeo said:
SECRETARY POMPEO: "And I would urge to get a CEO of that organization in place so that the BBG will have the right leadership so they can do the traditional mission – perhaps in a different information environment than we did back in the Cold War, but can perform its function in a way that is important and noble, and reflects the enormous resources that are – that American taxpayers have put towards that."
I'm very concerned about it," Secretary Pompeo added.
We can safely say that there is now bipartisan consensus that something must be done about the leadership of the agency in charge of the Voice of America and Radio Free Europe / Radio Liberty.
The sooner the better.
Ted Lipien served as VOA acting associate director and held a number of reporting, marketing and managing posts before his retirement in 2006. He is one of the co-founders and supporters of BBG – USAGM Watch.