BBG Watch Commentary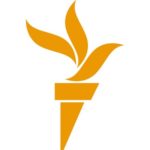 Radio Free Europe / Radio Liberty (RFE/RL) is providing live coverage in English of protests in Kyiv, Ukraine.
RFE/RL is also providing live online coverage in Ukrainian and Russian.
The Voice of America Ukrainian Service also covers the protests in Ukraine, but at the same time offers extensive coverage of U.S. reactions to the demonstrations.
The VOA English website was late in posting news stories on new developments in Ukraine over the weekend, including the toppling of the Lenin statue in Kyiv. The VOA English website and relies on Reuters reports rather than providing original coverage.
Sources told BBG Watch that over the weekend, understaffed and poorly managed VOA English newsroom and its web team have not been using some of the excellent RFE/RL reporting or reports from the VOA Ukrainian Service. Reuters reports from Ukraine on the VOA English website get very few Facebook "Likes" compared to thousands of "Likes" BBC and Russia Today get for their original news reports from Kiev.