BBG Watch Media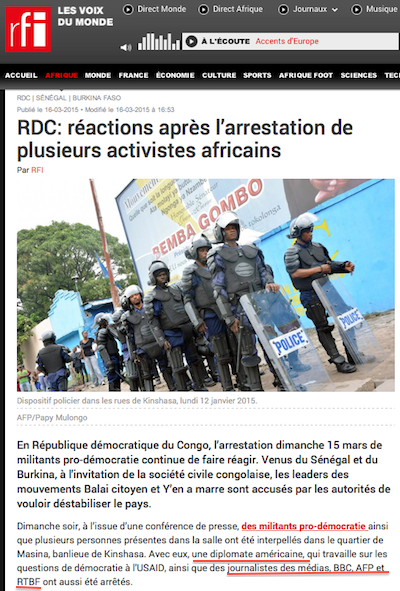 RFI Screen Shot 2015-03-16 at 1:44 PM ET
As of 1:45 PM ET, Monday, March 16, 2015, Radio France Internationale's (RFI) top Africa news story is the arrest of democracy activists, journalists and a U.S. diplomat in the Democratic Republic of Congo, but the Voice of America (VOA) main English news website and some of its African language websites still have nothing about the arrest nearly 24 hours after it happened. We did find a short report with an audio interview on the VOA French language news website which is more timely with news updates.
This is one of many such news reporting failures at the poorly managed and severely understaffed VOA Central Newsroom, especially on weekends. Senior Voice of America executives are blamed for undermining VOA news gathering and reporting capabilities.
Germany's Deutsche Welle (DW) had the arrests in Congo as its top Africa news story. DW reported that the American diplomat has been released by the Congolese authorities, but several young political activists were not. The DW news report, DR Congo crackdown on pro-democracy activists | DW, had 825 words and several photos.
Numerous other international and U.S. media had reports on the arrest of a U.S. diplomat in DR Congo. The fact that U.S. taxpayer-funded Voice of America would not post this news in English online is simply astounding.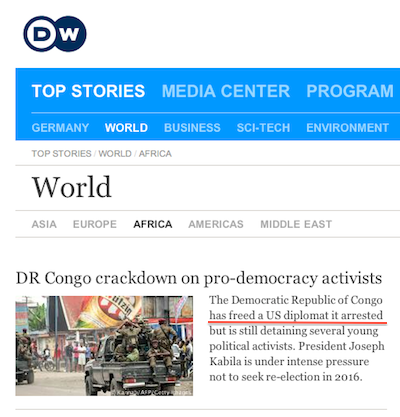 DW Screen Shot 2015-03-16 at 2:25 PM ET
The U.S. diplomat, was identified by the U.S. Embassy in Kinshasa as USAID Democracy, Rights, and Governance Director, Kevin Sturr. He was attending with others a press conference in Masina on Sunday, March 15. According to news reports, he was released, but others were not. Radio France Internationale reported that those arrested included journalists from BBC, AFP and RTBF.
#US diplomat arrested in #Kinshasa :http://t.co/3iV78hwLmM

— US Embassy Kinshasa (@USEmbKinshasa) March 16, 2015
VOA Africa News Screen Shot 2015-03-16 at 2:11 PM ET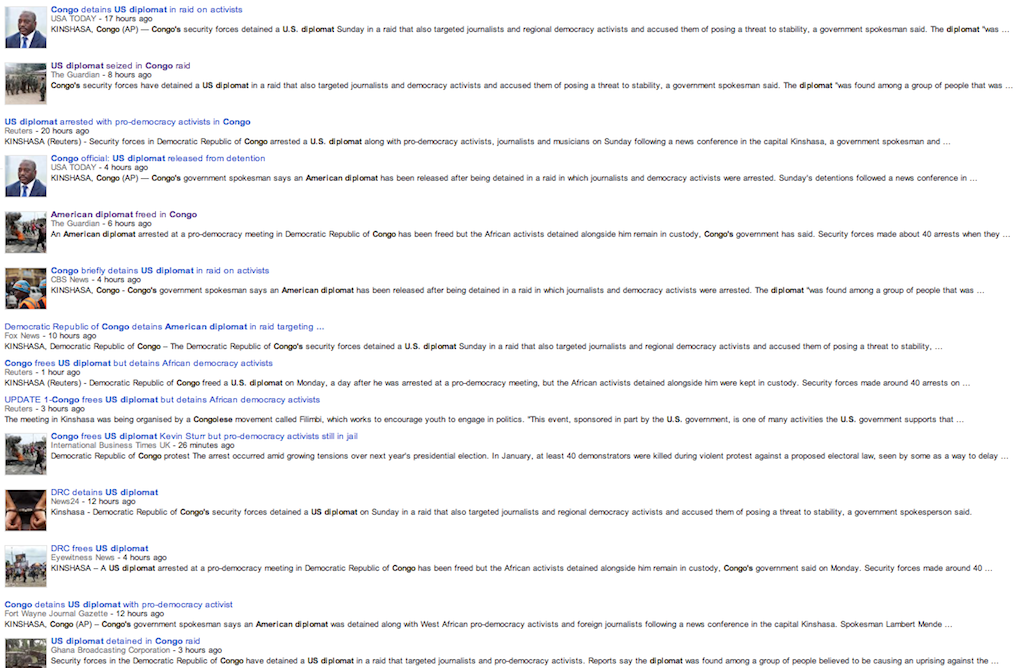 Google Search Screen Shot 2015-03-16 at 2:36 PM ET