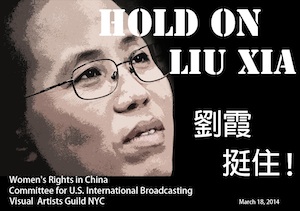 The independent Committee for U.S. International Broadcasting (CUSIB – cusib.org) is co-sponsored "HOLD ON LIU XIA!" to raise concerns for Liu Xia at a special event at the Museum of Tolerance in New York City.
###
CUSIB PRESS RELEASE
The Committee for U.S. International Broadcasting (CUSIB – cusib.org) members participated in the "Hold On, Liu Xia" event held at the Museum of Tolerance in New York City.
Liu Xia, a Chinese intellectual, painter, poet, and photographer, has been under arbitrary house arrest for three years under orders from China's government, solely due to the fact that her husband, Liu Xiaobo, was the 2010 Nobel Peace Prize Laureate. Her health is deteriorating day by day as she suffers political persecution and human rights abuses under China's regime. Co-sponsors of the event were: Women's Rights in China, Visual Artists Guild New York Chapter, Committee for U.S. International Broadcasting and other civil society NGOs in China and in the United States.
CUSIB Member Jing Zhang, President of Women's Rights in China, was the Keynote Speaker. She also presented a video produced by Women's Rights in China about Liu Xia to a full house.
Link to Women's Rights in China video about Liu Xia – "HOLD ON LIU XIA 劉霞,挺住!.
Master of Ceremonies Rose Tang led the audience in a moment of silence for Cao Shunli, a rights activist who died at a hospital in Beijing. Chinese authorities detained Cao Shunli in Beijing on September 14 and despite her deteriorating health did not provide her with adequate medical care.
CUSIB Executive Director Ann Noonan read an open letter to First Lady Michelle Obama, asking her to forgo plans to maintain the soft diplomacy plans and instead, focus on the lives of women in China who need a voice.
A Jazz solo by Mr. Daniel Carter was followed by his gentle saxophone playing while Liu Xia's poetry was read in Chinese and English. Liu Xia's poetry included "Fragment No. 8" highlighting her famous line: "I want to be in light."
Peggy Chane, the President of the Visual Artists Guild's New York Chapter offered powerful remarks about the life of Liu Xia and the need for all to remain vigilant.
Radio Free Asia (RFA) president Libby Liu announced that in April this year Radio Free Asia's Mandarin Service will launch a weekly program entitled "Letters from Prison." The first episode of the show will feature the poems written by Liu Xia, Libby Liu told the audience.
Kelsang Dolma, the President of Regional Tibetan Women's Association NY & NJ spoke eloquently about the plight of Tibetan women.
The event ended after the audience viewed a slide show of Liu Xia's photos curated by French economist Guy Sorman.