BBG Watch Commentary
Robert Conquest (left), who died on August 3, 2015, receiving the Presidential Medal of Freedom with Aretha Franklin (middle) and Alan Greenspan (right) at the White House, 2005
Robert Conquest and Voice of America's intellectual decline
Nothing shows more the intellectual decline of the Voice of America (VOA) and its decline as a news organization than the failure of VOA English news to note the death of famous British-American historian of the Soviet Union Robert Conquest, the author of The Great Terror: Stalin's Purges of the 1930s (1968). This landmark work on the Stalinist purges became his most widely-read and highly influential book. His The Harvest of Sorrow (1986) was also highly acclaimed. In the Preface to The Harvest of Sorrow, Robert Conquest wrote:
The task of the historian is the notoriously difficult one of trying to represent clearly and truly in a few hundred pages events which cover years of time and nations of men and women. We may perhaps put this in perspective in the present case by saying that in the actions here recorded about twenty human lives were lost for, not every word, but every letter, in this book.
Conquest was writing about millions of Ukrainians, most of them peasants–men, women and children who were starved to death or executed by the Soviets on the orders of Stalin. In the Introduction, he described more precisely what "The Harvest of Sorrow" meant in terms of human lives.
"Fifty years ago as I write these words, the Ukraine and the Ukrainian, Cossack and other areas to its east — a great stretch of territory with some forty million inhabitants — was like one vast Belsen. [the Bergen-Belsen Nazi concentration camp] A quarter of the rural population, men, women and children, lay dead or dying, the rest in various stages of debilitation with no strength to bury their families or neighbours. At the same time, (as in Belsen), well-fed squads of police or party officials supervised the victims."
Robert Conquest was a research fellow at Stanford University's Hoover Institution when he passed away on August 3, 2015 at the age of 98.
Robert Conquest's The Great Terror undermined arguments of Western intellectuals, writers and journalists, such as Beatrice and Sidney Webb, George Bernard Shaw, Jean-Paul Sartre, Walter Duranty, Sir Bernard Pares, Harold Laski, D. N. Pritt, Theodore Dreiser, Bertold Brecht and Romain Rolland, who served as apologists for Stalin and his regime. Conquest criticized them sharply for being dupes of Stalin, citing various comments they had made "denying, excusing, or justifying various aspects of the purges."
After the opening up of the Soviet archives in 1991, previously unavailable primary sources supported nearly all of his conclusions. When Conquest's publisher asked him to update The Great Terror, Conquest reportedly suggested that the new version of the book be titled I Told You So, You Fucking Fools.
While a few intellectuals on the left continued to question some aspects of Conquest's books on the Soviet Union, according to Polish intellectual and Nobel Prize winning poet Czesław Miłosz, Conquest was vindicated by history. Miłosz had broken with communism in the early 1950s. Miłosz's book Captive Mind explained how intellectuals are lured by and behave under a repressive regime.
Conquest also published two works of fiction and was a well-regarded poet. Soon after his expulsion from the Soviet Union, Aleksandr Solzhenitsyn met with Conquest and asked him to translate his epic Prussian Nights (1977) into English verse.
In addition to The Great Terror and Harvest of Sorrow, Conquest published nineteen other books on Soviet history, politics, and international affairs including Stalin and the Kirov Murder, The Great Terror: A Reassessment, Stalin: Breaker of Nations and Reflections on a Ravaged Century and The Dragons of Expectation.
Conquest served in the British infantry in World War II and thereafter in His Majesty's Diplomatic Service.
In 2005, Robert Conquest received the U.S. Presidential Medal of Freedom. His other awards and honors include the Jefferson Lectureship, the highest honor bestowed by the federal government for achievement in the humanities (1993), the Dan David Prize (2012), Poland's Commander's Cross of the Order of Merit (2009), Estonia's Cross of Terra Mariana (2008), and the Ukrainian Order of Yaroslav Mudryi (2005).
Reacting to the news of Robert Conquest's death, former Secretary of State George P. Shultz said:
"Robert Conquest set the gold standard for careful research, total integrity, and clarity of expression about the real Soviet Union. He taught us all and he will live on in that spirit."
It appears from our search, however, that the ailing Voice of America English news service had absolutely nothing on its website for global audience on the death of Robert Conquest despite his enormously influential role as a historian, his worldwide intellectual fame, and his strong American connections. The VOA Russian Service had posted online only a short, five-paragraph news item two days after his death despite the fact that much of President Putin's domestic and foreign propaganda and disinformation are based on the denial of the true history of Stalinism which Robert Conquest helped to document in The Great Terror. Critics have said that some VOA news reports have failed to spot and expose Kremlin propaganda.
Unlike VOA Russian Service, the VOA Ukrainian Service, however, had full-scale online coverage and discussions immediately after the news of Robert Conquest's death. His book The Harvest of Sorrow: Soviet Collectivisation and the Terror-Famine dealt with the collectivization of agriculture in Ukraine under Stalin and the resulting famine, in which millions of peasants died due to starvation, deportation to labor camps, and execution. In this book, Conquest argued that the famine was a planned act of genocide. VOA Ukrainian service put online an archival interview with Robert Conquest. The VOA Russian Service and worldwide English Service should have done the same, but they didn't. Other VOA foreign language services didn't do it either.
Robert Conquest estimated that about 14.5 million peasants died in the Soviet Union between 1930 and 1937 as dekulakization, famine, arrests and deportations, and executions. In the Introduction to the Harvest of Sorrow, he compared the numbers of Stalin's victims in the 1929-1933 period to the number of people killed in World War One.
"The centre of our narrative is nevertheless in the events of 1929 to 1933. In this period, of about the same length as that of the First World War, a struggle on the same scale took place in the Soviet countryside. Though continued to a single state, the number dying in Stalin's war against the peasants was higher than the total deaths for all countries in World War I. there were differences: in the Soviet, for practical purposes, only one side was armed, and the casualties (as might be expected) were almost all on the other side. They included, moreover, women, children and the old."
The scholar who was the first one to conduct in the West an exhaustive research of these crimes and to expose them, certainly deserved upon his death a mention from Voice of America English news service, especially in light of what President Putin is doing right now in Ukraine. While Conquest was born in Britain to an American father and an English mother and received his education at Magdalen College, Oxford, in 1981, he moved to California to take up a post as Senior Research Fellow and Scholar-Curator of the Russian and Commonwealth of Independent States Collection at Stanford University's Hoover Institution, where he remained a Fellow. He was also affiliated with other major American universities and research centers.
But some in the VOA English newsroom seem to be preoccupied with other concerns. Recently, a small group of Voice of America English newsroom reporters was said to have demanded from the Broadcasting Board of Governors (BBG), the federal agency which overseas VOA broadcasts, a "swift and complete renunciation of the idea that VOA would engage in countering violent extremism" from such terrorist groups as ISIS. While this view is not believed to be widely shared among VOA's foreign language services, these VOA English news reporters are of the opinion that "countering" violent ideologies should not be the job of "real" journalists. Full-time VOA reporters are U.S. government employees. They are paid by the government and a few of them hold special U.S. Foreign Service appointments.
Radio Free Europe / Radio Liberty (RFE/RL) devoted considerable coverage in English, Russian and other languages to Robert Conquest's career after the news of his death and reposted its 2006 interview with him on genocide and famine in Stalin's USSR. However, as good as RFE/RL is in its target area, it does not cover other important regions of the world as VOA English Service does at least in theory.
Like the Voice of America English-language news website, Russia's RT Ennglish website had nothing on Robert Conquest's death. In the past, RT had posted articles critical of Conquest's conclusion that Stalin's induced famine that killed millions of Ukrainians was directed at and meant to crush the Ukrainian nation.
Other international broadcasters responded Robert Conquest's death with appropriately in-depth analyses of his work.
The BBC posted online an essay by Stephen Evans: "Robert Conquest: Revealing the horror of Stalin" — the kind of intellectual piece that the Voice of America also should have had but didn't. VOA English news service did not even bother to post a simple news item.
Stephen Evans was writing for BBC:
"The historian Robert Conquest, who has died at the age of 98, is credited by many as the first to reveal the extent of the horror of Joseph Stalin's regime. His books had a powerful effect on communists in the West, writes Stephen Evans."
"If you were brought up in a communist home, Robert Conquest's books really were a revelation," Stephen Evans also wrote for BBC. We have not seen this kind of writing on VOA websites in years. Stephen Evans concluded his essay with these observations for the BBC:
"It is said that the Mexican writer Octavio Paz said that Conquest's books 'closed the debate" on Stalinism. They ended the argument. That isn't true. Nostalgia for the monster remains, perhaps even in Russia today."

But Conquest's books did open the eyes of those with minds to open. I know. I remember."
It seems that the Voice of America English news service did not have anyone whose mind or eyes were open or who remembered history when Robert Conquest died. What a shame that this once respected news organization, and especially VOA English news service, has become with a few exceptions irrelevant in the world of ideas.
VOA English News Website Search for Robert Conquest Screen Shot 2015-08-07 at 1:55 AM EDT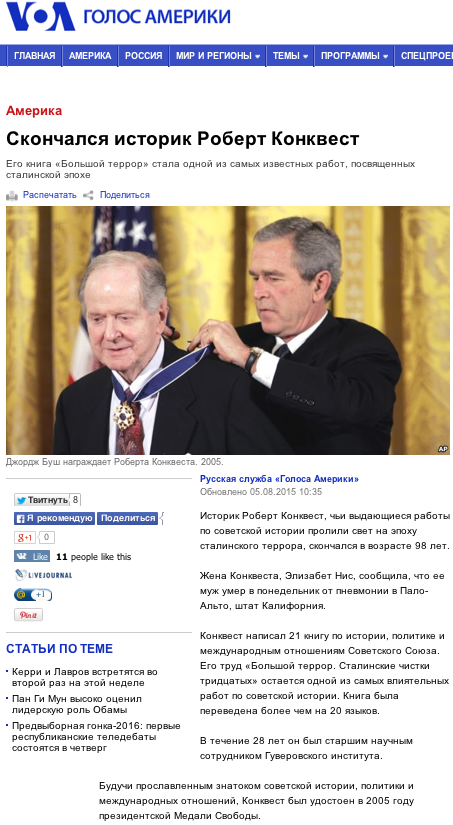 TRANSLATION OF VOA RUSSIAN SERVICE NEWS ITEM: "Historian Robert Conquest, whose outstanding work on Soviet history shed light on the era of Stalinist terror, has died at the age of 98.
Conquest's wife, Elizabeth Neece, said that her husband died Monday of pneumonia in Palo Alto, California.
Conquest has written 21 books on history, politics and international relations of the Soviet Union. His work "The Great Terror. Stalin's purges thirties" remains one of the most influential works on Soviet history. The book has been translated into more than 20 languages.
For 28 years he was a senior fellow at the Hoover Institution.
As a renowned expert on Soviet history, politics and international relations, Conquest has been awarded the 2005 Presidential Medal of Freedom."
Voice of America Russian Service did find time and resources to do and post on August 7, 2015, four days after Robert Conquest's death, a 3-minute long video report on a cat fashion show in a New York hotel. Money for the show goes to animal shelters. But come on, couldn't the VOA Russian Service also do something more about Robert Conquest and his groundbreaking Soviet crimes research which is being banned, ignored or distorted in Putin's Russia?