BBG Watch Commentary
The decline of the Voice of America (VOA) as a serious news organization could be best seen this week in VOA English news service's complete silence online about the death of British-American historian of Soviet crimes Robert Conquest.
The decline, both as a news provider and, even more importantly, in an intellectual dimension, could also seen in VOA Russian's short (100 words) and completely pedestrian news item that failed to give any substantive explanation to the Russian audience of the significance of Robert Conquest's groundbreaking historical research while two days later the service had staff, time and resources to post online a 3-mimute video report from a Cat Fashion Show in New York.
Even though some of the proceeds from the cat fashion New York extravaganza reportedly go to animal shelters, watching the VOA Russian video, seeing its images, hearing the voices of the narrator and interviewees, we could not avoid the conclusion that the video will easily convince the Russians that America is indeed in a serious intellectual decline, as Putin's propaganda machine claims. This was no Willis Conover production by a long shot. The only consolation may be that by 1:00 AM August 8, the video posted on August 7 was seen by only 37 people on YouTube and had only one "Like." Hopefully, most of them were Russians already living in the United States. RFE/RL video on Robert Conquest had over 1,500 views.
Even if the Cat Fashion Show video had some perverse cultural message about America for the Russians, we also remembered that the VOA Russian Service did not bother to put more than 100 words online about Robert Conquest.
Fortunately, Radio Free Europe / Radio Liberty (RFE/RL), which like VOA is also overseen by the Broadcasting Board of Governors (BBG), did provide a serious analysis of the significance of Robert Conquest's work not just for Russia but also for the West.
We start with an excellent editorial from The Wall Street Journal.

WSJ

He chronicled the Soviet terror that so many in the West refused to see.

(…)

Conquest's major themes were reality and delusion. "The Great Terror" (1968) was the first and still definitive treatment of Stalin's purges, gulags, show trials and secret police, meticulously documenting the enormity of the death toll. "Harvest of Sorrow" (1986) chronicled what he called the "terror famines" that followed agricultural collectivization.

(…)

Conquest added that the lessons of the bloody 20th century "have not yet been learned, or not adequately so." Many today across the world still offer solace to dictators and mass murderers, whatever their reasons, so Conquest's insights into human deception remain and will always be relevant.
RFE/RL
In which I eulogize the man who taught us more than any other about the horrors of the Stalin period and the Holodomor. R.I.P. Robert Conquest – gentleman, scholar, historian, sage…

Posted by The Power Vertical on Wednesday, August 5, 2015
In The Daily Vertical, a RFE/RL video primer for Russia-watchers that appears Monday through Friday, RFE/RL's analyst Brian Whitmore described Robert Conquest as a outstanding historian and writer who opened the eyes of many people in the West to Soviet crimes.

VOA Russian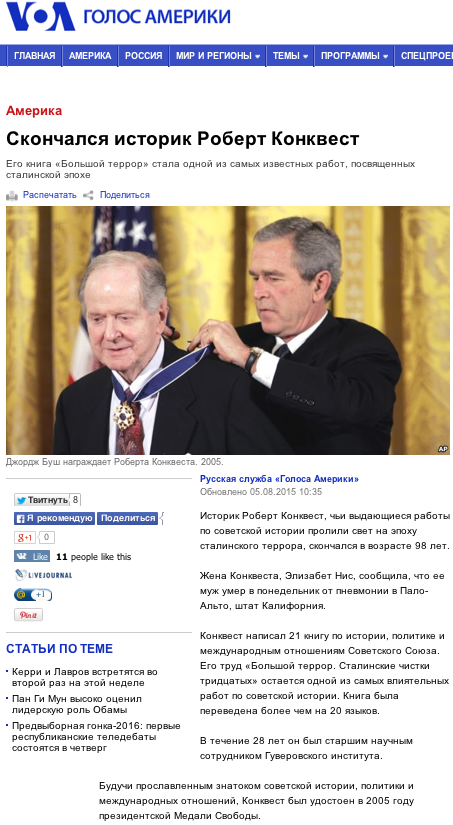 TRANSLATION OF VOA RUSSIAN SERVICE NEWS ITEM: "Historian Robert Conquest, whose outstanding work on Soviet history shed light on the era of Stalinist terror, has died at the age of 98.
Conquest's wife, Elizabeth Neece, said that her husband died Monday of pneumonia in Palo Alto, California.
Conquest has written 21 books on history, politics and international relations of the Soviet Union. His work "The Great Terror. Stalin's purges thirties" remains one of the most influential works on Soviet history. The book has been translated into more than 20 languages.
For 28 years he was a senior fellow at the Hoover Institution.
As a renowned expert on Soviet history, politics and international relations, Conquest has been awarded the 2005 Presidential Medal of Freedom."

Voice of America Russian Service did find time and resources to do and post on August 7, 2015, four days after Robert Conquest's death, a 3-minute long video report on a cat fashion show in a New York hotel. Money for the show goes to animal shelters. But come on, couldn't the VOA Russian Service also do something more about Robert Conquest and his groundbreaking Soviet crimes research which is being banned, ignored or distorted in Putin's Russia?