BBG Watch Commentary
Russia's RT was well ahead in reporting on President Obama's statement on the shooting of police officers in Baton Rouge, Louisiana, and reposted the White House Press Office statement in full, while VOA gave it only three short sentences.
The White House released the President's statement at 2:42 PM ET. RT had it online in full at 2:51 PM ET. While we could not check it with absolute certainty, VOA did not update its earlier report with three short sentences on President Obama's statement until 3:42PM ET.
BBC also posted full text of President Obama's statement. Both RT and BBC have Live Baton Rouge Updates on their websites, the Voice of America does not.
BBC
VOA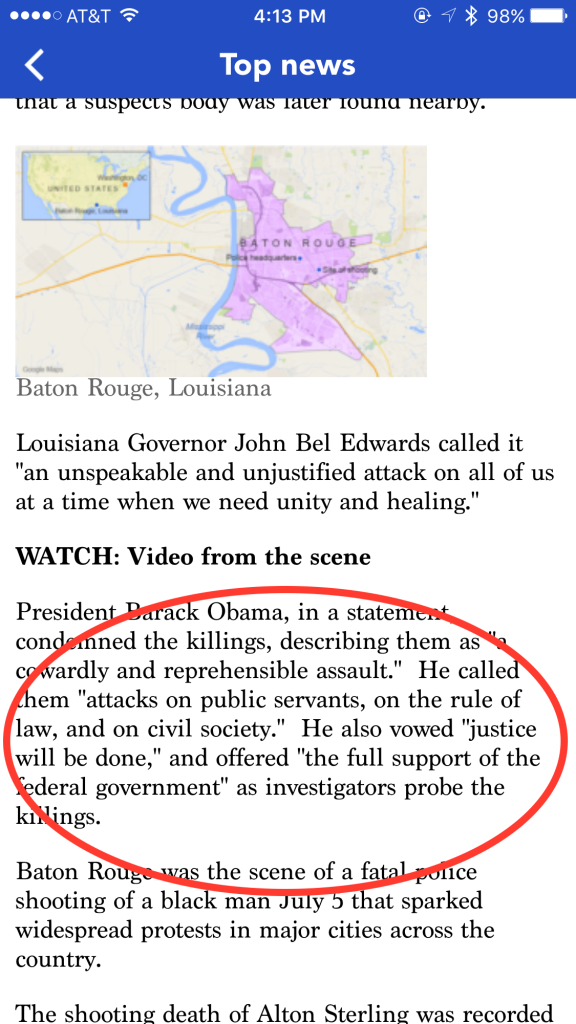 RT, Russian news agency SPUTNIK, BBC and many other news media outlets were ahead of VOA in reporting on the shooting and have been providing more comprehensive coverage.
RT
Even at 12:14 PM ET, hours after this major U.S. news story broke, it was still not the lead news item on the Voice of America mobile site.
VOA
###
THE WHITE HOUSE
Office of the Press Secretary
FOR IMMEDIATE RELEASE
July 17, 2016
Statement by the President
I condemn, in the strongest sense of the word, the attack on law enforcement in Baton Rouge. For the second time in two weeks, police officers who put their lives on the line for ours every day were doing their job when they were killed in a cowardly and reprehensible assault. These are attacks on public servants, on the rule of law, and on civilized society, and they have to stop.
I've offered my full support, and the full support of the federal government, to Governor Edwards, Mayor Holden, the Sheriff's Office, and the Baton Rouge Police Department. And make no mistake – justice will be done.
We may not yet know the motives for this attack, but I want to be clear: there is no justification for violence against law enforcement. None. These attacks are the work of cowards who speak for no one. They right no wrongs. They advance no causes. The officers in Baton Rouge; the officers in Dallas – they were our fellow Americans, part of our community, part of our country, with people who loved and needed them, and who need us now – all of us – to be at our best.
Today, on the Lord's day, all of us stand united in prayer with the people of Baton Rouge, with the police officers who've been wounded, and with the grieving families of the fallen. May God bless them all.
###