BBG Watch Commentary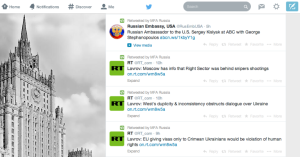 Russia's Ministry of Foreign Affairs' active and frequently updated Twitter account MFA-Russia has numerous retweets of RT's news reports and commentaries, while the U.S. State Department Twitter account almost never retweets Voice of America (VOA) news reports.
Between March 24 and today, BBG Watch has found 10 RT retweets on MFA-Russia Twitter account, but there was not a single Voice of America retweet on the U.S. State Department's Twitter account during that period.
U.S. Ambassador to Ukraine Geoffrey Pyatt has a very active, informative and influential Twitter account, where he sometimes retweeted VOA news reports, mostly from the VOA Ukrainian Service. But between March 24 and today, there have been no Voice of America retweets on his Twitter account.
During that period, Ambassador Pyatt did retweet, however, reports from Germany's Deutsche Welle (DW) and Radio Free Europe / Radio Liberty (RFE/RL). Both have provided excellent and timely news coverage and news analysis on Ukraine and Russia, while VOA English news reports from Ukraine and even from Washington are often late and superficial.
For example, VOA English news website was well behind BBC in reporting on the latest Obama-Putin phone call and when it finally posted a report, it had very little information, much less than news reports on the phone call on BBC, Deutsche Welle and even Voice of Russia English news website. Voice of Russia even got several quotes on the phone call from a senior Obama administration official while VOA only managed to post a sentence from the White House statement and did not report on any reaction to the phone call from the Kremlin, which BBC, DW, and Voice of Russia did.
VOA English news website also posts reports that sometimes lack balance to claims advanced by the Kremlin and its supporters.
U.S. Under Secretary of State for Public Diplomacy and Public Affairs Richard Stengel, who represents Secretary of State Kerry at meetings of the Broadcasting Board of Governors (BBG) which oversees Voice of America, is also not retweeting VOA English news reports on Ukraine on his Twitter account.
Lack of prompt, balanced and comprehensive reporting by VOA English news may be the reason for the dearth of VOA retweets on the State Department Twitter accounts. Whether too many VOA retweets by the State Department could harm VOA's reputation for journalistic credibility and balance is an entirely different question. Probably not, if VOA English news reports were truly balanced. The State Department has had no influence over how VOA reports news for many years. Problems with lack of timeliness and balance of VOA news are entirely due to internal mismanagement.
It also seems that foreign audiences go to VOA news sites primarily to get the American perspective on the news and do not expect VOA to be like BBC, but more like DW or Radio France Internationale (RFI). In reality, BBC always offers more comprehensive coverage of all U.S. news, and surprisingly DW does as well on Ukraine-related U.S. news and some others. RFI news is much more France-centered.
VOA is not a public diplomacy tool of the U.S. government, but its news reporting about the United States serves a public diplomacy role to the same degree as BBC reporting about Britain serves a public diplomacy role.
The British Foreign Office does not frequently retweet BBC news reports, but once in a while it does. We did not find any recent Deutsche Welle retweets on the German Foreign Office Twitter account.
British, German, French and most other foreign ministries generally retweet much less from media and other unofficial sources than the U.S. State Department and its diplomats.
The Russian Foreign Ministry is not shy about retweeting RT reports. It was quick to tweet photos from the Lavrov-Kerry meeting in Paris. Right below them, MFA-Russia has retweets of RT reports with rather propagandistic sounding headlines. There seems to be little doubt that the Kremlin and RT are very close.
After protocol photo and tête-à-tête meeting #Lavrov and Kerry began talks in expanded format pic.twitter.com/1r6tGn6um9

— MFA Russia (@mfa_russia) March 30, 2014
#Russia FM Sergey #Lavrov and US State Secretary John Kerry before talks in Paris pic.twitter.com/0oLzpBYZAD

— MFA Russia (@mfa_russia) March 30, 2014
Lavrov: Moscow has info that Right Sector was behind snipers shootings http://t.co/RSHZ8k0Q7j

— RT (@RT_com) March 30, 2014
Lavrov: West's duplicity & inconsistency obstructs dialogue over Ukraine http://t.co/RSHZ8k0Q7j

— RT (@RT_com) March 30, 2014
Lavrov: EU giving visas only to Crimean Ukrainians would be violation of human rights http://t.co/RSHZ8k0Q7j

— RT (@RT_com) March 30, 2014