BBG Watch Commentary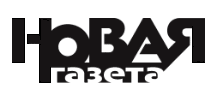 A Russian liberal opposition newspaper Novaya Gazeta, which is supported by Mikhail Gorbachev, has published an article about the suspension of famous Radio Liberty journalist Andrei Babitsky by the interim management of Radio Free Europe / Radio Liberty (RFE/RL) apparently for expressing in his Radio Liberty blog a personal opinion that Putin's actions in Crimea amounted to taking the Russian population of Crimea under Russia's protection.
Novaya Gazeta made a reference to a letter from former Radio Liberty Russian Service director Mario Corti, published by BBG Watch, in which Corti, while disagreeing with Babitsky's view on Crimea, defends his right to express a personal opinion as a Radio Liberty journalist.
See: Reaffirmation of freedom of speech and new leadership needed for RFE/RL — Mario Corti's letter about Andrei Babitsky, BBG Watch, April 9, 2014.
Novaya Gazeta also noted BBG Watch's opinion that Babitsky's vague comment about Crimea lacked any explanation and that the latter part of his article, which was highly critical of President Putin's anti human rights actions in Russia seemed to contradict Babitsky's own argument about Crimea.
Mario Corti, an Italian journalist who writes in Russian, English and Italian and has published several books in Russia, also strongly disagreed with Babitsky's view on Crimea. Corti and others have noted, however, that the interim management of RFE/RL, which has been in place for only a few weeks since the sudden resignation of Kevin Klose earlier this year, may have played into the hands of the Kremlin's propaganda. Corti defended Babitsky's right to express his personal opinion in a commentary without a threat of administrative action.
BBG Watch noted that Babitsky's suspension may suggest a failure to properly manage Radio Liberty. BBG Watch wrote that the Broadcasting Board of Governors (BBG) in Washington should appoint a highly qualified permanent RFE/RL president and CEO as soon as possible who could lead the organization and resolve some of its longstanding management problems. RFE/RL's management has improved greatly under Kevin Klose, but his sudden departure for personal reasons left several major management issues still unresolved. RFE/RL's labor policies and treatment of foreign journalists working in Prague have been severely criticized by the Czech Helsinki Committee.
Klose's most important action was to rehire some of Radio Liberty journalists who had been fired unjustly in 2012 by the previous RFE/RL American management team. Novaya Gazeta makes a reference to that earlier incident. Klose is also credited with restoring RFE/RL's journalistic reputation. Babitsky's suspension occurred after Klose's departure from RFE/RL.
Critics point out that by removing Babitsky's commentary, suspending the author, and generally poor handling of the incident with actions that suggest a lack of respect for differing points of view and for freedom of expression, RFE/RL's interim management may have given ammunition to America's critics in Russia and elsewhere.
A former Radio Liberty senior commentator Lev Roitman also expressed concern about the way Babitsky was treated by the station's American management. Novaya Gazeta noted that the RFE/RL management reports to the Broadcasting Board of Governors. Roitman is a highly regarded journalist who wrote popular commentaries during his career with Radio Liberty. The station is funded by American taxpayers to support media freedom in Russia and in other countries without free media.
Novaya Gazeta reported that Babitsky has been working for Radio Liberty for 25 years and is considered one of the most respected journalists on the station's staff. Novaya Gazeta also reported that there have been previous conflicts between Babitsky and the management. According to Novaya Gazeta, he has been suspended for one month and removed from his position as the chief editor of "Echo of the Caucasus" website.
Novaya Gazeta also noted that a popular Czech newspaper Lidove Noviny published a long article about Babitsky's suspension by RFE/RL's management. Neither Novaya Gazeta nor BBG Watch know all the details and circumstances behind Babitsky's suspension. Most of what is known comes from a Lidove Noviny article by Petra Prochazkova.
Novaya Gazeta reported that Babitsky could not be reached to comment on his suspension and that the management of Radio Free Europe / Radio Liberty has not yet provided any comments.
Read More (in Russian): «Казус Зубова»: Андрей Бабицкий отстранен от работы на американском «Радио Свобода» за согласие с вводом российских войск в Крым?, Novaya Gazeta, April 17, 2014.