BBG Watch Commentary
Russia's propaganda channel carried President Obama's post election speech LIVE on Facebook, reaching a large audience and generating significant audience engagement, while mismanaged U.S. taxpayer-funded ($224M FY2017) had a much smaller number of views and much less engagement from Facebook users despite earlier assurances from VOA director Amanda Bennett that VOA is doing a fabulous job of reporting on U.S. election results.
Compared to the number of worldwide viewers who watched President Obama's speech on BBC News Facebook page, VOA's results were staggeringly small, perhaps comparable only those of a TV station in a small U.S. market. Many of VOA's foreign language services did equally poorly on social media on election day and today.
As of 10:00 PM ET Wednesday, RT's Facebook post with LIVE transmission of President Obama speaking on U.S. presidential election results was showing 126,000 views. The VOA Obama Facebook post was showing only 41,600 views.
BBC News Facebook post on Obama's speech was showing 972,000 views.
The fact that BBC beat VOA many times over is not too surprising, although the difference in views between BBC and VOA posts is staggering.
What is truly astounding is that Russia's RT also beat the Voice of America hands down in showing President Obama speaking from the White House in Washington.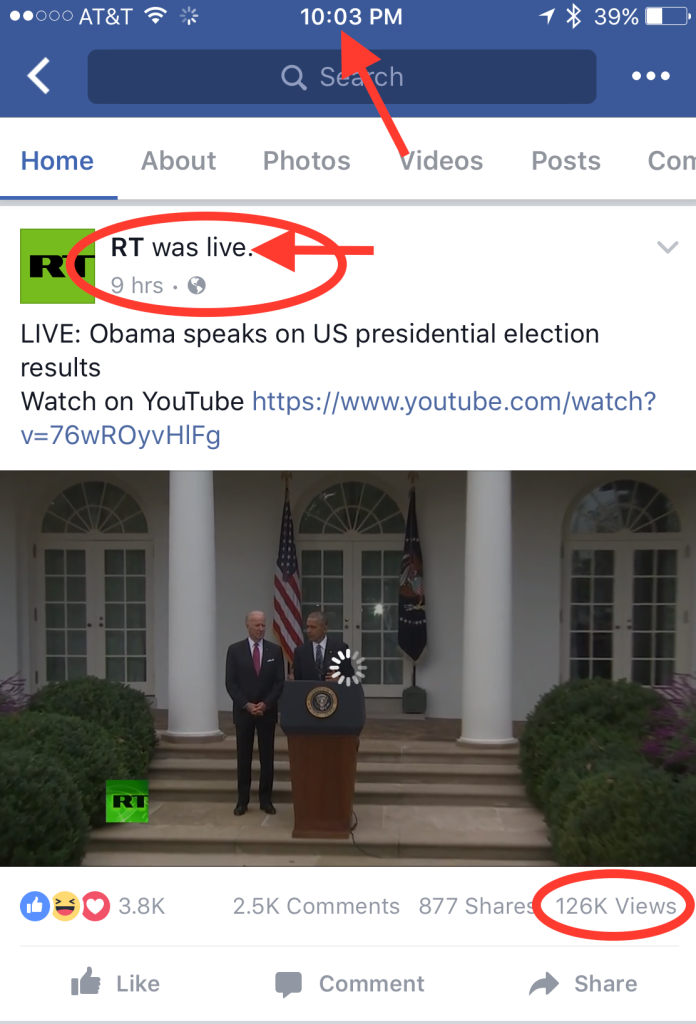 RT was LIVE on Facebook with Hillary Clinton's concession speech, while the Voice of America VOA English News did not have a LIVE Facebook transmission of Clinton's speech.
As of 10:27 PM ET Wednesday, RT's Facebook post with LIVE transmission of Hillary Clinton's concession speech was showing 174,000 views, 5,700 Likes,and 6,300 Comments.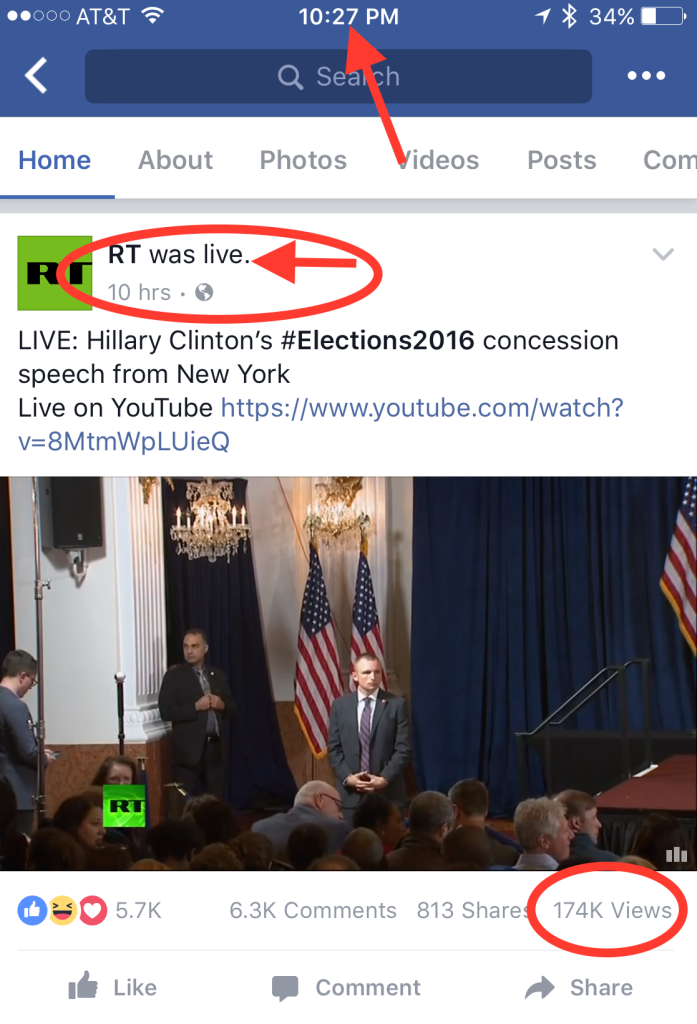 VOA's delayed Facebook post on Clinton's speech was uploaded to Facebook about three hours after RT's LIVE post.
As of 10:00 PM ET Wednesday, VOA's Clinton speech Facebook post is showing only 23,400 views, 1,100 Likes, and 117 Comments.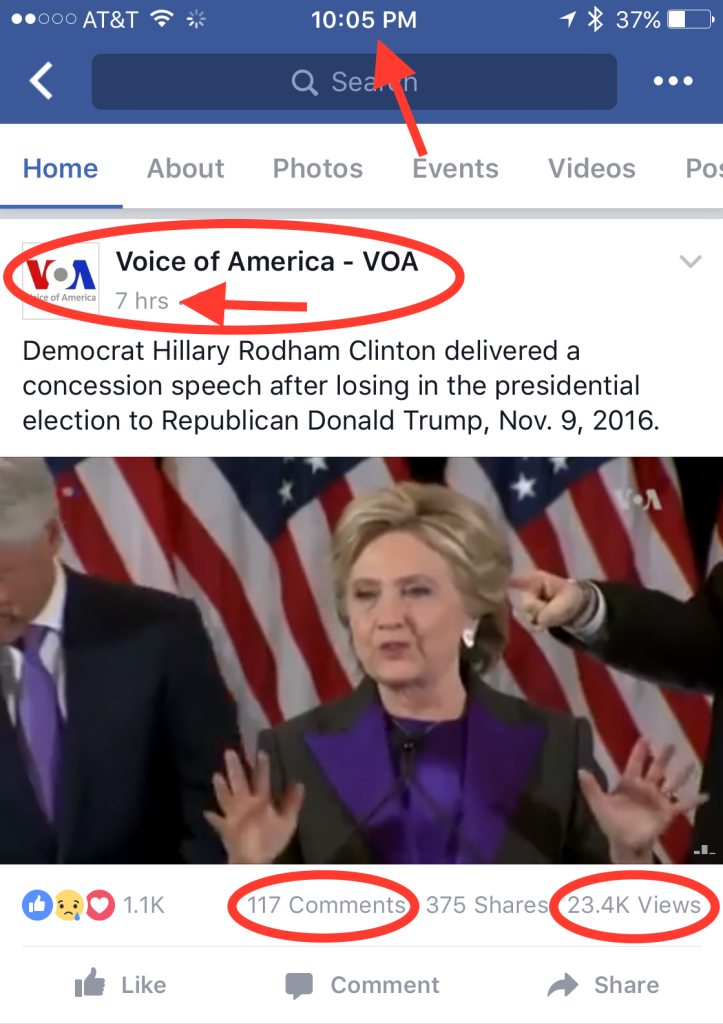 Compared to VOA's 23 thousand Facebook views of Clinton's speech, BBC was showing over 1 million.
RT was showing twice as many LIVE Facebook views for Donald Trump's victory speech Wednesday morning than the Voice of America.
VOA was showing 5,000 LIVE Facebook views; RT was showing over 10,000 LIVE Facebook views during U.S. President-Elect Donald Trump's speech.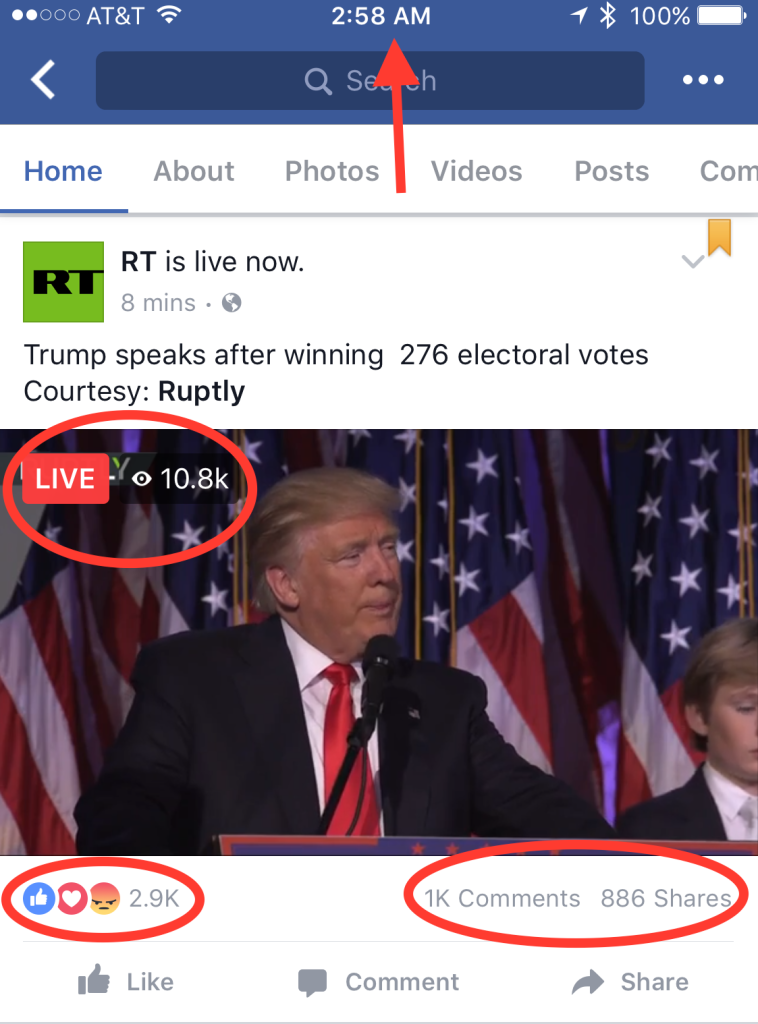 VOA is supposed to be America's voice; RT is not. This should have been Voice of America's story, but VOA was beaten many times over yesterday and today by BBC, as well as RT.
At one time, BBC had over 23,000 LIVE Facebook views for its U.S. election coverage.
Some of VOA's LIVE transmissions yesterday showed less than 50 LIVE Facebook views.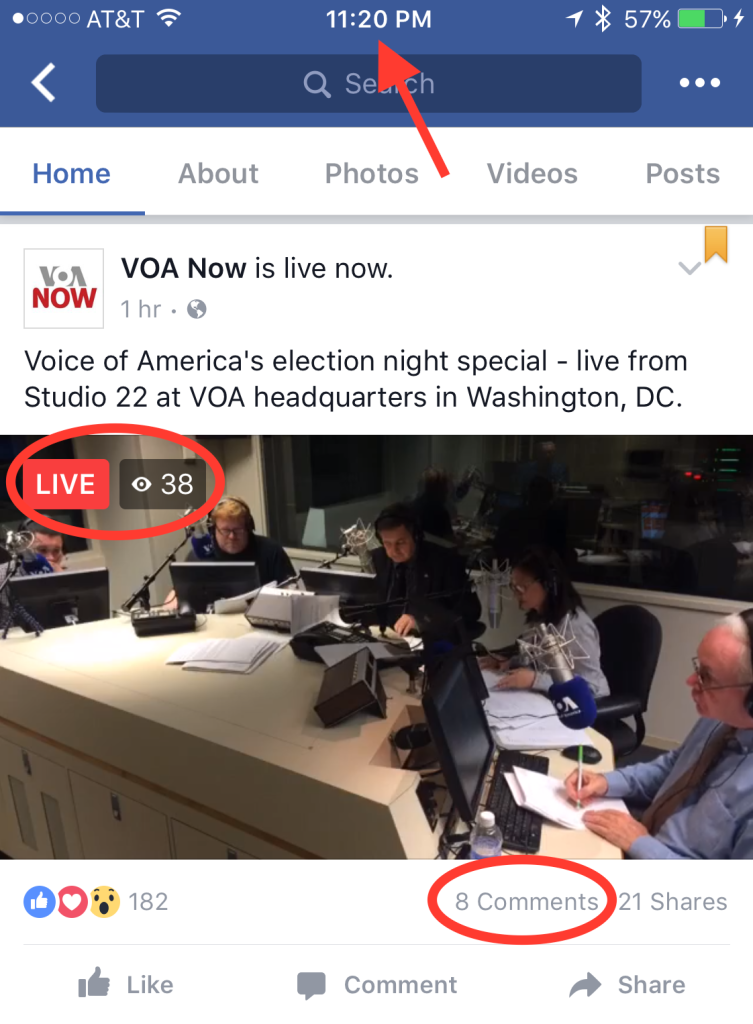 In 2013, then Secretary of State Hillary Clinton had called the BBG "practically defunct" in its ability to carry out U.S. international media outreach.
That the Russian propaganda channel RT should beat the Voice of America hands down on reporting on U.S. election results is truly shameful and shows how mismanaged the Voice of America has become under the Broadcasting Board of Governors (BBG), its outgoing chairman Jeff Shell, BBG CEO John F. Lansing, and VOA director Amanda Bennett.

From: Amanda Bennett
Sent: Wednesday, November 9, 2016 8:12 AM
To: BBG Networks; VOA Notices
Subject: LAST NIGHT

I was enormously proud of every single person at VOA yesterday.

All through the night last night I felt at every second your energy and devotion to your – our – work. More than once someone said to me, and I said back, that this is what we're in this business for.

From the rooftop with its tearjerking view of the US Capitol where service after service sent people last night to do standups, to the cleverly improvised glass-walled conference room /Facebook live studio that the Africa division wore out last night. From the Latin American service, which did a record 100+ live hits for their affiliates, to the Deewa radio on TV operation where the anchors kept talking for four hours straight.

The palpable energy in the Persian control room and the intense calm of the Russian set. The radio and television technicians who dealt with hiccup after hiccup after hiccup and kept making everything right again. The reporters who stood on the street in New York and Philadelphia and Los Angeles, and who sat in watch parties for both sides all over the country. Everyone who nailed down an expert, drove a truck in circles looking for parking spaces, built a graphic, updated a map, answered a million phone calls, typed in a Chyron…. You all knew exactly what it was you were doing and why you were doing it. You all kept doing it at your highest professional level all through the night no matter how exhausted you got.

Sitting with you all last night I truly felt the world watching us. Watching the country, of course, but also literally watching US. Looking to us to explain to them not only what was happening, but why it was happening and what it was going to mean for America and the rest of the world.

What we do and why we do it is more important than ever. We all see that. We all know that. Truthful, objective, insightful news and information is in very high demand all over this country and all over the world. That's what we do. And this is why we do it.

Thank you all for last night. And thank you all for today, for tomorrow, and for the day after tomorrow and the day after that. I really do feel that the world is watching us.

Amanda