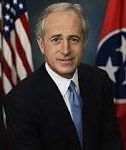 Date: Tuesday, November 17, 2015
Time: 02:30 PM
Location: Senate Dirksen 419
Presiding: Senator Corker
Panel One
Mr. John Lansing
Chief Executive Officer
Broadcasting Board of Governors
Washington , D.C.
The Honorable Jeffrey Shell
Universal Filmed Entertainment Group, Chairman
Broadcasting Board of Governors, Chairman
Universal City , CA
The Honorable Kenneth R. Weinstein
Hudson Institute, President And CEO
Broadcasting Board of Governors, member
Washington , D.C.
Panel Two
The Honorable S. Enders Wimbush
Public Policy Fellow
Woodrow Wilson International Center for Scholars
Washington , D.C.
Mr. Kevin Klose
Professor, Philip Merrill College Of Journalism
University of Maryland
College Park , MD
###
In 2014, Sen. Bob Corker introduced legislation with 22 Senate Republicans providing a strategic U.S. response to deter Russian aggression in Europe. The bill provides for expanded U.S. broadcasts.