BBG Watch Commentary
Six raw footage videos posted on Facebook by editors of U.S. tax-funded ($224 million FY 2017) the Voice of America (VOA) which show protests in the Muslim world against President Trump's decision on Jerusalem, including burning of Israeli and American flags, but have no additional information, context, or balance, have registered more 3,596,000 views on Facebook in less than two weeks. The only other major international broadcaster showing such raw footage videos of anti-Trump, anti-American and anti-Israeli protests, clearly for propaganda purposes to hurt America's interests and to stir up trouble, was Russia's multimedia channel RT. The Voice of America is managed by the Broadcasting Board of Governors (BBG), a dysfunctional federal agency criticized by both Republicans and Democrats and still run by Obama era appointees, VOA director Amanda Bennett and BBG CEO John Lansing, neither of whom had any prior experience in managing a U.S. government agency or U.S. international broadcasting and public diplomacy programs. BBG's overall budget, including VOA's budget, is approximately $740 million (FY 2017).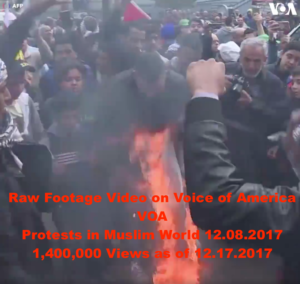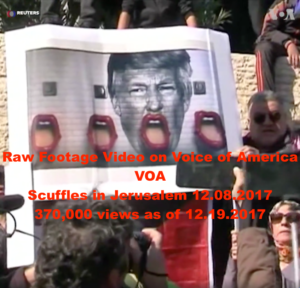 A few other VOA Facebook videos, mostly of entertainment click bait type and not news-related, were popular but most of them not nearly as popular as VOA videos showing anti-American and anti-Israeli protests with anti-Semitic images and slogans. The other highly popular VOA video category were animal videos.
The vast majority of other VOA videos which were even vaguely news related got less than 50K views each with the exception of raw footage of Middle East protests which got hundreds of thousands of views each. Those VOA videos, however, were not in any way journalistically balanced as required by the VOA Charter.
VOA's animal videos, One Fast Cat Exercise Wheel | VOA Facebook and Deer Rescue in Oregon | VOA Facebook got 70,000 and 1,400,000 views respectively.
SEE:
TOTAL VIEWS DEC. 2017 FOR RAW FOOTAGE VOA VIDEOS SHOWING BURNING OF U.S. AND ISRAELI FLAGS AND OTHER PROTEST: 3,596,000
"Scuffles in Jerusalem" | VOA 370,000 Facebook Views as of Dec. 17.