BBG Watch Commentary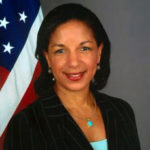 U.S. National Security Advisor to President Obama Susan Rice and U.S. Under Secretary of State for Public Diplomacy and Public Affairs Richard Stengel are promoting through social media State Department's response to Putin's propaganda machine. The Obama Administration has offered so far very little help to the Broadcasting Board of Governors (BBG), which oversees such journalistic media outlets as Radio Free Europe / Radio Liberty (RFE/RL) and the Voice of America (VOA).
Proud to announce @ukrprogress, @statedept's new Russian-language feed to counter misinformation on #Ukraine.

— Rick Stengel (@stengel) March 15, 2014
BBG Watch has learned that the Obama Administration is talking about half a million dollars in emergency extra funding to the BBG. This is a very small amount compared to what the Reagan Administration gave to the United States Information Agency (USIA) and the Voice of America in the early 1980s to counter Soviet propaganda during the crisis in Poland. But even this small sum is better than nothing, although it is not anywhere near what is needed to effectively counter Putin's propaganda through multimedia outreach. We hope that the Administration and the Congress will soon provide more funding to the BBG and the BBG will undertake serious management reforms to make good use of any extra money.
BBG Watch has also learned that most of the half a million dollars will go to RFE/RL, which is not only better managed than VOA but also has more expertise and journalistic resources in the area than Voice of America.
While the State Department and the National Security Council have surprised many observers by their quick response to the crisis in Ukraine, Radio Liberty's various language services, including Russian and Ukrainian, also have responded quickly and effectively with their expanded multimedia news programming. Radio Liberty produced, broadcast and posted online numerous news reports challenging the Kremlin's propaganda with fact-based journalism.
Outside of the Voice of America and the vastly bureaucratic International Broadcasting Bureau (IBB), which controls most of the BBG's budget and resources, the response to the Ukraine crisis by the Obama Administration was surprisingly fast and effective.
Susan Rice and Richard Stengel deserve credit not only for realizing early on that President Putin was engaged in what Swedish Prime Minister Carl Bildt has called "a massive propaganda war," but also for mobilizing the NSC and the State Department staff and resources to provide quick responses to false and misleading claims pushed by the Kremlin.
RFE/RL, which is also part of the BBG, mobilized on its own thanks to the leadership of Kevin Klose, who unfortunately had resigned recently from his position as RFE/RL president and CEO for personal reasons.
Voice of America, with the exception of its Ukrainian Service, and to some degree the Russian Service which has an uneven record, has done practically nothing at the senior level in response to the crisis until very recently. VOA is still far behind in news coverage not only against such giants as BBC and Putin's RT, but also in comparison to Germany's Deutsche Welle (DW), which offers quick news and excellent news analysis not only from the regions but also from Washington, and even Voice of Russia, which offers incredibly crude propaganda but at the same time posts news from Washington far faster than VOA English and VOA language services.
For months, VOA executives have failed to beef up the central newsroom and VOA's Russian and Ukrainian Services in response to the developing crisis in Ukraine. During the Polish crisis in 1981, USIA and VOA executives provided RFE/RL, VOA's Polish and Russian services, as well as VOA central newsroom, with additional staff and funding almost overnight. Some programs were also expanded, in the case of VOA Polish Service, five times, also almost overnight. The move was strongly supported by the Reagan White House with more additional funding for a number of years.
Some of the recent attempts to improve English-language news coverage by Voice of America have failed, but small progress has been noted in recent days largely thanks to outside criticism, intervention by frustrated BBG members and efforts by VOA journalists themselves who are becoming more vocal in challenging decisions of unpopular executives. But VOA has been in the midst of a major management crisis for several years with no end visible in sight, sources tell BBG Watch. Many experienced and talented VOA correspondents have left because of hostile senior managers and mismanagement of news reporting and websites.
However, VOA's under-staffed and under-resourced Ukrainian Service is producing an excellent television program. The staff is exhausted and needs additional resources to quickly update its website and social media pages. Unlike RFE/RL's language services based in Prague and in the region, VOA Ukrainian Service specializes in reporting on U.S. responses to the crisis.
VOA Russian Service has made some spectacular journalistic blunders recently while also providing some excellent reporting. VOA Russian Servie would also need additional resources if it were to be reformed together with the rest of VOA.
VOA Executives Are The Problem
Nearly everyone agrees that the problem with VOA are not journalists, language services and most mid-level managers, but its top executives. They have just announced yet another reshuffle of their multiple SES and GS-15 positions without addressing any of the core issues of mismanagement, dismal employee morale, and inability to arrange for online streaming of presidential statements and prompt updating of news on the VOA English news website.
Because of these central management failures, many VOA language services also do not get quick news updates. They are woefully understaffed, as is VOA central newsroom, due to decisions made by VOA and IBB senior managers. VOA journalists blame top executives for news management incompetence, expanding the bureaucracy, and diverting resources away from news and programs.
It is no surprise to us therefore that Susan Rice and Richard Stengel are focused more at this time on the State Department's response to Putin's propaganda and to a smaller degree on Radio Free Europe / Radio Liberty's excellent work, which also deserves more recognition and more support.
We would like to urge both of these officials to increase the Administration's support to RFE/RL and demand that the BBG carry out immediate management reforms at the Voice of America and the International Broadcasting Bureau (IBB), after which VOA should also receive additional emergency funding. The current crisis in Ukraine may not appear as spectacular as the Polish crisis of 1981, but geopolitically it is in reality and potentially more significant as it threatens peace and stability far more than some of the Cold War era disruptions.
Because of its different mission, VOA could play just as important but somewhat different role than RFE/RL in providing news and information from the United States to Russia, Ukraine, and many other nations in the region. Both Radio Free Europe / Radio Liberty and the Voice of America deserve more support, and in the case of VOA, more attention from the Administration and the Congress.
Good work by @StateDept with new Russian-language feed to counter misinformation on #Ukraine. Follow @UkrProgress

— Susan Rice (@AmbassadorRice) March 19, 2014
As Secretary of State John Kerry's representative, Under Secretary of State for Public Diplomacy and Public Affairs Richard Stengel represents him at meetings of the Broadcasting Board of Governors (BBG).
In these tweets, Stengel is promoting U.S. public diplomacy response to the Kremlin's propaganda onslaught abroad through such media outlets as RT and Voice of Russia.
Why is Crimea different from Scotland, or Kosovo? http://t.co/5AEbCj1xWl

— Rick Stengel (@stengel) March 15, 2014
Putin's Pulp Fictions: http://t.co/KVCFH6bXN6

— Rick Stengel (@stengel) March 6, 2014