BBG Watch Commentary

U.S. taxpayer-funded ($224M in FY 2017) Voice of America (VOA), which never uses negative labels of any kind to describe left-of-center U.S. media, continues to engage in partisan journalism by calling Breitbart News "far-right," "anti-Semitic," "racist," "sexist," "upholding white supremacy and opposing diversity, feminism and immigration,", promoting "anti-women views," and being the home to white nationalist and anti-Semitic vitriol." International audiences have been told by the Voice of America that Breitbart is for all practical purposes the dark hole of Satan. Perhaps millions of readers of Breitbart news, whose taxes pay salaries of VOA executives and reporters, should know this.

We are not defending Breitbart, but is the Voice of America seriously suggesting that millions of American women who had voted for Donald Trump and may have viewed Breitbart articles and social media posts are "anti-women." It is obvious that millions of American women do not share VOA's view of what is and what is not pro or anti woman. It is even more obvious that some VOA leaders, managers and editors are sloppy in performing their duties as U.S. federal government employees.
Breitbart is what it is, but most of VOA's labels are still highly inappropriate when used in a news report without providing any supporting evidence and/or an opportunity for a rebuttal. Breitbart is clearly a very conservative and clearly a very partisan website which does not claim to be unbiased. We are also not defending The Washington Post, The New York Times, The Daily Beast on the left, Fox News on the right, or other mainstream media, many of which have also turned out to be highly partisan, biased and monumentally wrong in their political forecasts during this latest U.S. election cycle and before. Whether one likes Breitbart or not, whether one is a Democrat or a Republican, a Trump supporter or a Trump opponent–partisan, biased and sloppy coverage by the Voice of America, which is publicly funded with taxes collected from all Americans regardless of their political views–is highly disturbing and unacceptable. It may be fatal for continuing VOA's important mission abroad. It must be stopped whether it is directed against Republicans or Democrats, against Hillary Clinton or Donald Trump.
The Voice of America in its 2016 presidential election coverage turned out to be even more biased than most mainstream private U.S. media. The crucial difference between these private media outlets and U.S. government-managed VOA is that they are self-financed and can be whatever their want, while VOA is paid for by American taxpayers and subject to a special law passed by the U.S. Congress in 1976. Unlike these other private media outlets, the Voice of America is required by law to observe the strictest standards of non-partisanship, accuracy, balance, and comprehensiveness because it is a public institution, receives public money to cover 100% of its expenses and, as required by the VOA Charter (U.S. Public Law 94-350), VOA must "represent America, not any single segment of American society." Even after the 2016 election, VOA led by recently hired senior managers formerly associated with The Washington Post through professional and personal links is still violating all of these standards in at least some of its reporting. One could even say that The Washington Post has been less biased in its 2016 political reporting than VOA — and that is not saying much.
In its one-sided attack on Breitbart News, a VOA report quotes from the Mother Jones website, but VOA does not identify Mother Jones as a "far left," "left of center" or "liberal" media outlet. When The Washington Post or The New York Times print op-eds written by individuals or organizations that can be described as "far-left," the Voice of America does not label these media outlets as "far left" and has never attacked any individual who could be described as a "liberal" or "ultra-liberal" supporter of Hillary Clinton or President Obama. Some other Democrats, however, were smeared by VOA. Senator Bernie Sanders (D-VT) and Senator Harry Reid (D-NV) were both targets of one-sided accusations in VOA programs. (More HERE on VOA and Sanders – More HERE on VOA and Reid) in VOA programs.

According a description on its official website, "Voice of America (VOA) is the largest U.S. international broadcaster, providing news and information in more than 45 languages to an estimated weekly audience of 236.6 million people."
VOA also claims that "Since its creation in 1942, Voice of America has been committed to providing comprehensive coverage of the news and telling audiences the truth. Through World War II, the Cold War, the fight against global terrorism, and the struggle for freedom around the globe today, VOA exemplifies the principles of a free press."
Under its taxpayer-funded mission, Voice of America's job should be to explain to foreign audiences not well familiar with American society and politics that when fringe or extremist groups express support for a candidate for a political office in the United States, their support does not necessarily mean that the candidate identifies with or accepts any of their extremist views. VOA reported in a screaming headline that Ku Klax Klan endorsed Donald Trump (an endorsement rejected by Trump), but VOA never reported that a Communist Party USA editorial had urged party members and other Americans to vote for Hillary Clinton.
As one American journalist pointed out, "candidates are not necessarily responsible for the extremists they attract." In reporting on extremist groups, the Voice of America should not have focused only on Ku Klux Klan and Donald Trump. VOA's job was also to point out that neither Ku Klux Klan nor Communist Party USA has more than 2,000 – 6,000 members each. These estimates vary, but not by much. VOA owed it to its foreign audiences to provide these details and to put them in a broader context of American politics and current media practices.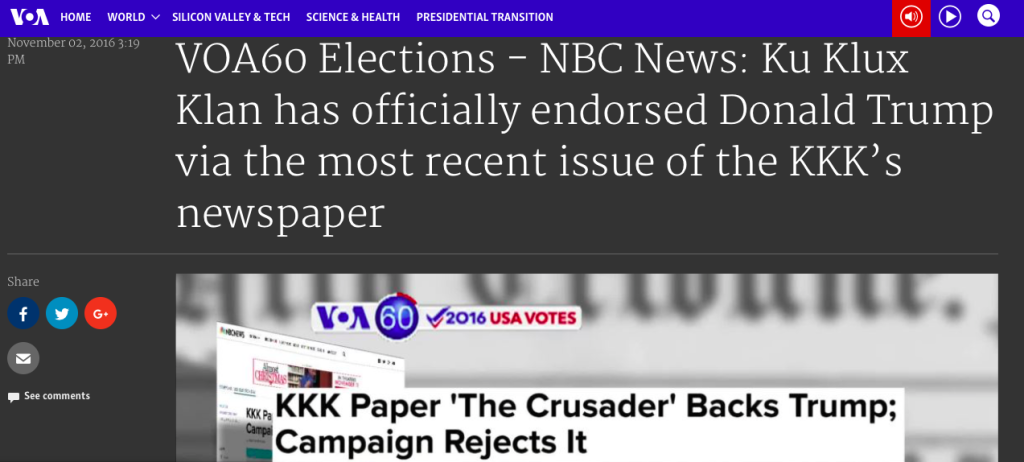 We do not repost the Communist Party USA editorial screenshot to prove that it has any major significance in the U.S. political system, because it clearly does not. We do it to point out that in its partisan, biased reporting on the 2016 U.S. presidential election campaign, the Voice of America chose to focus on one insignificant endorsement of Donald Trump by the Ku Klux Klan but failed to mention the Communist Party USA op-ed by Ricardo Alarcon, the former speaker of Cuba's National Assembly and member of Central Committee and Political Bureau of the Communist Party of Cuba who had called on Americans to vote for Hillary Clinton.
Many of Voice of America's audiences abroad are more familiar with communism and its history of tens of millions of political victims than they are with the Ku Klux Klan and its murderous history in the United States. Soviet, Chinese, Cuban East European, North Korean or Cambodian communism and its leaders were responsible for multiple acts of genocide and political repression. Because of their history, both Ku Klux Klan and Communist Party USA are viewed by the vast majority of Americans — including the vast majority of millions of Trump supporters — as extremist, fringe and worthy of contempt — something that VOA also had failed to point out about the Ku Klux Klan's endorsement of Donald Trump as it ignored Communist Party USA's call to Americans to vote for Hillary Clinton.
This sloppy, one-sided and biased Voice of America reporting is due largely to the lack of proper leadership from VOA's and BBG's senior leaders inexperienced in managing U.S. government-funded media for international audiences. Their leadership and management abilities have been once again rated at record low levels by VOA and BBG employees, including VOA journalists, in the latest Office of Personnel Management (OPM) 2016 Federal Employees Viewpoint Survey (FEVS). There are many excellent and fair VOA reporters, but there are also a few can't hide their contempt for Donald Trump. On their private but publicly accessible Facebook pages where their list their U.S. government VOA employment history, a few have posted anti-Donald Trump memes showing him with a Nazi swastika or mocking him with a Trump-like image of a penis. Just before the November 8 vote, a Voice of America journalist posted on a private but publicly accessible Facebook page, on which the journalist's VOA job is mentioned–that "if F*ckface Von Clownstick gets elected on Nov 8 I, will not be able to say anything on Facebook against him anymore, as dictatorship will have descended on this land."
According to critics inside and outside of the organization, during the 2016 presidential election campaign, the Voice of America had violated repeatedly its congressional VOA Charter and VOA Journalistic Code. According to critics, these violations included translating into a foreign language a video in which Donald Trump was called "punk," "dog," "pig," "con," "buls**t artist," "mutt," "idiot," "fool," "bozo," and "blatantly stupid." without attaching a rebuttal or a response of any kind. The VOA anti-Trump hit video was subsequently removed, but other partisan, one-sided VOA attacks on Donald Trump, Bernie Sanders, and even Senate Democratic leader Senator Harry Reid, are still on the Voice of America websites and social media pages.
In 2013, Hillary Clinton who was then Secretary of State and member of the Broadcasting Board of Governors (BBG) — the U.S. federal agency which manages the Voice of America — called the BBG "practically defunct." It has become even more dysfunctional under outgoing BBG Chairman Jeff Shell, BBG CEO John Lansing, and VOA director Amanda Bennett. They all lack prior experience in managing U.S. government entities, U.S. foreign policy, and U.S. public diplomacy. Independent Auditor's Report on the Broadcasting Board of Governors 2016 and 2015 Financial Statements, ordered by the Office of Inspector General (OIG), shows that "material weaknesses" and "significant deficiencies" have continued under BBG CEO John Lansing's watch in FY 2016. He had joined the agency in September 2015.
Contradicting her own earlier advice to VOA journalists when she had urged them to avoid political bias in their reporting on the U.S. election campaign, Ms. Bennett, in an e-mail she sent to staff in last July, hailed a Spanish Service video report, which in a clear violation of the VOA Charter, presented only one side of the highly controversial illegal immigration issue in the United States. According to VOA's description of the interview sent by Ms. Bennett, an illegal immigrant reportedly called Republican presidential hopeful Donald Trump's immigration plan one of "hate and prejudice." It was obvious that no one from the Trump camp was asked by VOA to respond to the charge or to help explain his position on illegal immigration for the VOA report, as required by the VOA Charter. A few days later Ms. Bennett marked the 40th anniversary of the VOA Charter with the statement that "The VOA Charter has never been more important than it is today."
In their post-election messages to the staff, neither Ms. Bennett nor Mr. Lansing mentioned Donald Trump by name as the next president of the United States — an omission, whether intentional or not, that no other previous VOA director or agency head is believed to have made. Under their leadership and that of VOA deputy director Sandy Sugawara, the Voice of America had two pre-written "Hillary Clinton Won" reports on the election day, but such similar reports about Donald Trump winning were ready for broadcast.
As critics of VOA among Bernie Sanders's supporters had pointed out "…electioneering and hit pieces on US citizens obviously fall outside those parameters. VOA does not have the right to advocate for a particular candidate or even to attack one. That is not within its charter, nor should any US citizen have to subsidize their own defamation."

Featured image is a poster for "Hating Breitbart." The poster art copyright is believed to belong to the distributor of the film, Rocky Mountain Pictures, the publisher of the film or the graphic artist. By Source, Fair use, Link