BBG Watch Commentary
One bright spot within the federal agency responsible for U.S. international broadcasting — the Broadcasting Board of Governors (BBG) — are its surrogate broadcasters such as Radio Free Asia (RFA) and Radio Free Europe/Radio Liberty (RFE/RL).
As English news reporting and social media outreach at the Voice of America (VOA) have become largely defunct due to poor strategic planning and mismanagement within top ranks of VOA and the International Broadcasting Bureau (IBB), surrogate broadcasters, which  enjoy somewhat greater but not complete independence from IBB and  the rest of the Washington bureaucracy, are generally doing well in offering specialized news reporting to nations without free media.
The VOA Tibetan Service is still doing an excellent job, but it barely survived attempts by VOA and IBB executives to terminate its radio broadcasts to Tibet. Some of the other VOA language services are also doing well, but VOA English news and VOA English news website have largely imploded. VOA language services, including the Tibetan Service, have fewer and fewer resources as these resources are being diverted to IBB and VOA bureaucratic and other non-programming operations.
If it were not for RFA, Radio Free Europe/Radio Liberty (RFE/RL), and to some degree Middle East Broadcasting Networks (MBN) — since VOA no longer has the Arabic Service — the United States would have very little to show for its investment in international media outreach.
Once again, the surrogates are a source of good management and innovation within the Broadcasting Board of Governors.
The following press releases were posted recently by Radio Free Asia and Radio Free Europe/Radio Liberty.
RFA PRESS RELEASE
Tibetan Exile Leader Visits Radio Free Asia
2013-11-15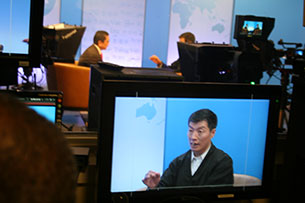 WASHINGTON – Speaking with Radio Free Asia (RFA) today, Lobsang Sangay, the political head of the Tibetan government-in-exile, renewed his call for China to find a resolution to the Tibetan issue through dialogue. Sangay's comments came during a live interview with RFA's Tibetan Service at RFA's headquarters in Washington.
"We are telling the Chinese leadership that their hardline policies are not working in Tibet," Sangay said. "When the Tibetans inside Tibet are resisting by refusing to fly the Chinese national flag in Driru and are protesting against Chinese mining operations, this is proof that China's hardline policy cannot last.
"Only through talk and dialogue can the Tibet issue be resolved."
Sangay, known as the Sikyong, is the elected head of the Central Tibetan Administration (CTA), headquartered in Dharamsala, India. Before visiting RFA's studios, Sangay met with Under Secretary Maria Otero at the U.S. State Department, and with U.S. Senate Majority Leader Harry Reid (D-NV) and Representative Ed Royce (R-CA), Chairman of the House Foreign Affairs Committee, among other U.S. officials to discuss recent developments in China's Tibetan regions. Over the last two years, more than 120 Tibetans have self-immolated in protest of Beijing's rule.
RFA's Tibetan Service has closely covered this topic, as well as China's crackdown and the region's unrest, which recently has included large-scale demonstrations against forced displays of loyalty to the Chinese state by Tibetans. Sangay's interview was webcast on RFA Tibetan's website and broadcast via shortwave radio. The full interview is available on the service's website.
RFE/RL PRESS RELEASE
October 30, 2013
On October 30, 1998, RFE/RL's newest broadcast service, Radio Free Iraq (RFI) took to the air. Times have changed drastically for Iraqis since then, but the crucial mission of RFI has not. RFI, known locally as Iraq Hurr, consistently leads local media in live coverage of important events such as local and national elections and protests, while also reporting on cultural and social issues other Iraqi media often ignore, such as discrimination, honor killings, domestic violence and corruption.
# Veteran journalist Nabil Ahmed had the distinction of reading the very first news bulletin broadcast on RFI. Still reporting today, he talks about the role RFI plays in a tumultuous and struggling country.
# Another RFI journalist, Kareem Saleem Al-Abbassi, tells how he finds the grit to report the news despite constant threats.
# A sampling of recent reports showcasing RFI's impact in the region:
"Questions about the shape of the new government in Kurdistan Region" (October 4)
Analysis of recent election results in Kurdistan, where a new political group has shaken up the long-standing power-sharing arrangement that existed between the once-dominant Kurdistan Democratic Party (led by Kurdistan President Masoud Barzani) and Patriotic Union of Kurdistan (led by Iraqi President Jalal Talabani).
"The Forgotten Neighborhood of Jawadain" (October 3 – Note: In Arabic)
This report on the neglected region in Maysan Province prompted authorities to send a delegation to investigate reports of intolerable conditions. The delegation confirmed the report and pledged to do everything in their power to make the region livable for its residents, who thanked RFI  for helping get the attention of the local authorities with its reporting.
"Iraqi Prisoners Say Treatment Harsher After Mass Breakout" (October 1)
Using smuggled cellphones, prisoners at Iraq's Taji and Abu Ghraib prisons contacted RFI to complain of mistreatment in the wake of massive escapes from the prisons in July. After fact-checking the allegations and seeking comment from Iraqi government officials, the Service published stories in bothArabic and English on the increasingly harsh and sectarian treatment of inmates, who charged that "[prison security] ordered [Shia inmates] to go out and beat some Sunnis, but we refused to do so because they are our brothers. This then became an almost daily occurrence, but it was the security people who were doing the beating."."
Follow more news from Radio Free Iraq online, including a March 2013 profile of a 15-minute interactive radio program geared to Iraqi youth, an audience that lived much of their childhood under the cloud of war.
Find RFE/RL breaking news online and on Twitter and Facebook.