OPINION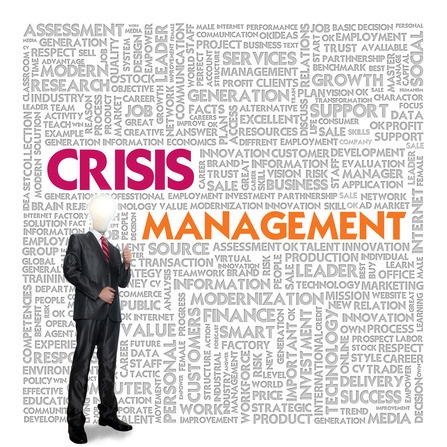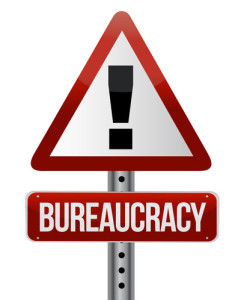 RFE/RL, VOA – Total Meltdown 5.0 for BBG in Russia
US Government International Media In Need of Crisis Management

By The Federalist

Part One: Know Your Audience

When it comes to the Broadcasting Board of Governors (BBG) one must be wary of the agency's pronouncements of success. To outward appearances, this internal crowing for external consumption is based on half-truths and sleights of hand when it comes to audience figures. In short, the agency's audience numbers are not always what they seem to be, often ignore broader context and fail to provide meaningful comparisons and rankings.
We offer some examples for your consideration.
Russia
The agency is desperately trying to make its "Current Time" program the greatest thing since the discovery of fire:
Let's focus on the following agency statement:
Russia
BBG PRESS RELEASE: For Russian speakers, Current Time, the 24 hour Russian language network led by RFE/RL in cooperation with VOA, aired the speech and response, analysis and additional coverage by VOA's Russian Service, on its digital TV network, Facebook, YouTube and Twitter. More than 60,000 viewers watched the program on Facebook alone, generating more than 5,600 reactions, comments and shares. There were more than 327,000 impressions to VOA Russian's SOTU-related content on Twitter. RFE/RL's Radio Svoboda also streamed Current Time's YouTube feed of SOTU, where it has been viewed 30,000 times and a wide variety of reactions from viewers.
Thus, across Facebook and YouTube, the agency claims 90,000 views, 327,000 "impressions" on Twitter and 5,600 reactions of its Russian language feeds of the State of the Union address by President Trump via the joint broadcasts of Radio Free Europe (RFE/RL) and VOA via its "Current Time" program. Adding "views," "impressions" and "reactions" from various platforms over a period of time may produce what appear to be larger numbers, but they are nevertheless dismally small. In the past, the agency has admitted to paying for Facebook boosting ads to get more views and reactions, which most experts view as largely meaningless for actual reading and impact, but we have no information whether boosting ads were used for VOA's and RFE/RL's coverage of the State of the Union address.
For a media organization costing U.S. taxpayers $748 million in FY 2017 (BBG's budget, including $221 million for all VOA languages worldwide and $109 million for RFE/RL languages), these "views," "impressions," and "reactions" numbers are embarrassingly small to anyone who knows anything about how Facebook, YouTube and Twitter work. They would be an embarrassment even for a domestic U.S. media outlet in a medium market. As reported by Andrew Beaujon in Washingtonian, on the day he visited the Broadcasting Board of Governors at its headquarters in Washington, D.C. last year, the BBG's much heralded "Current Time" Russian TV program, produced jointly by VOA and RFE/RL, had "about 165 people … watching on Facebook Live, just a few dozen more than work at the network." He was most likely referring to the number of people working on the "Current Time" program, since the BBG has several thousand employees and contractors.
After seeing the dismal Facebook LIVE numbers for BBG's "Current Time," Andrew Beacon concluded in his Washingtonian article:
ANDREW BEACON IN WASHINGTONIAN: "…if you worked at a conventional network, numbers that small might make you leap off the nearest onion dome."
That's real journalism from a seasoned reporter, as opposed to baseless bragging and meaningless statistics in BBG press releases.
According to the CIA World Factbook, the Russian population (July 2017) numbered just over 142-MILLION. Thus, if you compare the agency claims with the potential Russian audience for the broadcast, the impact is negligible.
Adding Russian speakers worldwide, the impact gets diluted even further.
BBG, VOA, and RFE/RL press releases do not provide useful comparisons but are instead designed to deceive the administration, members of Congress and American taxpayers. A meaningful comparison would be between "Current Time" and even some of the few independent media outlets operating in Russia or from outside of Russia, such as MEDUZA or some of the other Russian-language media operations.
The ranking "Current Time" has in Russia is close to disastrous.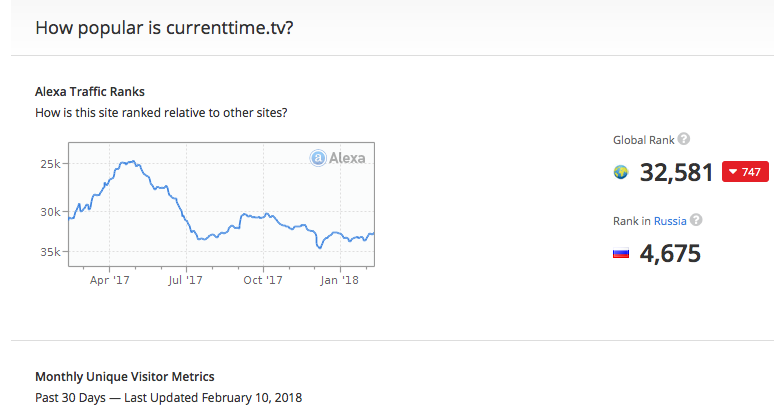 MEDUZA has a far better ranking in Russia than BBG-RFE/RL-VOA's "Current Time."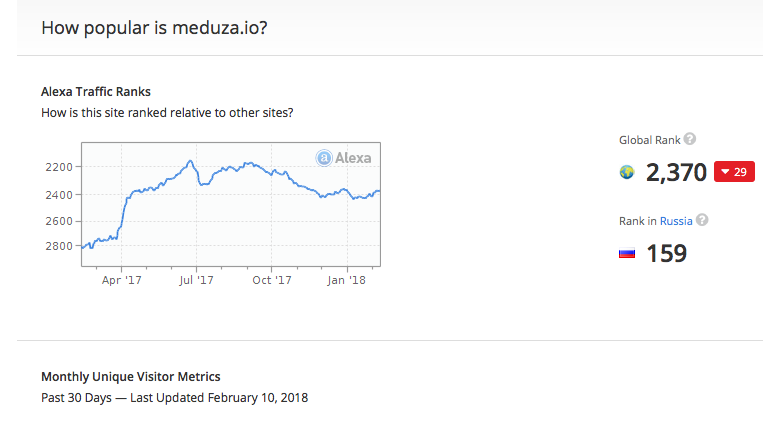 During the last 30 Days ending February 10, 2018, the Amazon.com company Alexa gives MEDUZA website 159 rank in Russia (one is best).
During the same time period, the rank of "Current Time" website in Russia is 4,657 (again, one is best). That's a significant drop for "Current Time" from its June 2016 Alexa ranking of 2,445. The rank by country is calculated using a combination of average daily visitors to this site and pageviews on this site from users from that country over the past month. The site with the highest combination of visitors and pageviews is ranked #1 in that country.
Dozhd, another somewhat independent Russian TV network, also known as TV Rain, has a 391 rank for its website in Russia, also multiple times ahead of BBG's "Current Time." One does not have to be an expert to know how deceptive BBG, VOA, and RFE/RL audience and impact claims are, but the bureaucracy tries hard to fool a lot of people in Washington with selective and misleading use of meaningless statistics that do not allow for making comparisons.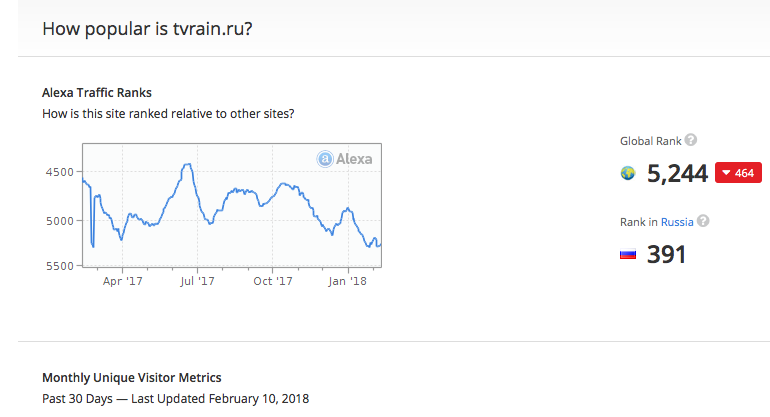 But there is an even greater problem overshadowing the agency's claims.
For further reading:
THE LONG HANGOVER
Putin's New Russia and the Ghosts of the Past
By Shaun Walker
Oxford.
278 pp. $29.95
Reviewed by Svetlana Savranskaya (director of Russia programs at the National Security Archive at George Washington University). The Washington Post, January 26, 2018. She points out that Vladimir Putin has had a longterm strategy of rebuilding Russian nationalism at home and Russian imperialism abroad, capitalizing on public discontent in Russia and using propaganda and sanitized teaching of Russian history.
From Ms. Savranskaya's review:
SVETLANA SAVRANSKAYA: So history again became a battlefield, as it was during the years of perestroika – only then the battle was led by the Gorbachev reformers who wanted to fill in history's 'blank spots…' This time in the 2000s a usable history was needed to help build a strong state, a great Russia. Starting in 2009, when the Kremlin set up the Commission to Prevent Falsification of History to the Detriment of Russia's Interests, writing the national history became a national priority. In 2013, Putin called for creation of unified high school history textbooks."
One thing that one comes to understand about the BBG is how superficial it has become with some of its programming. Another factor is extremely poor treatment of BBG journalists and other employees, which in turn affects the quality of programs to Russia and to other countries.
Senior executives at RFE/RL and VOA appear to be in an open conflict with their workforce. A star anchor and producer of "Current Time," award-winning investigative reporter Shahida Tulaganova, has quit and is openly criticizing senior RFE/RL managers.
The same is true for another award-winning former RFE/RL investigative reporter Khalida Ismayilova. Even young journalists, winners of the prestigious Vaclav Havel Fellowship at RFE/RL, have joined the critics of the senior management. VOA's senior executives have also alienated many of their journalists, particularly in VOA's Mandarin Service. One must also bear in mind that with BBG-run bureaus in Moscow and a large number of VOA and RFE/RL employees and reporters in Russia, the BBG and its staff are wide open to pressure and blackmail from the Russian security services and other branches of the Russian government.
If you understand the superficiality of programming and poor management within the context of challenging the Russian world view as remarked in Ms. Savranskaya's review, you know that considering its dismal online ranking "Current Time" is wholly incapable of changing opinion inside or outside of Russia with any kind of substantive impact.
You also know that "Current Time" is way behind the curve compared to what Vladimir Putin has been doing to reinforce a national narrative to purpose the direction he wants to see the Russian Federation headed. He's been at it for quite a while. He has reinforced it with successful military actions against the Republic of Georgia, in the Crimea and parts of Ukraine. The Russian government made substantial effort to impact the November 2016 national election in the United States. Whether it supports allegations of collusion with the Trump campaign has yet to be determined. However, the size and scope of the operational effort cannot be ignored – along with continued disinformation, cyber spying and cyber criminal activity originating in Russia and directed toward the West in general and the United States specifically.
When it comes to "Current Time," it does not remotely approximate the level of activity, sophistication and impact of Russia's
"Current Time" comes very late to this party. And the advantage still rests with the Russian Federation. And be certain of the likelihood that Mr. Putin is planning the next "party."
(To Be Continued)
The Federalist
February 2018