BBG Watch Commentary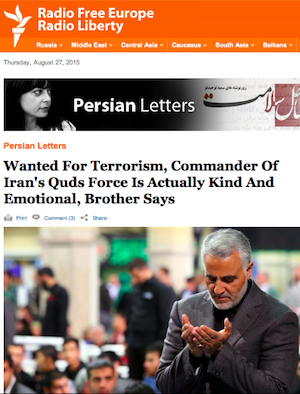 BBG Watch has reported often on a leadership, management and news handling crisis at the U.S. taxpayer-funded Voice of America (VOA), and we have praised Radio Free Europe / Radio Liberty (RFE/RL) for still maintaining higher journalistic standards and mission-focus within the ailing Broadcasting Board of Governors (BBG), but this time it is RFE/RL that disappoints with an inexplicably naive puff piece on the commander of the Islamic Revolutionary Guard Corps (IRGC) Quds (Jerusalem) Force, Maj. Gen. Qassem Soleimani.
The RFE/RL article described the Iranian terrorist as religious and someone who "loves the children of the martyrs" and is "very kind and emotional." The RFE/RL report quoted extensively from an interview with Qassem-Soleimani's brother, Sohrab Soleimani, which was published on August 23 by Iran's Fars News Agency (FNA).
Someone needs to tell RFE/RL that Stalin was a seminary student in his youth, quoted poetry, and cried listening to his favorite song Suliko. The report was poorly written, lacking sophistication, as well as sufficient insight and objectivity expected from and normally delivered by RFE/RL. (We were corrected. A former VOA Russian Service journalist pointed out to us that Iosef Vissarionovich Stalin not only quoted poetry but actually WROTE poetry.) Like Qassem Soleimani, Stalin was also a sensitive man. So what? RFE/RL should know better.
As reported by Sean Durns for Snapshots CAMERA blog of the Committee for Accuracy in Middle East Reporting in America (CAMERA),"RFE[/RL] acknowledges that Soleimani is a 'wanted man' who has been 'linked to support for terrorism,' and was sanctioned in 2012 for his 'alleged role in an assassination plot against the Saudi ambassador in Washington.' After calling Fars News Agency a 'Persian-language news outlets affiliated with the powerful IRGC,' the U.S. broadcasting agency proceeds to uncritically repeat its Soleimani puff piece."
In his Facebook post on his report, Sean Durns wrote Radio Free Europe / Radio Liberty, "a US taxpayer-funded entity created to counter Soviet propaganda-has uncritically disseminated Iranian state news propaganda." RFE/RL "repeats that Qassem Soleimani, commander of US listed terror group IRGC's Quds Force, is actually 'warm' and 'kind' with a soft spot for the children of martyrs."
RFE/RL report "says nothing of the over 1,000 Americans killed by this terrorist," the analyst notes and adds, "Your tax dollars at work folks."
In his CAMERA blog article, Sean Durns point out that the U.S.-broadcasting organization [RFE/RL], "while including its qualifications, nevertheless provides free media for a terrorist once called by retired U.S. General and former CIA Director David Petraeus a 'truly evil figure'."
The analyst notes that "Petraeus' description stems in part from the Quds Force's role in setting up Iranian factories to manufacture deadly roadside bombs called EFPs (explosively formed projectiles)." According to the article, these EFPs are estimated to have caused the deaths of up to 1,000 U.S. soldiers in Iraq and Afghanistan.
The analyst explains how such information about Qassem Soleimani "contrast sharply with the article posted by RFE[/RL]." He points out that the RFE/RL article "repeats family member descriptions of the terrorist as 'a serious person, but very kind and emotional'."
According to RFE/RL, his brother explained that the Quds force commander "loves the children of the martyrs [Iranians and IRGC members killed] so much that sometimes his own children become jealous."
Sean Durns concludes that RFE/RL is helping to spread to the Iranians the Iranian regime's own propaganda. The Committee for Accuracy in Middle East Reporting in America, which published his analysis was founded in 1982. It describes itself as "a media-monitoring, research and membership organization devoted to promoting accurate and balanced coverage of Israel and the Middle East." Its work has been praised by former Soviet dissident and former Israeli Parliament member Natan Sharansky, Harvard law professor Alan Dershowitz, former New York mayor Ed Koch and others.
"RFE[/RL] failed to portray Soleimani accurately—as a ruthless terrorist leader responsible for countless combatant and non-combatant deaths as part of Iran's drive for regional dominance and international influence. It did not challenge the propaganda of a theocratic, totalitarian government but rather disseminated it. It thereby failed to fulfill its mandate of providing news, information, and analysis to countries 'where the free flow of information is either banned by government authorities or not fully developed.' And it did so at American taxpayer expense and oppressed Iranians' need for truth, not propaganda, about their rulers."—Sean Durns
Recently a Wall Street Journal editorial writer Sohrab Ahmari commented on even more disturbing violations of journalistic standards in Iran coverage by the Voice of America, RFE/RL's sister broadcaster which is also overseen by the Broadcasting Board of Governors.
SOHRAB AHMARI, WALL STREET JOURNAL: Iranians watching VOA wouldn't have heard the Idaho Republican's objections to the deal. … Iranians heard Mr. Kerry's opening statement in full but many senators' objections in truncated fashion or not at all.

Such reporting runs contrary to the VOA charter, which requires the broadcaster to "represent America, not any single segment of American society" and to "present a balanced and comprehensive projection of significant American thought and institutions."

The story "should have included a comment or a direct quote from a critic of the Iran nuclear agreement," the VOA spokesman said in an email.

The lopsided report wasn't a one-off. In recent weeks VOA columnist Barbara Slavin has frequently lambasted critics of the current diplomacy. Israel's Prime Minister Benjamin Netanyahu's criticism "has not included a realistic alternative" to the nuclear deal, Ms. Slavin wrote in an Aug. 5 column. "Critics of Obama's foreign policy have wanted the United States to remain an outlier when it comes to dealing" with Cuba and Iran, she wrote on July 21. A week before that: "It would be interesting to hear how Jeb Bush and other critics would improve on an agreement blessed by all the world's other powers."

While VOA's English site does occasionally carry more skeptical views, Ms. Slavin is the only regular columnist. "I am aware that the managing editor of that page is in the process of procuring a counterweight voice," the VOA spokesman said. Ms. Slavin has been a VOA columnist since 2013. True, VOA's English-language online content isn't exactly among the Internet's best-read. But it has an audience among diaspora communities in the U.S. and, fairly or not, VOA is seen globally as a voice of the American government.
Many of the news reporting and editorial control problems at the Voice of America have been highlighted by BBG Watch for years, including recent violations of the VOA Charter described by the Wall Street Journal editorial writer. RFE/RL had similar problems in 2012, but the BBG board reformed RFE/RL's management and appointed respected media executive and journalist Kevin Klose as RFE/RL president. He quickly initiated editorial and management reforms. Klose retired from RFE/RL in March 2014 and since then RFE/RL has been run by interim managers.
The most recent VOA director David Ensor, under whom many of the Iran coverage problems developed at the Voice of America, although others date many years back, departed last May. His controversial chief deputy moved to another position at about the same time. VOA is also now under interim management. The BBG board named U.S. media executive John Lansing as the agency's new CEO and director. He is widely expected to carry out major management and editorial reforms, but he has not been yet officially sworn in and may not start working until mid-September. It will also be up to him to appoint new executives at VOA and RFE/RL.