BBG Watch Commentary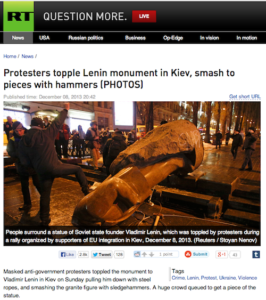 Russia's state media outlet Russia Today is reporting on a vist of a high ranking U.S. State Departmeny official to Kiev, Ukraine.
12:18 GMT: US Assistant Secretary of State for Europe and Eurasia, Victoria Nuland, has met with Ukrainian opposition leaders in the occupied House of Trade Unions at Maidan, RIA Novosti reports citing local media.

The US official met with Vitaly Klitschko of the Udar (Strike) party, Oleg Tyagnibok of the Svoboda (Freedom) party, Arseny Yatsenyuk of the Batkivshina (Fatherland) party, as well as Ukrainian MP and businessman, Pyotr Poroshenko, and the ex-Interior Minister Yury Lutsenko.

Nuland refused to speak to journalists ahead of the talks, and said only that she has "a scheduled meeting with President Yanukovich" after the meeting was over.

Earlier on Monday, the US Department of State released a statement urging Russia to "use its influence to press for peace, human dignity and a political solution" in Ukraine, after Nuland had met with several Russian officials and "civil society leaders" in Moscow. "Mass protests in Kiev: LIVE UPDATES," Russia Today, December 10, 2013.
The Voice of America English news website is not reporting on Nuland's visit to Kiev and did not report on her visit to Moscow.
VOA English News also failed to report on Vice President Biden's phone call Monday to Ukrainian President Yanukovych. It also did not report on the State Department's Monday statement on Ukraine.
Update: VOA English News eventually reported on Nuland's visit to Kiev, but the website still has nothing on the State Department's statement on Ukraine and Monday's phone call between Vice President Biden and President Yanukovych.
VOA Ukrainian and Russian services posted their own short reports on the Biden-Yanukovych phone call. Other VOA foreign language services, however, did not and neither did the VOA English service.
BBC, the Voice of Russia, and Russia Today all reported on the Biden-Yanukovych phone call. The Voice of Russia reported Monday on Nuland's visit to Moscow, while the VOA English news website ignored the visit.
The Voice of America Charter, which is a congressionally-passed law setting up VOA's mission, says that "VOA will present the policies of the United States clearly and effectively, and will also present responsible discussions and opinion on these policies. (Public Law 94-350)." The Broadcasting Board of Governors (BBG), which oversees VOA and other U.S. government-funded media outlets serving audiences abroad, says that "the BBG's mission is to inform, engage and connect people around the world in support of freedom and democracy."
Over the weekend, most VOA reports from Ukraine were from Reuters. They received very few Facebook "Likes" — one Reuters report on Sunday showed 18 — compared to thousands Facebook "Likes" for Russia Today and BBC reports on demonstrations in Kiev.