BBG Watch Commentary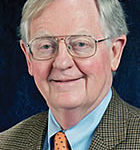 Co-leader of International Republican Institute's (IRI) delegation of election observers Victor Ashe, former United States Ambassador to Poland and former member of the Broadcasting Board of Governors (BBG), commented on Sunday's parliamentary elections in Ukraine that "the vote is an affirmation of Ukraine's desire for national unity." Ashe also noted that Ukraine conducted an election that met international standards.
With the exception of areas of Donetsk and Luhansk, where Russian supported militants prevented voting, and in Crimea, where Russia continues to illegally occupy Ukrainian territory, voters turned out in cold weather to register their continued support for the path to Europe which began with the Maidan. The Central Election Commission (CEC) has preliminarily reported that turnout was more than 52 percent.
IRI's delegation reported that the election was well-administered. IRI observers reported only minor non-systemic irregularities and none that would affect the outcome of the election.
IRI's delegation was led by Victor Ashe and Iveta Radičová, former prime minister of Slovakia. She said that "Ukrainian citizens expect swift change in the governance of their country and a continued path towards Europe." She noted that several new, pro-European parties have entered parliament.
Ukrainian services of both Radio Free Europe / Radio Liberty (RFE/RL) and Voice of America (VOA) reported on the voting. Both are overseen by the Broadcasting Board of Governors.
VOA journalist and broadcaster Myroslava Gongadze co-hosted a series of parliamentary election debates on one of Ukraine's major television networks.
Victor Ashe was confirmed to be a member of the Broadcasting Board of Governors on June 30, 2010 and served until August 1, 2013. He was also the longest serving mayor of Knoxville and later served as the United States Ambassador to Poland from June 2004 to October 2009.