BBG Watch
After earlier criticism from Broadcasting Board of Governors (BBG) employees for taking too long to communicate his views on the Congressman Mac Thornberry's proposed the amendment to the House version of the National Defense Authorization Act (NDAA) that could result in de-federalization of the Voice of America (VOA), BBG CEO John Lansing moved quickly to update the employees on the fate of the bill in the U.S. Senate.
John Lansing said in an e-mail to staff that "On Tuesday, the Senate voted to pass its version of the Senate National Defense Authorization Act (NDAA)" and "To the best of our knowledge, no BBG reform amendments were included."</strong>
His e-mail also said:

BBG CEO JOHN LANSING: "We are now tracking information about the conference committee, where the Senate and House will iron out differences between their bills. Senate Armed Services Committee (SASC) Chairman John McCain has publiclly (sic) indicated that he would like to convene the conference committee soon, but that this may be difficult given competing Congressional priorities and obligations. The Senate will be out for several days following the July 4 holiday and both chambers will begin an extended recess mid-July (target date of July 15).


We will work to keep you informed of relevant updates. Please don't hesitate to contact Ellona Fritschie, Director of Congressional Affairs, if you have specific questions about process or the bill."

Lansing depends on the BBG staff which prepares his internal communications and sometimes issue them with spelling mistakes.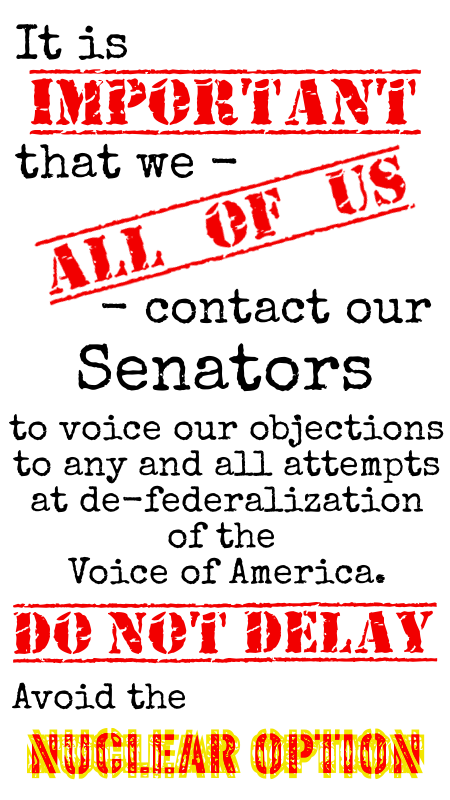 The Thornberry Amendment has been strongly opposed by VOA employees, their government employees' union, and many outside U.S. international media and public diplomacy experts. They pointed out in articles and letters to U.S. Senators that turning the Voice of America into a private enterprise would undermine its unique mission as defined in the VOA Charter and would make it even more prone to mismanagement and political bias with far less oversight from Congress or anybody else.