BBG Watch Commentary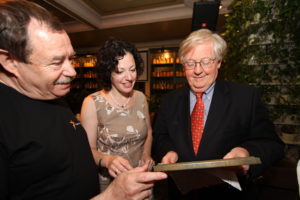 Commenting on numerous news reporting failures by the U.S. taxpayer-funded Voice of America (VOA), former Broadcasting Board of Governors (BBG) member Ambassador Victor Ashe said at a panel discussion in Warsaw, Poland that "to think American taxpayers are funding such an incompetent operation at a time of Putin's resurgence is stunning and sad."
Ashe, who served as U.S. Ambassador to Poland from 2004 to 2009, said that "Voice of America has demonstrated its weaknesses and failures in the current Ukrainian crisis, as well as in reporting on issues involving Europe and the United States."
"VOA should accurately report what American leaders are saying and it is failing that simple test," Ashe said.
He was referring to examples of VOA English News failing to report on some of the statements and actions of President Obama, Vice President Biden, Secretary of State John Kerry, and key members of Congress with regard to foreign policy and other matters. Numerous VOA languages services also fail on many occasions to report such news, even when they deal with Ukraine and Russia.
VOA Ukrainian Service, which produces an excellent television program, reports on most of these developments, but the hard-working service has not been provided by the management with sufficient staff and resources to update its news website and social media pages 24/7. VOA journalists labor under bad and hostile management that fails to plan for and organize adequate news coverage, critics say.
In recent weeks, Voice of America failed to report for its worldwide English audiences on a statement by U.S. Secretary of State John Kerry on the 70th anniversary of Crimean Tatar deportation on orders of Soviet dictator Joseph Stalin. The vast majority of more than 40 VOA language services also ignored the 70th anniversary of one of the major genocides of the 20th century.
During President Obama's visit to Poland in early June, Voice of America English News failed to report that he and Secretary Kerry met with Crimean Tatar leader Mustafa Dzhemilev and that he had received received the Lech Walesa Solidarity Award at a ceremony in Warsaw attended by Kerry and Ukraine's then President-elect Petro Poroshenko. Recently, VOA English News posted a map showing Crimea to be part of Russia. It was later removed and corrected.
Speaking in Warsaw on June 25 at a panel discussion on "Transatlantic Cooperation in the Context of the Situation in Ukraine," sponsored by the International Republican Institute, the German Marshall Fund of the United States and the Foundation for Polish-Ukrainian Cooperation (PAUCI), Ambassador Ashe noted that "fortunately there is legislation to reform VOA and BBG on a bipartisan basis."
He was referring to H.R. 4490, the United States International Communications Reform Act, "to improve the missions, objectives, and effectiveness of U.S. international broadcasters," introduced on April 28, 2014 by Rep. Ed Royce (R-CA) and Rep. Eliot Engel (D-NY) and approved unanimously by members of the House Foreign Affairs Committee in a bipartisan vote.
Ashe noted that "it will be a challenge to enact the Royce – Engel bipartisan reform legislation as the status quo persons are in full mode to halt progress in Washington."
Sources told BBG Watch that Ashe was particularly appalled by officials of the BBG's International Broadcasting Bureau who had initiated a politically inappropriate and faulty public opinion survey in Russia-annexed and occupied Crimea without seeking permission from the Ukrainian authorities and later presented their data, which was heavily biased in favor of the Kremlin's propaganda, as perfectly valid.
Voice of America reported that "the survey of Crimeans after the Russian takeover showed they are overwhelmingly happy to be part of Russia" without any mention of fear and intimidation among ethnic Ukrainians or any mention of similarly repressed Crimean Tatars who represent about 12% of the population.
Speaking about Voice of America's management, Ashe said that VOA lacks a leader who could "instill a sense of mission and determination into the operation."
"If Congress cannot enact the legilation for reform then public hearings are needed to shine the spotlight of public attention on the situation, Victor Ashe added.
Ambassador Ashe was born in 1945 and has a distinguished career in public service. Previously, he served for 16 years as the Mayor of Knoxville, Tennessee from 1988 to 2003 and 15 years in the Tennessee House and Senate from 1968 to 1984. In January 2003, he received the Distinguished Public Service Award of the U.S. Conference of Mayors. Ambassador Ashe served four years on the National Service Corporation Board appointed by President Clinton and on the Advisory Commission on Intergovernmental Relations by appointment of both Presidents Bush and Reagan. Ambassador Ashe is also the past president of the U.S. Conference of Mayors. During his time as Ambassador to Poland, he visited all 16 provinces of Poland and over 185 Polish cities and towns. He served as presidentially appointed member of the Broadcasting Board of Governors from 2010 to 2013. He now sits on the Advisory Board of the independent Committee for U.S. International Broadcasting (CUSIB – cusib.org). Ambassador Ashe lives in Knoxville, TN.
To see a video of Voice of America Director David Ensor explaining how VOA is countering Russian propaganda with extra money received from the U.S. State Department, read: Voice of America often fails to counter Russian propaganda and sometimes promotes it, BBG Watch, June 25, 2014.
David Ensor joined VOA in 2011. Most recently he served as Director of Communications and Public Diplomacy at the U.S. Embassy in Kabul, Afghanistan. From 1975 to 1980 Ensor reported for National Public Radio. From 1980 to 1998, he was a television correspondent for ABC News, and from 1998 to 2006 he was CNN's National Security Correspondent.
David Ensor said in an earlier interview that VOA will not be a mouthpiece for the White House or anybody else.
Sources told BBG Watch that Ashe reportedly said in Warsaw that while he likes David Ensor personally, he has not been the leader VOA needs. "He has failed to instill a sense of mission and determination into the operation," Ashe was quoted as saying.