BBG Watch Commentary
In a staff meeting that became "a vote of no confidence" in Voice of America Director David Ensor and his senior deputies, some VOA journalists challenged Ensor on his knowledge of how the organization works. One VOA journalist accused Ensor of not listening to what another VOA staffer said about their inability to produce news programs. No former VOA director has ever been addressed in such a sharp and challenging way about their leadership.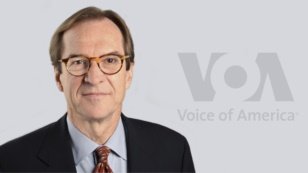 A meeting Voice of America Director David Ensor had Tuesday with Central News and the English Division "to discuss a new direction for English language news workflow," showed that after many years neither he nor his top managers have any idea how VOA Central News and the English Division work. They were sharply challenged by some VOA journalists.
From former VOA Chief White House Correspondent Dan Robinson: The "occasionally heated" question period referred to in this morning's summary note by David Jones featured the kind of blunt, visceral remark (in the sense that it reflects true emotions of many people in Central News) by one editor.

Here's the key portion:

A Voice of America Editor: "Excuse me, I hate to interrupt. But did you listen to a word [that] she just said? She just said that she doesn't have enough material, we're not gathering enough news, and you're going on about some great strategic plan you may have. Address her question. We don't have enough people in the newsroom to turn out product. That is what we're here to do. We have had so many changes, so many times we're all supposed to come together and reorganize, and all it's done is make sure our broadcasters don't have enough material, and if they don't have enough material, the languages don't have enough material, [Matthew] Baise doesn't have enough material, and you're going on about how we have got to start changing [again]. You want to know why people have bad morale here? It's because no one believes anything management has to say anymore, because we have gone through five years of constant reorganization and change and we have ended up in this position where we can't put stuff on the air."

From former VOA Chief White House Correspondent Dan Robinson: Newsroom managers can summarize, condense, dilute all they want. Make no mistake about the tone of Tuesday's meeting. It was overall a vote of no confidence.

Another former senior VOA foreign correspondent commented: Just more of the same unhealthy diet of bromides and bulls**t force-fed to VOA employees in recent years. Sad thing is, there is nothing in the pending legislation in Congress that would cure this digestive distress.

BBG Watch: The phrase "Digital First" is a clever piece of propaganda designed by VOA executives to put the blame for Voice of America's spectacular management failures on VOA journalists by falsely implying that they are not already "Digital First." It's a phrase designed to confuse members of the Broadcasting Board of Governors (BBG) and to show VOA executives as reformers and innovators. But anyone who has listened to Tuesday's meeting can easily tell that they have no idea what is going on within their organization and have no credibility with the staff.

What VOA needs most of all immediately is "Different Management First," a former senior VOA manager told BBG Watch.

The same "Digital First" / "Digital Transformation" tactic was used by the discredited former management of Radio Free Europe / Radio Liberty (RFE/RL), which also had tried to create a false impression that Radio Liberty journalists in Russia did not know how to use digital media. Radio Liberty Russian Service journalists showed that they were experts in using digital media, and BBG members eventually replaced RFE/RL managers.

BBG Governor Matt Armstrong is quite right in reportedly pushing for "Audience First" strategy, but such a strategy cannot work without a management change and it needs to be coupled with "News First" and "VOA Charter First" strategy.

"Digital First" is at best a program delivery concept, not a strategic vision for the organization, and it has been practiced already for many years. It does not work well, not because of VOA journalists, but because of spectacularly inept senior executives both at VOA and at the International Broadcasting Bureau (IBB).

While BBG Chairman Jeff Shell and BBG members have made some management changes at IBB, there has been no change at VOA. The most depressing aspect of Tuesday's meeting was the patronizing attitude of VOA's top leaders and their admission after many years in their jobs of being completely in the dark how VOA journalists work. They announced to their incredulous audience of VOA reporters that they will now spend several months studying the workflow.

The implosion of management at the Voice of America is just as bad as the implosion of management at RFE/RL in 2012.

These further exchanges on Facebook by a former VOA chief White House correspondent Dan Robinson and some of this colleagues paint a very depressing picture.

###

From: David Ensor
Sent: Wednesday, June 04, 2014 12:53 PM
To: VOA Notices
Cc: Andre Mendes; Robert Bole; Suzie Carroll; Matt Armstrong
Subject: VOA News Center

Colleagues:

I met with a number of you from Central News and the English Division yesterday to discuss a new direction for English language news workflow. "Digital first" is a lot easier to say than it is to clearly define, or execute. We are going to need everyone's help designing changes in our workflow that will point us in the right direction.

Our goals include:

Better aligning the outputs of all English-language journalists at VOA.
Creating a workflow that generally feeds our online operations first, but without jeopardizing our broadcasts.
Ensuring that we are fulfilling all three parts of the 1976 Charter, with an increased emphasis on coverage of the U.S. and American foreign policy.

Matthew Baise, who leads our digital efforts will serve as Project Manager for this effort. He has experience in integrating digital and legacy news operations from his days at The Baltimore Sun. Matt will not be involved in daily news operations, but will focus on creating better workflows for a new VOA News Center. He will be working with Steve Redisch, who as Executive Editor, has oversight of Central and English. David Jones will continue to handle the daily business of running Central; Sheila Gandji will do the same for English.

Steve, David Jones, and Matthew will meet with the Central News Advisory Council today. That relatively new group will be expanded to include English Division employees over the next week. We expect this group to have an important role as this project continues. During the rest of June, Matthew will conduct interviews with employees and contractors in English and Central to get input from the people who know best how we work, and what is needed to streamline it. This is a complex reform and we look forward to working with all of you to make it successful. Our goal will be to implement changes by mid-September.

Central News and English have both made extraordinary strides in the past few years, despite uncertain budgetary times. We reach enormous audiences, with great content much of it prepared by the dedicated professionals of VOA Central News and English.

Now we want to make it even better.

Please feel free to contact Matthew Baise, Steve Redisch, David Jones or Sheila Gandji if you have any questions, suggestions or concerns.

Thanks,

David

David Ensor

Director

Voice of America

330 Independence Ave, SW

Washington DC 20237

(202) 203.4500

From: David Jones
Sent: Wednesday, June 04, 2014 8:52 AM
To: VOA Newsroom
Subject: Tuesday's meeting with David Ensor

For the benefit of those who have not been following Dan Robinson's Twitter feed, David Ensor visited the newsroom yesterday to discuss a new initiative aimed at bolstering VOA's online presence in English, hopefully without negatively impacting our core broadcast products. Sorry, I did not take notes, so this is from memory. David noted that around the world, news organizations are finding they have no choice but to move to a "digital first" strategy and he feels VOA must not be left behind. He also feels there is too much overlap and duplication of effort between Central and English Web writers. To try to figure out the best way forward, Matthew Baise will spend the next few months studying how to rationalize and reconcile these sometimes contradictory needs and come up with recommendations for a new workflow. Matthew will spend a lot of time in the newsroom and says he plans to have a detailed conversation with every individual in it. He is expected to report back around the end of the summer.

During an occasionally heated question period that followed, several people raised concerns about the needs of our broadcast clients in the language services and a desire that they not be sacrificed. David said he does not mean that we should write a web story at the expense of broadcast if a broadcast client is on deadline and needing a story. There were also suggestions that senior management is foisting yet another "re-org" on Central without really understanding what it is that we do. David was very complimentary about the changes that have been made to date, and the products coming out of Central at present, but said he feels we have no choice but to find ways to improve our digital products. One questioner noted that she has spent the past two years getting away from breaking news in favor of a more contextual and analytical style of reporting; this new mandate makes her feel like she is being asked to go back to the breaking news format. David insisted that is not what he wants; we should continue the contextual reporting. He also said it is not about being first with every story. But he said that even a well-reported and nuanced CN sometimes takes longer to write than what the website can wait for.

These I think were the main points. If anyone who was there thinks I left out something important please let me know.