BBG Watch Commentary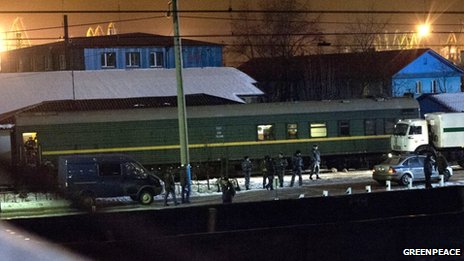 While Voice of America (VOA) English News fails to take notice, BBC posted a report on its website more than five hours ago that Greenpeace activists who were jailed in Murmansk, Russia, were being moved to St. Petersburg.
The BBC news report included a Greenpeace-provided photo of a Russian prison van at the Murmansk train station. According to the BBC report, investigators said the reason was to move the detainees closer to the appropriate court. Families and diplomats may find it easier to visit them in jail in St Petersburg. However, BBC noted that there are concerns the conditions in the jail in St. Petersburg may be worse because of overcrowding. Greenpeace and news agencies reported that jailed activists are traveling from Murmansk to St. Petersburg by train.
Read: Greenpeace protest detainees moved to St Petersburg, BBC, November 11, 2013.
A few hours earlier, Russia Today also reported the same news and posted AFP photos of a prison van at the Murmansk train station. In addition to Russia Today and BBC, major news agencies and many other U.S. and international media have also reported on the transfer several hours ago.
Read: Detained Arctic Sunrise 30 being moved to St. Petersburg, Russia Today, November 11, 2013.
Reuters released its news report on the transfer more than seven hours ago. Greenpeace International issued a press release stating that "the transport away from Murmansk of 30 men and women detained by Russia following a peaceful protest at an Arctic oil platform started at around 5:00am Monday, local time." Detainees come from 18 countries, among them two Americans and six Britons.
As of 12:30 ET Monday, November 11, many hours after the transfer of prisoners began, the Voice of America English news website still has no news about this latest action by the Russian authorities. The VOA website did post today a Reuters news report that a Russian spacecraft brought three astronauts and the Olympic torch back to Earth on Monday after the torch was taken on its first spacewalk in the run-up to the 2014 Winter Games in Sochi.
There are two American citizens among 28 Greenpeace activists and two freelance journalists who were in jail in Murmansk who have been ignored by VOA News. BBC had numerous reports on the British nationals in the Russian jail and interviewed their families in the UK. In its early reporting, VOA English News only once mentioned this fact in one sentence.
VOA English News also failed to report on U.S. protests against the arrest of Greenpeace activists in Russia. A protest was held in San Francisco over the weekend in connection with a visit of Greenpeace ship, the Rainbow Warrior. The Rainbow Warrior unfurled a banner "Free the climate defenders" after docking at Pier 15 near the Exploratorium, according to the ship's media officer, Kat Clark.
The ship sailed into San Francisco Bay on Friday morning, with plans to hold a 30-hour vigil to support colleagues imprisoned for more than a month in Russia, Oakland Tribune reported. The vigil began Saturday morning.
The crew of the Greenpeace ship Arctic Sunrise was detained in September by Russian authorities after a peaceful protest against Arctic drilling. Protesters at the Consulate General of the Russian Federation were holding pictures of the Arctic Sunrise Capt. Peter Willcox, an American who was among crewmembers ordered held without charges for two months after a peaceful protest against a Gazprom oil platform drilling in the Arctic. Another American citizen jailed in Russia is Dimitri Litvinov, son of a famous former Soviet-era political prisoner Pavel Litvinov who was exiled to the United States.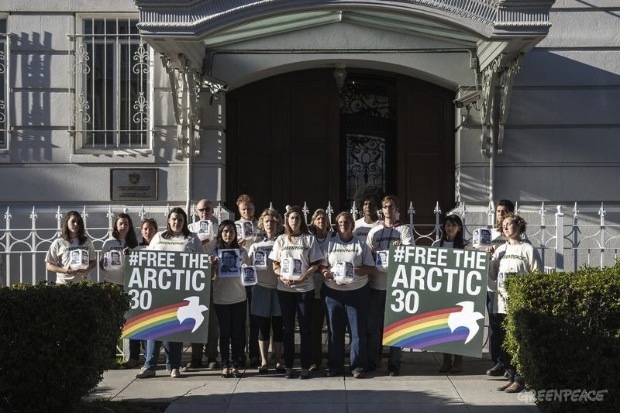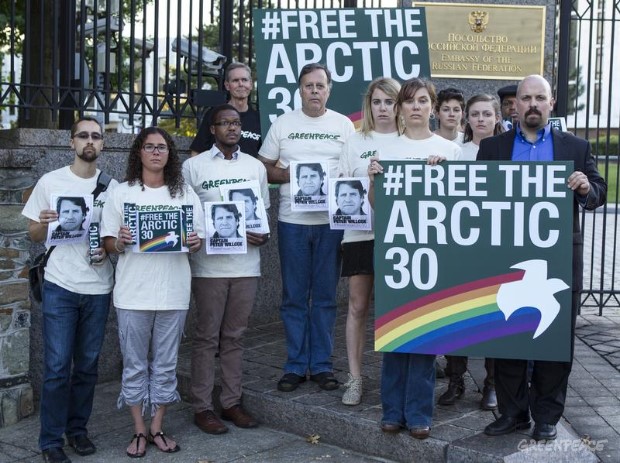 As VOA English News has ignored such protests and the families of jailed American Greenpeace activists, the VOA English website during the last six weeks had an array of news and feature reports, including five reports posted in two days on the royal christening in Great Britain, a report on finishing schools in Switzerland and a report on a zombie convention in the United States.
At the same time, the VOA website missed or was late in reporting on many major U.S. and international news stories, including President Obama's meeting last Friday with two prominent Cuban dissidents and human rights activists.
The VOA Russian Service website posted a Reuters news report on the transfer of Greenpeace prisoners, which suggests that even after two months since the story broke, it does not have a reporter or a stringer ready to file from Murmansk or ability to generate its own original report in Washington on a short notice.