BBG – USAGM Watch Commentary
A Voice of America (VOA) correspondent felt the need to tweet Wednesday about the warning to the United States from Iran's Foreign Minister Javad Zarif: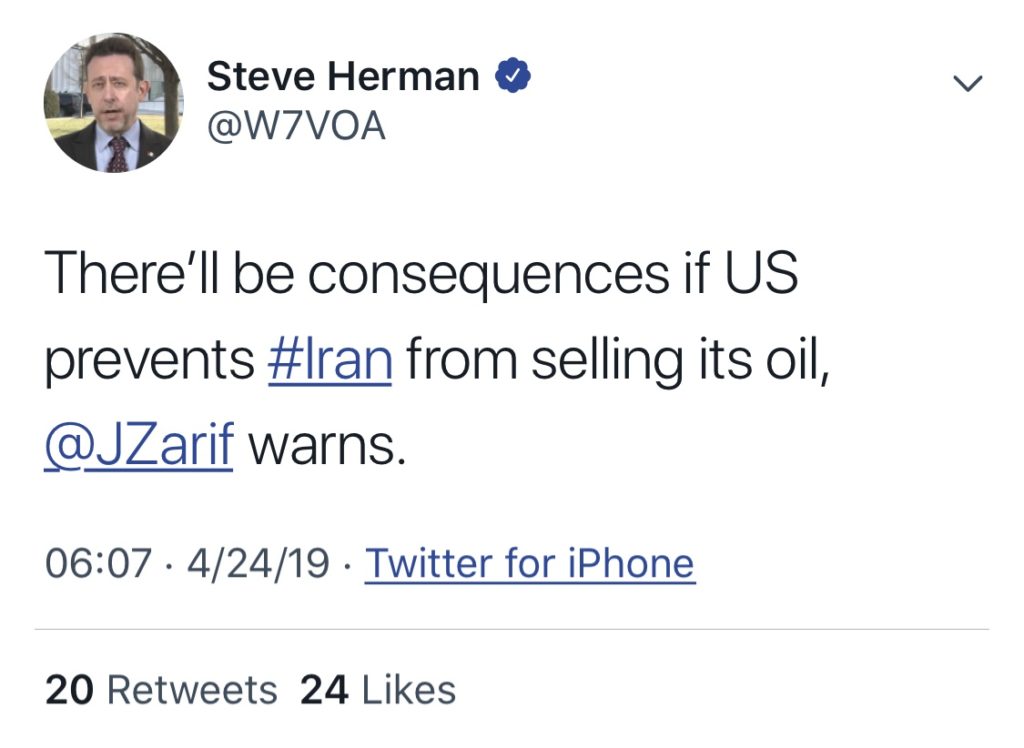 "There'll be consequences if US prevents #Iran from selling its oil, @JZarif warns.
The VOA correspondent's tweet included @JZarif link.
VOA News then promptly retweeted the VOA correspondent's tweet giving a larger audience the opportunity to learn more about the Iranian warning.
But when we looked at the Iranian Foreign Minister's @JZarif Twitter page, there was no specific oil sales warning, although he probably made it at some other venue. If there had been a substantive news-worthy tweet on Javad Zarif's Twitter page about an oil sales warning to the U.S., it was removed. All that was left at the top of the Iranian Foreign Minister's Twitter feed was nasty anti-American propaganda.
Both Russia and Iran count on Western media to pick up and report their propaganda as news. Many Western media outlets fall for this ploy without providing sufficient context and countering facts. This happens often at the U.S. tax-funded Voice of America and Radio Free Europe / Radio Liberty (RFE/RL).
Both VOA and RFE/RL are run by the U.S. Agency for Global Media (USAGM), a federal government agency seen as dysfunctional by both Republican and Democratic members of Congress. The USAGM is still managed by Obama administration appointees.
Those looking at the Twitter Page of the Foreign Minister of the Islamist regime in Iran as a result of tweets and retweets by VOA would find that his latest tweet included a propaganda video clip from the Russian RT propaganda channel. The RT video was designed to discredit Secretary of State Mike Pompeo and the CIA.
The short RT propaganda clip, presented out of context, shows Secretary Pompeo discussing CIA's clandestine operations with a reference to lying, cheating and stealing by intelligence agencies. RT included a description that the video is provided "COURTESY: U.S. DEPARTMENT OF STATE."
We are not suggesting that VOA correspondents should never report on statements issued by various authoritarian regimes, but, in our opinion, this should be done within a larger context and with caution to avoid amplifying anti-US propaganda. VOA News reporters should not instinctively tweet or retweet anything and everything that comes along. They should carefully check what they may be retweeting and then decide what to do and whether context and countering facts need to be provided. They should also always identify propaganda for what it is.
The VOA correspondent's tweet and the VOA News retweet will drive international and American web traffic to the Iranian propaganda tweet and the Russian propaganda video. This will help spread anti-U.S. propaganda but it may also enable USAGM holdover CEO John F. Lansing to claim once again that he has managed to expand the agency's digital media outreach. The question is to what purpose and whether exposing Americans and foreign audiences to Iranian, Russian and Chinese propaganda should also be regarded as a measure of success.
Frankly, we were surprised that Javad Zarif did not retweet the VOA tweet to complete the circle for additional propaganda publicity for himself, Iran and Russia. He could have claimed that his warning had a great impact on the U.S. administration because it was retweeted by VOA.
Russia's RT almost certainly does not mind such additional publicity from the Voice of America.
The winners of these VOA tweets and retweets are: Iranian Foreign Minister Javad Zarif, the Islamist regime in Iran, the RT Russian channel and Russian propagandists.
The losers are: U.S. taxpayers, Secretary Pompeo, Iranians who oppose the Islamist regime, and Russians who want to see democratic change in their country.
We tend to side with what Secretary Pompeo said in his appearance on March 27, 2019 before the House Appropriations Committee's Subcommittee on State, Foreign Operations and Related Programs to discuss the Department of State Budget Request for FY 2020, when he called for leadership change at the U.S. Agency for Global Media, previously known as the Broadcasting Board of Governors (BBG).
"And I would urge to get a CEO of that organization in place so that the BBG will have the right leadership so they can do the traditional mission – perhaps in a different information environment than we did back in the Cold War, but can perform its function in a way that is important and noble, and reflects the enormous resources that are – that American taxpayers have put towards that," Secretary Pompeo told members of Congress.
"I'm very concerned about it," Secretary Pompeo added in response to questions from from Rep. Nita Lowey (D-NY), Chairwoman of the Subcommittee on State, Foreign Operations, and Related Programs.
We are also concerned about the senior leadership and direction of the Agency for Global Media, the Voice of America, and Radio Free Europe / Radio Liberty.
A just released study by the American Foreign Policy Council (AFPC) concludes that the track record of Iran media reform at the U.S. Agency for Global Media (USAGM), previously known as the Broadcasting Board of Governors (BBG) is "mixed – at least so far" and "a number of necessary changes remain unimplemented or unexplored." A study undertaken by the American Foreign Policy Council delivered in the Fall of 2017, and formally published by the BBG, showed that the federal agency under its current management "on the whole, perpetuated to audiences the appearance of pro-regime propaganda, rather than objective reporting, on the part of both the VOA and Farda."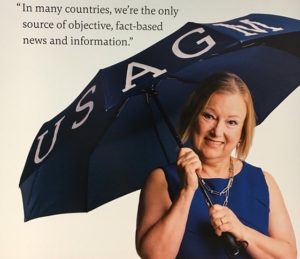 VOA refers to the Voice of America Persian Service. Radio Farda is the Iranian program of Radio Free Europe / Radio Liberty. Both are funded by U.S. taxpayers.
In a new, just-released assessment by the American Foreign Policy Council (AFPC) Senior Vice President Ilan I. Berman, AFPC said that "The USAGM's new broadcast to Iran, VOA 365, "does…incorporate a number of noteworthy programmatic and operational modifications to official Persian-language broadcasting on the part of the U.S. government," but the new AFPC report adds that "there is a clear temptation on the part of agency management to view the changes it has made as the culmination of a reform effort – rather than as part of a dynamic, ongoing process." AFPC calls such an attitude on the part of the senior USAGM leadership "deeply detrimental."
AFPC concluded that "Even with the reforms carried out to date, the USAGM's Persian-language outreach remains far too opaque and unaccountable."
AFPC's latest study also focuses on doubts about USAGM's Iran audience claims.