BBG Watch Commentary
Judging by un-updated website, it appears that no one is working at the Voice of America central English newsroom on Sunday morning.
As of 12:05PM Washington, DC time, the Voice of America main English-language website is not updating news from Ukraine about today's huge anti-government rally and U.S. Senator John McCain's speech to the protesters.
The VOA English homepage does not show a single report from Ukraine about anything that happened in Kyiv on Sunday. Its "Europe" section shows several outdated news reports from Saturday. It is already Sunday evening in Europe.
RT (Russia Today) posted a report with video many hours ago on Senator McCain's visit to Kiev: McCain meets with Ukrainian opposition, backs pro-EU protests, RT (Russia Today), December 15, 2013.
YouTube video of Senator McCain in Kyiv was posted on the RT (Russia Today) website.
On Saturday, the VOA site was erroneously reporting all day that Senator McCain was to arrive in Kyiv on Sunday. He was in fact in Kyiv all day Saturday and held numerous meetings. His visit was being reported on by other U.S. and international media, including RT (Russia Today).
See: RFE/RL and other media report Senator McCain is already in Ukraine, Voice of America reports he will be there Sunday, BBG Watch, December 14, 2013.
While the Voice of America central English news operation seems to be in a state of complete disarray, which also affects negatively the work of many VOA foreign language services — the VOA Russian Service was also giving wrong news about Senator McCain — the VOA Ukrainian Service has been working around the clock and providing outstanding reporting. It has been using on its website some of the Radio Free Europe / Radio Liberty (RFE/RL) news content, but also producing a daily television show and posting numerous reactions from the United States to the events in Ukraine.
The VOA Ukrainian Service has used on its Facebook page tweets from Senator McCain's Twitter account. VOA Central Newsroom has not used this resource and apparently did not do any checking on Saturday when it gave a wrong report that Senator McCain was not yet in Kyiv. On Sunday, however, the VOA Russian Service had a report from a correspondent in Kyiv focusing on the U.S. senators visiting the country and corrected its earlier mistake.
Video: My remarks at #euromaidan today: http://t.co/gDQB1K630t via @RFERL #ukraine pic.twitter.com/Q0V1QWCRms

— John McCain (@SenJohnMcCain) December 15, 2013
Radio Free Europe / Radio Liberty (RFE/RL) has been providing excellent news reporting from Ukraine in Ukrainian, Russian, English, and in other languages.
RFE/RL posted these reports with videos:
Live Blog: Ukraine Rallies Continue
"McCain To Ukraine: 'America Stands With You'

U.S. Senator John McCain has addressed tens of thousands of people on Kyiv's Independence Square, and told the pro-European demonstrators that the United States backs their hopes for European integration. (RFE/RL's Ukrainian Service)"
If you do not see the RFE/RL video with Senator McCain, here is a direct link.
RFE/RL has posted this CNN video with Senator McCain:
BBC is reporting on a huge pro-Europe rally in Kyiv and posts a photo of Senator McCain. See: Huge rally in Kiev in support of closer ties with EU, BBC, December 15, 2013.
"A leading voice on US foreign policy, Republican Senator John McCain, also addressed the pro-EU protesters after a walkabout in the crowd." BBC News
BBC correspondent in Kyiv David Stern is also providing his analysis of the announcement by Stefan Fuele that the EU was suspending talks with Ukraine over a wide-ranging political and free trade agreement. Stern said that the EU announcement "will undoubtedly stoke the already high tensions in Kiev."
The EU announcement was also the lead news story on the RT (Russia Today) website.
As of 11AM Sunday, VOA Homepage shows no today's news from Ukraine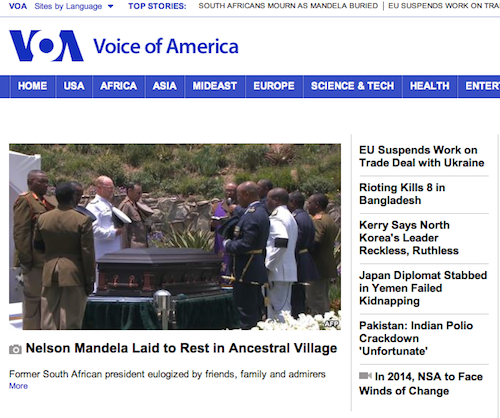 RT (Russia Today) leads with Ukraine
RFE/RL leads with Ukraine
BBC Homepage – Ukraine is second in the news lineup