BBG Watch Commentary
With the U.S. taxpayer-funded Voice of America (VOA) management allowing posting on the VOA English news website Russia's RT and Ruptly propaganda tweets, it is no surprise that the same management also has no idea how to control posting of thousands of pro-Kremlin troll comments on VOA news websites.
ALSO READ: Voice of America posts tweets from Russia's RT photographer who mocked Michelle Obama, BBG Watch, May 12, 2014.
Perhaps control of troll comments is not possible without undermining online debate, but the overwhelming number of anti-U.S. comments on the VOA English news website suggests that on key Russia and Ukraine-related VOA posts the VOA website attracts largely only pro-Kremlin trolls.
READ ARTICLE ON PRO-KREMLIN TROLLING: Documents Show How Russia's Troll Army Hit America, Max Seddon, BuzzFeed, June 2, 2014. The adventures of Russian agents like The Ghost of Marius the Giraffe, Gay Turtle, and Ass — exposed for the first time.
Several people who follow the Russian internet closely told BuzzFeed the Internet Research Energy is only one of several firms believed to be employing pro-Kremlin comment trolls. That has long been suspected based on the comments under articles about Russia on many other sites, such as Kremlin propaganda network RT's wildly successful YouTube channel. The editor of The Guardian's opinion page recently claimed that the site was the victim of an "orchestrated campaign."
ALSO READ: How to spot a Russian Twitter troll, Peter Martin, Ukraine@war, May 29, 2014.
A Tweet from Russia's RT reporter discussed in this article was posted by Voice of America on its website as a legitimate addition to VOA news reporting.
U.S. taxpayer-funded Voice of America (VOA) kept on its main English news website tweets from President Putin's propaganda outlet RT, but it has removed a tweet from "Pro-#Russia,#Assad,#Gaddafi. F**k the #EU,#US" shadowy Twitter user who referred to the Ukrainian government in Kyiv as "regime" and blamed it for attacking civilians, even though according to most Ukrainian and Western news reports it was an attack on armed rebels.
The U.S. considers the government in Kyiv as a legitimate government and would not refer to it as a "regime."
Senior management of the Voice of America truly has no idea who posts comments on VOA websites or even what some of its poorly-paid, poorly-trained, and poorly-supervisized contractors put on the VOA English news website. One such item posted by VOA itself was a map showing Crimea to be part of Russia, another was a tweet from an RT correspondent.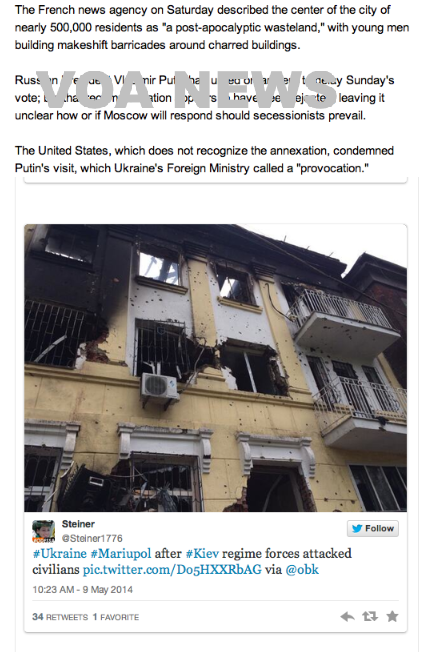 In another tweet from the same user, which was not reposted by VOA, "Steiner1776" called in an on the population to "rise up against the Kiev regime fascists" and in another one made anti-gay comment "Even at an ultra-liberal gay loving contest, Russia finished 7th out of 37 nations competing this year."
"Steiner 1776" regularly retweets RT, including tweets from the same RT photographer who had mocked Michelle Obama and whose another tweet was kept by VOA on its English news website.
While the Michelle Obama doctored photo mocking tweet was not the one retweeted by VOA on its VOA English news website, it was a good example of what VOA was getting from this RT photographer when it used his other tweets — "RT Ruptly-Nicolaj (@Nicolaj_Gericke)."
Ukrainian "army" took the first shot, the guy was shot in front of me, it is now confirmed was hit by sniper. he is hospitalized

— RT Ruptly-Nicolaj (@Nicolaj_Gericke) May 9, 2014
The tweet below is the "Steiner 1776" tweet which was reposted by the Voice of America on May 11 and later removed. It stayed on the VOA website for many hours.
#Ukraine #Mariupol after #Kiev regime forces attacked civilians pic.twitter.com/Do5HXXRbAG via @obk

— Steiner (@Steiner1776) May 9, 2014