BBG Watch Commentary
As of Saturday evening, February 7, 2015, the main Voice of America news website, www.voanews.com, shows zero reports about the NBC TV news anchor Brian Williams scandal.
UPDATE: After BBG Watch pointed out Voice of America's lack of coverage of the Brian Williams story, VOA posted a report a day late, Sunday, February 8, 2015 at 8:47 AM ET.
With new Broadcasting Board of Governors (BBG) CEO Andy Lack apparently out of town on official travel for several days, U.S. taxpayer-funded Voice of America (VOA) currently run by VOA Director David Ensor and VOA Executive Editor Steve Redisch has returned to its normal mismanaged state. There was a brief period of Voice of America executives trying harder to produce timely news shortly before and for a few days after Lack's recent arrival at the BBG. With Andy Lack apparently absent from the building during the last few days, it's all back to normal.
While the U.S. taxpayer-funded Voice of America is silent, international media, including BBC and Russia's RT, are full of reports on the Brian Williams story. One might think looking for the story on the VOA website that Brian Williams works for a major television network in some other country, but other international broadcasters treated it as a major news story even though it happened in the U.S. and not in their countries. Of course, other U.S.-based media were full of reports on Brian Williams, including tens of thousands of blog posts and parody photos.
It is a significant U.S. news story completely ignored by the Voice of America main news service and many of its foreign language services.
See BBC blaring headline in addition to three separate stories and a video of Williams' apology.
http://www.bbc.com/news/world-us-canada-31143639
http://www.bbc.com/news/magazine-31152849
http://www.bbc.com/news/blogs-echochambers-31141260
See Russia's RT report from February 5, which shows more than 1,700 Facebook "Likes" as of Saturday evening — that's more than the combined number of Facebook "Likes" for multiple VOA news reports.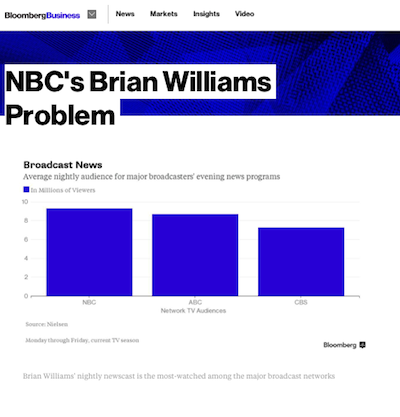 Ironically, one of Ensor's and Redisch's deputies sent out this email to Voice of America staffers on February 5.
To: VOA Notices
Subject: Brian Williams and Credibility
Colleagues,
I'm sure many of you are aware of the reports that NBC News anchor Brian Williams has recanted his story of being a passenger in a helicopter than was shot down in Iraq in 2003. Here's a link to the Washington Post's story: http://wapo.st/1zSLAGG, and a link to Mr. Williams' statement on last night's NBC Nightly News program: https://www.youtube.com/watch?v=sW6AbX2q0fM
I bring this up because in group meetings with staff around the building, as well as in individual conversations, I always emphasize that VOA's greatest commodity is its credibility, the trust, that has been built over nearly 75 years of VOA's existence. We cannot afford to have that trust broken in any way, so I urge all of you to keep this in mind as you cover your stories, prepare your reports and present your programs.
As the VOA Charter so clearly states, "To be effective, the Voice of America must win the attention and respect of its listeners." In an era where we reach listeners, viewers and readers, should we lose that respect, we will lose our credibility, and in turn we will lose our audience.
Thanks, as always, for your help in making sure VOA maintains its standing as a reliable and trustworthy news organization.
Apparently, the VOA Charter does not require the Voice of America to cover a major U.S. media news story. As of Saturday, February 7, 2015, 9:30 PM ET, there is still nothing on the Brian Williams scandal on VOA's main English news website and on many VOA foreign language sites. We also did not find anything about the Brian Williams story on the main VOA English news Facebook page.
When we asked one former Voice of America employee if she would be surprised if we told her that VOA had no news story on Brian Williams, she replied that under its current leadership she would have been surprised if they did have it.
Did the Voice of America misremember to cover the Brian Williams story?
Twitter helps Brian Williams recall other "misremembered" events: http://t.co/uABqAJv0sj #BrianWilliamsMisremembers pic.twitter.com/zkmyDJmzy4

— The Hill (@thehill) February 5, 2015
UPDATE: After BBG Watch pointed out Voice of America's lack of coverage of the Brian Williams story, VOA posted a report a day late, Sunday, February 8, 2015 at 8:47 AM ET. See: NBC News Anchor Williams, Facing Internal Probe, Temporarily Off Air | VOA News (Some material for this report came from Reuters, AP and AFP, it says on the bottom of the VOA report.)
As of Sunday, February 8, 12:15 PM, Russia's RT report, Tall tale: NBC's Brian Williams retracts fake Iraq War tale after soldiers protest | RT, shows over 1,700 Facebook Shares 309 Tweets and 109 Comments. VOA Report, NBC News Anchor Williams, Facing Internal Probe, Temporarily Off Air | VOA News, shows 17 Facebook Shares, 29 Tweets and 4 Comments.
Another Observation:
It is notable, to say the least, that a search of the VOA website brings up comments made to Williams by such figures as Edward Snowden, and the president of Iran. But when a major story breaks bringing into question the integrity of this major news anchor, no story appears on VOA.
But, no matter — we had extensive coverage of this interesting U.S. story from the BBC and RT.