BBG Watch Commentary
The Voice of America (VOA) Albanian Service, considered one of the best international broadcasting outlets not only within the Broadcasting Board of Governors (BBG) but worldwide, celebrated its 70th anniversary. The service has consistently maintained a large and loyal audience due to the excellence of its journalists, lack of governmental restrictions on its broadcasts in Albania and Kosovo, and highly relevant programming. Unlike some other VOA services, the Albanian Service also has managed to protect its independence from the often fatal recommendations of strategic planners and program managers at the International Broadcasting Bureau (IBB) who eliminated live VOA radio and television broadcasting to strategically important countries such as Russia and tried to do the same with broadcasts to Tibet and China.
The Albanian Service is a perfect example of how best programs are conceived and executed at a service level and how important language services are to the success of U.S. international broadcasting.
The service benefitted greatly from the leadership of its former service chiefs Frank Shkreli and Dr. Elez Biberaj. It continues to prosper thank to its outstanding staff and strong support from its audience, from political leadership in Albania and Kosovo regardless of party affiliations, and from members of Congress, both Democrats and Republicans.
Its success also serves as a reminder that it represents everything that central IBB planning and IBB executives do not, with their penchant for mergers, eliminating languages services, reducing broadcasting and cutting journalistic positions.
###
Voice of America Press Release
VOA Albanian Service Marks 70th Anniversary
WASHINGTON, D.C. — Presidents, diplomats, Balkan officials and members of the U.S. Congress paid an emotional tribute to the Voice of America's Albanian Service Tuesday, as the service marked the 70thanniversary of its first broadcast in 1943.
Speaking at VOA headquarters in Washington, New York Congressman Eliot Engel (D) joked that he had been interviewed by VOA so many times that when he visited Albania or Kosovo he was widely recognized.
Rep. Eliot L. Engel (D-NY) at VOA Albanian Service 70th Anniversary
Engel, the ranking member of the House Foreign Affairs Committee, congratulated the service (watch here) for its work providing information to Albanians. "I think that we in the United States need VOA to show to the peoples of different oppressed countries what America is all about…Every dollar that we give to VOA comes back to us with hundreds of dollars of goodwill for America, hundreds of dollars of good faith for what America is and what it stands for," Engel said.
In a videotaped message, Albanian President Bujar Nishani described the service's influence, saying it "gave us hope during a dark time in our history. It had the power to help our people forget their starvation."
Albanian envoys also presented a presidential award to VOA, and an individual award to former Albanian Service broadcaster Elez Biberaj, who is now Director of the VOA Eurasian Division.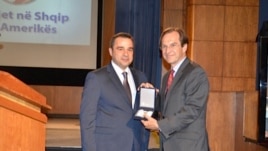 Dir. David Ensor accepts Albanian Presidential award for VOA on 70th Anniversary of Albanian Service
In a separate message, Kosovo President Atifete Jahjaga said, "VOA was the only voice reporting during the war [in Kosovo] and the refugee crisis that our people could listen to…may the Voice of America never go silent."
Former U.S. Senator Dennis DeConcini (D-Arizona) said the Voice of America remains critical, to report the news and "relate to the people of the region, that Americans care."
In a lighthearted moment, former U.S. Ambassador to Albania William Ryerson recounted preparations for then U.S. Secretary of State James Baker's 1991 visit to Albania after the two countries established diplomatic ties.
Ryerson said the first question he was asked after learning of the visit was whether Elez Biberaj, then Director of the Albanian Service, would be coming. "Baker schmaker, the important person was the Voice of America person," Ryerson recalled to loud applause from the audience.
Zamira Edwards, who began working at the Albanian Service with her sister after fleeing the communist regime in the 1980s, recalled the night the two dove into the Adriatic and swam toward Greece with their younger brother who disappeared before they were rescued by a passing ship. She said she never could have imagined that she would someday work for Voice of America, which she described as a "noble mission."
Albanian Service staff mark 70th anniversary of first broadcast
Today the service remains one of the most popular multimedia outlets in Albania with a weekly audience of 48% and in Kosovo where 57% of adults get their news from VOA.
VOA broadcasts around the world in 45 languages on radio, television, the Internet, and increasingly on mobile.
For more information contact Kyle King at the VOA Public Relations office in Washington at (202) 203-4959, or write kking@voanews.com. For more information about VOA visit our Public Relations website at www.insidevoa.com, or the main VOA news site at www.voanews.com.
(This release published originally on www.insidevoa.com)