Commentary
By Ted Lipien
"With genuine horror we listened to what the Polish language programs of the Voice of America (or whatever name they had then), in which in line with what [the Soviet news agency] TASS was communicating, the Warsaw Uprising was being completely ignored."
These words were written several years after World War II by Czesław Straszewicz, a Polish radio journalist living in exile in the West.[ref]During World War II, the Voice of America also ignored news of the Jewish Holocaust.[/ref]
August 1 is the anniversary of the launch of the 1944 Warsaw Uprising, a desperate attempt by the non-communist Polish Underground State and its military arm, the Home Army (Armia Krajowa) to liberate Warsaw and prevent Poland from becoming a Soviet puppet. The Warsaw Uprising, which cost about 200,000 Polish lives, most of them civilians and led to the deliberate near complete destruction of the city by the Nazis, was doomed to fail because Stalin suddenly halted the Red Army's offensive. He was happy to allow Hitler to defeat the anti-communist Polish partisan forces in Warsaw. Stalin also refused repeated requests to permit British and American planes with supplies for the Warsaw fighters to land on the Soviet-liberated territory.
As Warsaw burned and Polish soldiers were being killed, the Soviet propaganda machine intensified its attacks on the Polish Government in Exile leaders and the Home Army, calling them right-wing reactionaries and fascists. Despite earlier Soviet radio broadcasts urging the Polish population to rise up against the Nazi occupiers, the Soviets dismissed the Warsaw Uprising as futile attempt by pro-Nazi elements to gain power and promised that only Stalin could guarantee Poland to become liberated, free, democratic and independent after the war. For anyone following the news on Russia's RT or SPUTNIK, the continuity of Stalinist propaganda in Putin's disinformation war against Ukraine and the West is striking.
Very few Americans know today that in a betrayal of public trust, the wartime U.S. government-run Voice of America (VOA) was a willing and eager participant in the Soviet propaganda effort. It was one of the most glaring historical examples of the Left-leaning Roosevelt administration functionaries in the Office of War Information (OWI), the Voice of America's managing agency, and pro-Soviet U.S. government VOA "journalists" colluding with Soviet officials to help spread the Kremlin's propaganda in the United States and abroad in an attempt to create a positive image of Stalin and help to cover up his crimes.[ref]Voice of America name was not used during most the war and was adopted as the official name toward the end of the war. VOA was first known as the Overseas Branch of the Office of War Information.[/ref]
One of the Soviet crimes VOA assisted in covering up for many years was the brutal mass execution of more than 20,000 Polish prisoners of war by the Soviet NKWD secret police. They were mostly imprisoned reserve officers, including generals, political and religious leaders, and representatives of the Polish professional intellectual elite. The 1940 genocidal murder became know as the Katyn Forest massacre.[ref]After the war, VOA started reporting that Katyn was most likely a Soviet crime, but censorship of the Katyn story continued at VOA to some degree until a bipartisan congressional investigation in the early 1950s forced VOA to stop some of its earlier Katyn coverage restrictions. The Final Report of the bipartisan Select Committee of the U.S. House of Representatives issued in 1952 stated that "the Voice of America–successor to the Office of War Information–had failed to fully utilize available information concerning the Katyn massacre until the creation of this committee in 1951. The Katyn Forest Massacre, Final Report of the Select Committee to Conduct an Investigation and Study of the Facts, Evidence, and Circumstances on the Katyn Forest Massacre. 82nd Congress, 2nd Session — House Report No. 2505, December 22, 1953, 10. (View the report cited.)[/ref]
To this day, some of Voice of America's current and former officials and journalists, try to deny or obscure this shameful part of VOA history. Most know nothing about it but rely on a false narrative of VOA's early years that is completely contradicted by historical evidence, including recently declassified World War II U.S. government documents stored at the National Archives.
For decades, former Left-leaning VOA officials and those who did not know any better presented VOA's first director, John Houseman, as a defender of objective journalism against outside interference while ignoring his blind admiration for Stalin and support for VOA's role as a propaganda tool of the Roosevelt White House and ultimately for the Kremlin. Former Voice of America program director Alan Heil, who had published a book about VOA along those lines, reported recently from a Public Diplomacy Council (PDC) event in Washington quoting historian Prof. Holly Cowan Shulman that Lou Cowan, who was her father, "refashioned VOA from agitprop to telling the truth" in 1943 in his role as VOA's second director. ("A SHORTWAVE CHRYSALIS TO A MULTIMEDIA BUTTERFLY: U.S. INTERNATIONAL BROADCASTING THEN AND NOW" Public Diplomacy Council PDC website, July 13, 2017.)[ref]It was informally suggested by one of the Public Diplomacy Council members that I present a paper at the PDC event, but I was unable to travel to Washington. D.C. at that time. In her presentation, Prof. Shulman did not hide that officials in charge of VOA thought that they knew better what was good for the United States, the war effort and world peace than anybody else. Prof. Shulman, whose presentation was more nuanced than the report posted on the PDC blog would suggest, wrote about the Voice of America propagandists in her book "The Voice of America: Propaganda and Democracy, 1941-1945" published in 1990 by The University of Wisconsin Press.
"Sherwood, Barnes, Wartburg, and Johnson, and their like-minds colleagues the Overseas Branch [OWI's Voice of America] believed that propaganda could mold and influence foreign policy. Propaganda, in other words, was not merely an expression of policy made by others. The propagandists believed they could make their own version of American foreign policy come true. They believed they were right; they argued that they understood the foreign influence of American policy ways that the State Department, and even the president, did not; and they used the Voice of America to enter the foreign policy debate between members of the Roosevelt's administration."
[/ref]
While Lou Cowan was an improvement over John Houseman and carried out some programming reforms, the version of VOA's early history presented in Alan Heil's PDC report is still highly inaccurate and misleading, especially in light of current news reports about Russian propaganda, allegations of collusion between Trump supporters and Russian officials and Russian interference in the U.S. elections. Contrary to Prof. Shulman's assertion, VOA's pro-Soviet propaganda did not change substantially after 1943.[ref]During her PDC presentation, Prof. Shulman disclosed that later in her academic career she did not continue her study of the Voice of America and she seemed to be unfamiliar with recently declassified U.S. government documents about the wartime Office of War Information which were not available for review when she wrote her book about VOA in the 1980s.[/ref] Censored, pro-Kremlin news with silence on many controversial topics and half truths from VOA on others was even more dangerous than Houseman's earlier also strongly pro-Soviet theatrical propaganda in VOA radio broadcasts.[ref]In many ways, censored VOA news after 1943 that omitted key facts and emphasized others was even more propagandistic. It appealed largely to communists in Western and Eastern Europe and pleased the Kremlin but hardly anybody else. During the war, VOA did not broadcast in Russian because Stalin would have objected to such broadcasts. Describing his June 1944 meeting in Washington with U.S. Undersecretary of State Edward Stettinius, Stanisław Mikołajczyk, Prime Minister of the Polish Government in Exile in London, recalled VOA's programs in support of Soviet communism:
"I mentioned also the tone of OWI broadcasts to Poland. They had been following the Communist line consistently, which made our own job more difficult."

"'It's unwise to adopt this approach to the Polish people,' I told the Undersecretary. 'If you continue to call Russia a 'democracy,' you may eventually regret that statement, and your people will condemn you."
[/ref]
Until the end of World War II, the Voice of America remained as a propaganda outlet in the hands of a small group of ultra liberal, intellectually naive Left-wing supporters of Soviet Russia while some of its "journalists" turned out to be true communists like Stefan Arski and the VOA Czechoslovak desk director Dr. Adolf Hofmeister who later worked respectively for communist regimes in Poland and Czechoslovakia.[ref]Books about VOA, usually written by former Left-leaning officials, never mention Hofmeister, Arski or even Kathleen Harriman Mortimer who was an OWI correspondent in Moscow. This young wartime woman reporter should be a source of great pride for VOA, but her name does not appear in books written by former VOA officials or in VOA public relations materials for a good reason. She does not fit with the false image of independent VOA journalists telling the truth no matter how bad the news may be. Kathleen Harriman was not a communist but she became an agent of influence for Stalin and propaganda maker for President Roosevelt. She was the daughter of Roosevelt's ambassador to the Soviet Union W. Averell Harriman who used her on a mission to help cover up one of Stalin's genocidal murders. On a trip organized by Soviet propagandists, she went to the mass murder site at Katyn with other Western journalists and wrote an official report for the U.S. government in which, despite overwhelming evidence to the contrary, she concluded that the mass execution of thousands of Polish prisoners of war, reserve officers who represented the intellectual and professional elite of pre-war Poland, was committed in cold blood by the Nazis in 1941 rather than by the actual executioners, the Soviet NKWD in 1940. She together with OWI director Elmer Davis and many others claimed after the war that they had absolutely no idea Stalin could be a mass murderer. It was a curious thing to say for individuals claiming to be VOA journalists. One of the survivors of the Soviet gulags, Polish military officer, writer and artist Józef Czapski, who himself had been censored by VOA in 1950, told the VOA Polish Service in an 1980s interview that Kathleen Harriman's report about Katyn caused incalculable damage. That report was apparently never aired by VOA, but it was submitted to the State Department.
Elmer Davis' commentary supporting the same Soviet lie was not only broadcast abroad but was also carried by nationwide radio networks in the United States in May 1943. Its recording can still be heard online. President Roosevelt had chosen Davis to head the OWI because of his liberal views and popularity as a radio announcer. He urged Davis to continue his radio commentaries on domestic networks in his government job.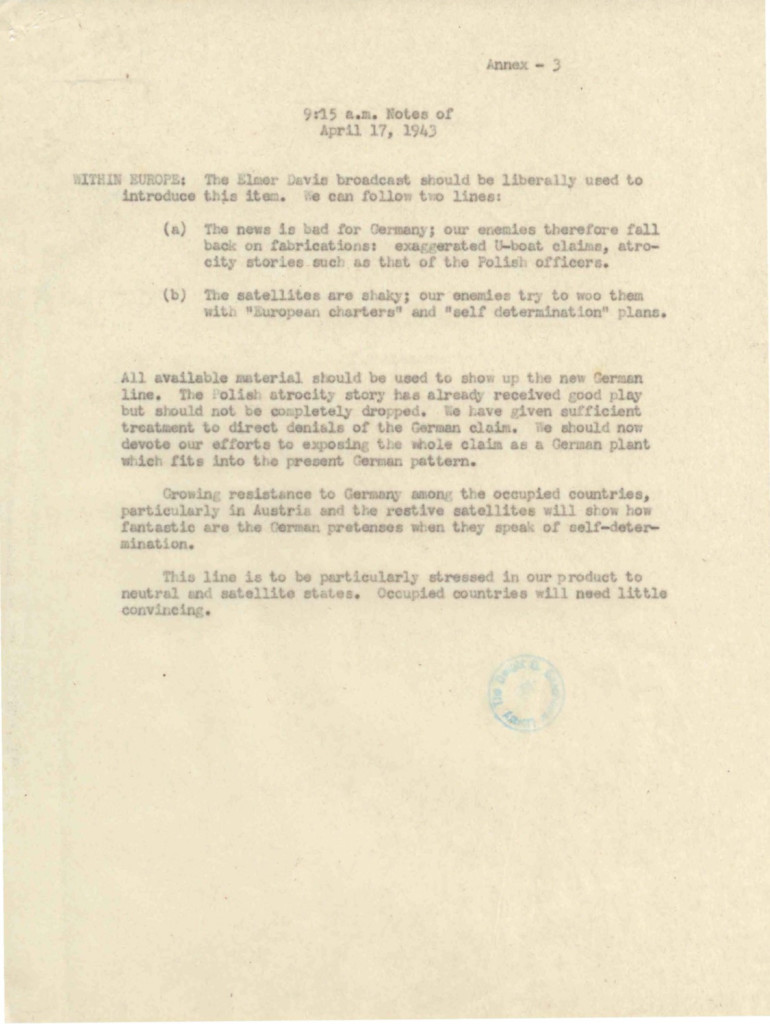 While the transcript of Elmer Davis' Katyn broadcast was already made public by a committee of the U.S. Congress in 1952, a recording of his broadcast was only recently discovered in the WNYC New York public radio station's online audio archives.





British writer Louis FitzGibbon, who devoted almost all of his adult life to making the world familiar with the Katyń war crime, described rather well the difference between the Voice of America and Radio Free Europe in his book "The Katyn Cover-Up" published in 1972.
"The war had been over for several years when Mr. Czapski, a survivor of the annihilation, came to the United States for a visit in the early spring of 1950. The Voice of America invited him to make a broadcast in the Polish language to Poland. He submitted a script. Officials of the Voice of America meticulously eliminated all references to the Katyn massacre. He was not even allowed to mention the word 'Katyn'."
The VOA Polish Service broadcast an uncensored interview with Józef Czapski, but not until 1984 when I was in charge of the service and Ronald Reagan was in the White House. In April 1971, BBC-2 showed a documentary film about Katyń. As a result of the BBC showing the Katyń film, Charles Curran, the then Director General of the BBC, had his prior invitation to visit Poland withdrawn by the Warsaw regime. BBC Radio interviewed Mr. FitzGibbon, as did Radio Free Europe. He recalled:
"Radio Free Europe, about which there has recently been some controversy, is the medium for combating Soviet propaganda behind the Iron Curtain. With a head office in Munich it has a branch in London and thither I was invited on 26 April. I was interviewed by Mr. Garlinski and given an opportunity to discuss the Katyn case, my book and my reasons for writing it. (…) On 6 May, I went again to Radio Free Europe studio in London, this time to interview Mr. Airey Neave. We conversed 'live' for some fifteen minutes, and I later heard from the director in Munich that the broadcast had been a great success."
The controversy about RFE probably had something to do with numerous attempts during the Cold War to close it down so it would not "interfere" with the policy of detante with the Soviet Union. Had it not been for Radio Free Europe, or if during the Cold War it had to report directly to the Washington federal bureaucracy, which is what government bureaucrats in Washington have always wanted, I'm quite sure RFE would not have been able to interview Mr. FitzGibbon in 1971 or for years afterwards.
[/ref]
In a column published on August 20, 1943 in Washington's Times-Herald, reporter and commentator John O'Donnell wrote about some of the OWI's activities and its staff when, after yet another public scandal at the agency, it seemed that Congress might finally defund the entire operation, including its Voice of America broadcasts. Ultimately, it did not happen, but the vote in Congress dominated by Democrats was very close.
"The misnamed Office of War Information has apparently decided to end its career by suicide and this may be all for the best.

Few honest newspaper tears are going to be shed over the demise of an outfit which from birth was a New Deal Roosevelt propaganda body (as discovered by the last Congress which amputated its domestic claws) and throughout its career gave off the distinctly unpleasant stench of being a parking place for pay-roll patriots, political stumble bums and the incompetent sweepings of editorial rooms."
These VOA broadcasters and their bosses idealized Stalin, colluded with Russian officials, covered up Stalin's crimes, and ultimately helped him with their propaganda establish control over East Central Europe, although having the Red Army on the ground in the region, Stalin did not need much help. These early VOA officials did, however, made it easier for Stalin's propagandists to sell the idea at home and abroad that Soviet Russia's control over East Central Europe was good for future peace and democracy. Declassified U.S. government documents show that the "Father of the Voice of America," Hollywood playwright and FDR's speechwriter Robert E. Sherwood, worked closely with Soviet officials and coordinated VOA propaganda with Soviet propaganda from his U.S. government office in London long after 1943.[ref]
[/ref]
On the domestic side, future liberal Democratic U.S. Senator from California Alan Cranston was in charge of illegal attempts by VOA's parent government agency to silence American radio stations and newspapers revealing Stalin's crimes.[ref]The 1948 Smith-Mundt Act restrictions on domestic broadcasting by VOA and on security clearances for VOA personnel were implemented in part in response to these abuses, which also included producing by the OWI of propaganda films for domestic distribution to justify the illegal internment of American citizens of Japanese ancestry.[/ref]
These ideologically ultra left-wing VOA propagandists often went even beyond what the already strongly pro-Soviet Roosevelt White House expected from VOA and ignored warnings from the State Department not to be caught contributing to what we would call today "fake pro-Russia news."[ref]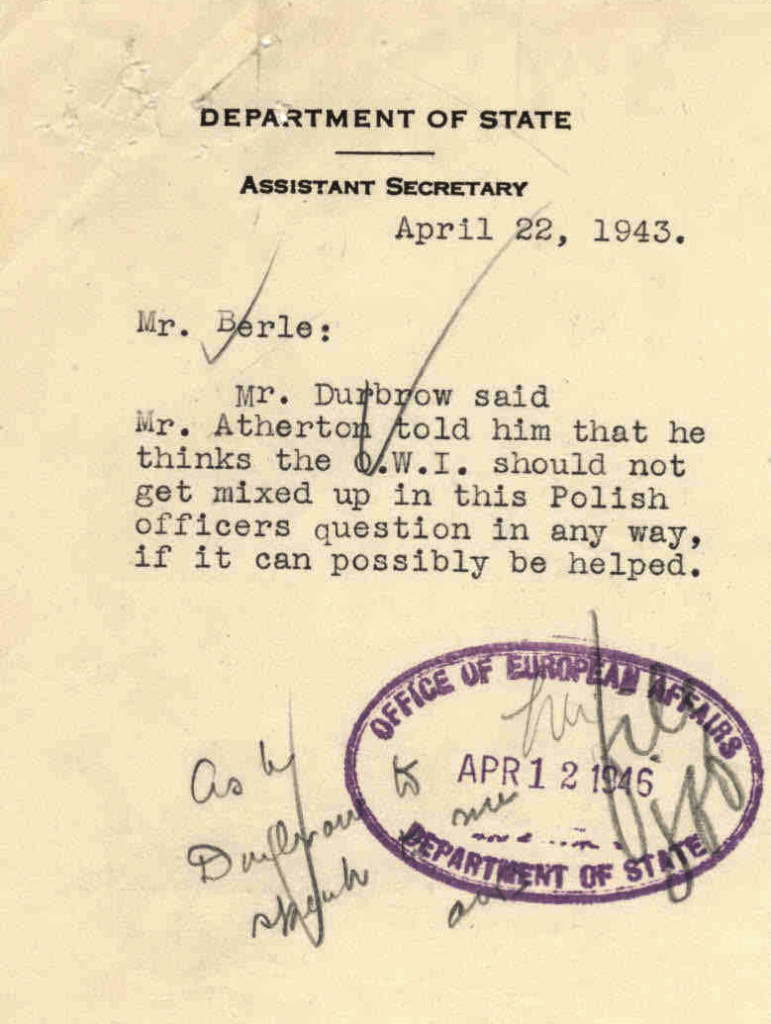 [/ref] Some of their broadcasts put lives of American soldiers at risk in Italy by following the Moscow propaganda line against the wishes of American diplomats, the U.S. military, and even the Roosevelt White House.
Arthur Krock who in 1944 was the Washington bureau chief for the New York Times wrote that the Office of War Information (OWI), the parent agency which managed VOA, spoke with an "'ideology' that conforms much more closely to the Moscow than to the Washington-London line." This was written in 1944, a few days before the start of the Warsaw Uprising on August 1, 1944, a full year after John Houseman was forced to resign as VOA director and replaced by Lou Cowan.
Throughout the war, even the Congressional Record, which is hardly a news reporting outlet, would have given any reader at home or abroad a far more balanced and comprehensive view of international news and American opinions than anything VOA's pro-Stalin propagandists put on the air. The Congressional Record of the war years is full of speeches and newspaper inserts from members of Congress of both parties who were also highly critical of VOA programs within the Office of War Information. Congressional criticism of VOA intensified, not diminished, after 1943. The Congressional Record of the war years offers evidence of collusion, sellout, and cover up by VOA's officials and journalists for whom Soviet Russia's interests took priority over American democratic values and long term interests. There were, of course, some planted media articles in support of the OWI, which were inserted in the Congressional Record by some of the most liberal members of Congress. An admirer of VOA's agency's chief, OWI director Elmer Davis, Democratic congressman from Indiana, Rep. Louis L. Ludlow, on March 29, 1944 called the Director of War Information "America's leading propagandist, the generalissimo of the propaganda forces of this great nation, that Mr. Davis is rendering a service of inestimable value to humanity." It was meant as a compliment.[ref]While many pro-Moscow sympathizers left VOA as it was folded into the State Department in 1945 on President Truman's orders, some of the successors to early VOA officials within the State Department continued to cover up Stalin's crimes until at least 1951 in order not to provoke an anti-Communist uprising in Poland and to forestall jamming of VOA radio signals, or so they said later in justifying their decisions. They stopped their censorship only after intervention by the U.S. Congress and protests from prominent Americans of both parties who later helped to establish Radio Free Europe and Radio Liberation (later renamed Radio Liberty) as a better alternative to VOA. In her PDC presentation, Prof. Holly Cowan Shulman alluded to these pro-Soviet sympathies among VOA officials and journalists, at least during the war. Mr. Heil did not mention them in his report. Truman's decision to abolish the OWI was influenced by waste and mismanagement at the agency, but mainly by attempts at mission overreach by its officials. They angered General Eisenhower with their demands for OWI monopoly for U.S. propaganda in occupied Germany.[/ref]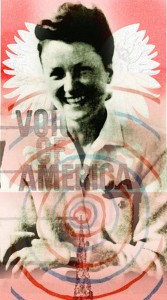 In a twist of historical irony, in its later much better Cold War years after about 1952, the Voice of America employed (since 1947) one of the heroes of the Warsaw Uprising, journalist and Home Army soldier Zofia Korbonska, and other refugee broadcasters who struggled to undo the damage done by the earlier pro-Soviet VOA collaborators. During the fighting in August and September 1944, as well as before, Zofia Korbonska at a great risk to her life sent coded radio messages from Warsaw to London which were then refashioned into news and broadcast back uncensored from Britain to Poland by the Polish language radio station Świt operated by the refugee Poles. This amazing woman, World War II anti-Nazi resistance fighter, and journalist remains largely unknown among current Voice of America employees and has never been mentioned in any recent public relations materials put out by the management of the Voice of America and the Broadcasting Board of Governors (BBG).
For many decades, Left-leaning former VOA officials have perpetuated a false early history of the organization and turned into heroes of independent journalism people like John Houseman and Robert E. Sherwood who had been unapologetic pro-Soviet sympathizers and promoters of Stalin's propaganda in the United States and abroad.[ref]WWII-era Assistant Secretary of State Adolf A. Berle recalled in his memoirs that OWI and VOA officials were "following an extreme left-wing line in New York, without bothering to integrate their views with the State Department." In this instance, they were rebuked by President Roosevelt and some, including John Houseman, were fired or told to resigned. After the war, Berle served on the Board of Directors overseeing Radio Free Europe from its beginning until 1963.[/ref]
In another twist of historical irony, some of the same former officials who put out erroneous or incomplete historical narratives about the Voice of America were known to be vehemently opposed to President Ronald Reagan. His administration had put a final stop to censorship of Soviet crimes in VOA broadcasts. Reforms by Reagan officials also led to greatly expanded audiences for VOA in East Central Europe and ultimately contributed to the fall of communism and Soviet domination of the region. There is a good reason why the Poles erected a monument to Ronald Reagan in Warsaw but not to President Franklin Delano Roosevelt. Central and Eastern Europeans are also grateful to the United States for VOA broadcasts in the later years of the Cold War and even more for Radio Free Europe broadcasts. They have no reason to be grateful for the early Voice of America "Love for Stalin" propaganda, a term used sarcastically by OWI's Jewish refugee journalist Julius Epstein, and for the apologists for the brutal dictator and colluders with Soviet officials who had betrayed public trust, basic American values and long-term American interests.[ref]A Jewish refugee from Germany, Julius Epstein, who had worked as a Voice of America journalist and was pushed out for criticizing his pro-Soviet bosses and colleagues, made this observation after the war:
"I mean those writers, translators and broadcasters who so wholeheartedly and enthusiastically tried for many years to create 'love for Stalin,' when this was the official policy of our ill-advised wartime Government…"
[/ref] Fortunately, thanks to VOA and RFE journalists like Zofia Korbonska, and leaders such as Lech Walesa, Pope John Paul II, Vaclav Havel and Ronald Reagan, these independent countries are now America's NATO allies.
The bipartisan Madden Committee named after Rep. Ray Madden (D-IN), which in the early 1950s investigated the Voice of America's coverage of the Katyn Forest massacre, reached this conclusion in its "Final Report" issued in 1952:
"In submitting this final report to the House of Representatives, this committee has come to the conclusion that in those fateful days nearing the end of the Second World War there unfortunately existed in high governmental and military circle a strange psychosis that military necessity required the sacrifice of loyal allies and our own principles in order to keep Soviet Russia from making a separate peace with the Nazis.

For reasons less clear to this committee, this psychosis continued even after the conclusion of the war. Most of the witnesses testified that had they known then what they now know about Soviet Russia, they probably would not have pursued the course they did. It is undoubtedly true that hindsight is much easier to follow than foresight, but it is equally true that much of the material which this committee unearthed was or could have been available to those responsible for our foreign policy as early as 1942.

And, it is equally true that even before 1942 the Kremlin rulers gave much evidence of a menace of Soviet imperialism paving the way for world conquest. Through the disastrous failure to recognize the danger signs which then existed and in following a policy of satisfying the Kremlin leaders, our Government unwittingly strengthened their hand and contributed to a situation which has grown to be a menace to the United States and the entire free world."
Committee member Rep. Timothy P. Sheehan (R-IL) added that even after 1945, "the Voice of America, in its limited broadcasts about the Katyn massacre, followed a wishy-washy, spineless policy."
At the very least, the Left-leaning officials in charge of the Voice of America during World War II helped to hide some news, and put out false news to influence U.S. and foreign public opinion in favor of Stalin and the Soviet Union. That some current and former VOA officials still try to hide this history as Vladimir Putin intensifies his propaganda war against the United States, is unfortunate and makes efforts to reform U.S. international media outreach more difficult than it already is.
The current anti-Putin Russia sentiment among the American Left is quite new and quite unprecedented. It stands in contrast to history. It appears to be almost entirely driven by domestic U.S. politics and thus it can easily change, although it represents a welcome balance to some of the previous uncritical thinking on the Left. Not too long ago, the American Left embraced President Obama's "Reset" with Russia, as did VOA without any outrage, even when the president announced his decision to withdraw the U.S. missile shield protection from Central Europe on the anniversary of the 1939 Soviet invasion of Poland. Warnings from Vaclav Havel and Lech Walesa were ignored by the Obama White House. It was a spectacular failure of U.S. public diplomacy that helped Putin advance his strategic agenda and was a gift to his propaganda machine. The liberal media in the U.S. was not outraged and the Voice of America largely ignored the whole controversy. A prominent independent Russian journalist and media scholar did a study for BBG in 2011 and concluded that the VOA Russian Service had a definite "pro-Putin bias."
The progressive Left is still happy to support accommodations with the communist regime in Cuba and the Islamist regime in Iran. Some VOA journalists eagerly promoted the Iran nuclear deal to such a degree of uncritical enthusiasm that they are now greeted by Iranian dissident refugees in the U.S. with "Shame on You" shouts of protest.[ref]
This is @barbaraslavin1 showing her fingers 2us. How professional!! @AP @AFP @Reuters @CNN #FreeIran #journalism @FoxNews @CNBC @USATODAY pic.twitter.com/3S3k8whFXg

— Shirin Nariman (@ShirinNariman) July 18, 2017
[/ref] Even the current Republican BBG Chairman Kenneth Weinstein tweeted about one such Iranian protest because this has rarely happened in VOA's history. The Chinese dissidents and anti-Beijing Chinese Americans are also highly critical of VOA and have staged protests in front of the VOA headquarters in Washington. This was never the case during the Cold War when VOA, RFE and RL enjoyed strong support from ethnic communities in the U.S. and from dissidents behind the iron and bamboo curtains. Never before have we seen the spectacle of a VOA guest program host showing an obscene gesture to anti-Iran regime demonstrators, as in an incident videoed recently in New York.
In another, even more disturbing development, the Voice of America programs have reached the level of partisanship never before seen in VOA's history. VOA reporters regularly use F-words in talking among themselves about President Trump in the newsroom and in some of their posts on publicly accessible personal Facebook pages. They streamed on Facebook a sex joke about Mrs. Trump and made fun of his daughter. On the election night last November, for the first time in its history VOA did not have a a single ready for use biography of the Republican presidential candidate. VOA managers and editors made sure, however, to have two pre-written "Clinton Wins" reports available for broadcasting because they simply assumed that the Democratic candidate would win. Some had tried their best to help her win. During the 2016 campaign, one of VOA's foreign language services versioned a video in which Donald Trump was called "dog," "pig" and similarly insulting names. The VOA Ukrainian Service video was viewed by at least some American Ukrainian voters. Some other VOA editors, reporters and commentators were trying to campaign for Hillary Clinton so hard that VOA even carried a one-sided commentary accusing her Democratic opponent, Senator Bernie Sanders, of being "anti-democratic." Nothing like this could have happened when Mr. Heil was VOA's program director. It would have been simply unthinkable.[ref]Mr. Heil's claims of VOA's vast international audience and multimedia digital outreach are unsupported by evidence and do not include countries like China or Russia. About half of VOA web traffic for English language news content comes from the United States in contradiction of congressional intent that VOA should target foreign audiences. VOA has become mostly irrelevant in the digital age while the BBG's budget is now larger that the U.S. budget for propaganda during WWII in today's dollars. Upon closer examination of the exaggerated audience numbers, much of VOA audience comes from paid placement of non controversial content that is often precensored in order not to annoy local governments or distributed in countries that already have free or semi-free media. At the same time, VOA has managed to offend pro-democracy dissidents in Iran and in China who now suspect VOA of caving into pressure from Tehran and Beijing, or worse, being infiltrated by regime agents of influence. Not once in my long career with VOA have I heard a pro-democracy political dissident referring to VOA as an enemy of freedom as some do now. After about 1952, VOA may have been accused occasionally of being too soft on communism, which was sometimes the case, but to my knowledge it was never before accused of being an enemy of freedom.[/ref]
Photo: Zofia Korbonska in the VOA Polish Service circa 1974.
Ted Lipien is a journalist, writer, former acting VOA associate director, and a co-founder of BBG Watch.