Voice of America at 80 – the hidden record of VOA's pro-Soviet fellow travelers, Howard Fast and John Houseman, offers lessons for today.
USAGM Watch Commentary
By Ted Lipien
The Voice of America (VOA), the U.S. taxpayer-funded international broadcaster with a budget of $252 million (FY20) in the federal U.S. Agency for Global Media (USAGM), plans to observe in February its 80th anniversary. I do not expect the VOA and USAGM management, during these observances, to be honest about the organization's history.
Perhaps the most intriguing former Voice of America news programs director, whose existence the station's managers have tried hard to ignore and hide for decades, is VOA's first chief news writer and editor Howard Fast. The person whom the Voice of America does not want anyone to know was an American communist and a best-selling novelist. In 1953, he received the International Stalin Peace Prize. Ten years earlier, he was in charge of preparing some of the first VOA news programs to Europe at the height of World War II.
Getting the Stalin Peace Prize (later renamed the Lenin Peace Prize) by an American author, former Voice of America journalist, and Communist Party activist and its newspaper (The Daily Worker) editor and reporter is not exactly an everyday occurrence. Yet, the VOA management still acts as if it never happened. This is just one example of the cover-up of truly dangerous failures, censorship, lack of independence, and foreign influence in Voice of America's history.
The Voice of America also has never admitted that the already very pro-Soviet Roosevelt administration had forced its first VOA director, John Houseman, to resign in mid-1943. A top U.S. diplomat, Under Secretary of State Sumner Welles, pushed for Houseman's departure in a secret memo to the FDR White House.[ref]State – Welles, Sumner, 1943-1944, From Collection: FDR-FDRPSF Departmental Correspondence, Series: Departmental Correspondence, 1933 – 1945 Collection: President's Secretary's File (Franklin D. Roosevelt Administration), 1933 – 1945, National Archives Identifier: 16619284.[/ref] The State Department believed that Houseman and others in charge of the Voice of America had become advocates of Russian interests and could not be trusted to uphold true liberal and democratic values.[ref]In his book, Voice of America: A History (New York: Columbia University Press: 2003), Alan L. Heil, Jr. does not mention the secret 1943 memorandum about Houseman. However, Heil identified Houseman as the first VOA director: "Hollywood and Broadway producer, author and director John Houseman, another VOA pioneer and its first director…" (p. 36). Allan M. Winkler, who as assistant professor of history at Yale University published The Politics of Propaganda: The Office of War Information 1942-1945 (New Haven and London: Yale University Press, 1978), accepted Houseman's misleading account that he was denied a U.S. passport because Ruth Shipley, the head of the Passport Division in the State Department, "decided that his current alien status disqualified him for government travel at the time" (pp. 101-102). Houseman had obtained U.S. citizenship in early 1943 through the intervention of Robert E. Sherwood, but the State Department still refused to allow him to travel abroad on U.S. government business because of his suspected Soviet and communist links.[/ref]
The first VOA director hired communists and was more naive about Stalin than even President Roosevelt himself. The State Department did not give him a U.S. passport, which made it impossible for him to travel abroad on VOA's business. He had no choice but to resign. The U.S. military intelligence agreed. General Eisenhower was furious about pro-communist VOA broadcasts putting the lives of U.S. and allied soldiers at risk in North Africa and Italy. He briefly wrote about it in his book after leaving the White House.[ref]Dwight D. Eisenhower, The White House Years: Waging Peace 1956-1961 (Garden City: Doubleday & Company, 1965) 279. Also see: Ted Lipien, "General Eisenhower accused WWII VOA of 'insubordination'," Cold War Radio Museum, May 14, 2018, https://www.coldwarradiomuseum.com/general-eisenhower-accused-wwii-voa-of-insubordination/.[/ref]
Because the Voice of America management is dishonest about VOA's history, it also shows its intellectual inability to guard the organization's independence. Lately, VOA hired a few former employees of Russian and Belarusian state media (Putin's and Lukashenko's propaganda channels), including at least one who had promoted previously conspiracy theories with antisemitic overtones. More than a dozen VOA journalists took bribes from a Nigerian politician. VOA broadcast occasionally fake Russian news and a fake interview with opposition leader Alexei Navalny, for which a former VOA director had to apologize.
Iranian-Americans, Chinese-Americans, Cuban-Americans, and Ethiopian-Americans have criticized VOA for repeating regime propaganda without adequate challenges. Respected American experts and independent journalists echoed these charges. Several Voice of America programs glorified Che Guevara, Fidel Castro, and American communist Angela Davis without mentioning victims of communism.
VOA produced and aired long videos showing burnings of American and Israeli flags without attaching any balancing content.
VOA also posted many partisan reports during recent U.S. presidential and congressional election campaigns, thus violating the VOA Charter. A few VOA reporters expressed extreme partisan bias in sexually offensive social media posts. One VOA journalist banned some American journalists who criticized his reporting as biased from following his work-related Twitter news feed. Another VOA reporter threatened online a Catholic high school student simply for participating in an entirely peaceful pro-life demonstration. The USAGM/VOA management failed to evacuate promptly its staff from Afghanistan.
Some people–but not many of its former refugee Cold War journalists–have received invitations to participate remotely in a panel discussion, "Voice of America: Recognizing 80 Years – and Counting – of Independent Journalism," which is scheduled to be conducted online on February 3.
According to the announcement, Yolanda López, Acting VOA Director, will introduce the panel. Ndimyake Mwakalyelye, VOA Zimbabwe Service Chief, will moderate the discussion. The announced panelists are:
Sanford Ungar, Director of the Free Speech Project, Georgetown University & Former VOA Director
Ann Cooper, Professor Emerita, Columbia Journalism School
Roya Mahboob, Businesswoman and entrepreneur from Afghanistan and founder of the Afghan Robotics Team
Nicholas Cull, Professor of Communication, USC Annenberg School for Communication and Journalism
The VOA announcement sent to a select group of invitees listed four questions, which presumably the panelists will address:
"Do publicly funded media and broadcast organizations still have a place in democracies?"
"What challenges do independent, public service media face in a world where democracy is 'under siege?'"
"Has VOA consistently provided independent journalism to its audiences?"
"Has VOA served as a mouthpiece of the American government or its leaders now, or in the past?"
It remains to be seen what the panelists choose to discuss. The Voice of America had started out as an anti-Nazi and anti-Japanese propaganda broadcaster. It also became immediately a propaganda platform for Soviet Russia, helping Stalin enslave Eastern Europe and adding to the misery of millions of people. But, once reformed by the Truman administration, it contributed later to freeing millions from communism, although not as much as Radio Free Europe (RFE) and Radio Liberty (RL). I was proudly part of that effort. I have also observed that whenever anyone criticizes the Voice of America management over governance, programming, and security breaches, they are immediately accused by VOA management loyalists and bureaucrats of threatening VOA's independence and undermining the free press. Call it my law because if such criticism can help even slightly pro-democracy forces in China, Russia, Iran, Cuba, Ethiopia, and in other countries, I don't mind it. I would mind if it did not.
If VOA is to have any further use for supporting free speech and democracy, it needs to be changed back to a non-partisan, non-ideological, non-activist, professionally run media organization. It needs to employ both moderately progressive and moderately conservative managers and journalists in more or less equal numbers, but they must not, under any circumstances, allow their personal partisan preferences to influence their work. In my view, however, the chances of that happening in the current political climate are bleak.
The Biden administration has requested $810.4 million for USAGM in FY22. In the past, Congress and, in some cases, the White House intervened to reform the Voice of America's management. With Putin's Russia threatening Ukraine, leaving VOA in the hands of managers who have failed in Afghanistan, China, Russia, Iran, and Cuba would be a danger to America's security and to prospects for freedom and democracy worldwide.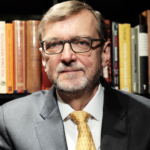 Tadeusz (Ted) A. Lipien is an international media executive, journalist, writer, blogger, and press freedom advocate. He was Voice of America (VOA) Polish Service chief during Solidarity trade union's struggle for democracy, acting VOA Associate Director, and served for a short time as President of Radio Free Europe/ Radio Liberty (RFE/RL). His articles on U.S. international broadcasting have been published in American Diplomacy Journal, National Review, The Washington Times, The Washington Examiner, and Digital Journal. He is the author of a book on feminism and Pope John Paul II, O-Books, UK and Świat Książki, Poland. His new book, Voice of America – 80 Years of Hidden History, will be published in 2022. He is a co-founder and supporter of BBG Watch and USAGM Watch, government watchdog websites managed by citizen journalists who volunteer their time.