BBG Watch Commentary
The same management of U.S. taxpayer-funded Voice of America (VOA), which provided on-the-scene coverage of the British royal wedding in 2011, the British royal baby christening in 2013 and altogether posted dozens of news and feature reports on the British royal family, could not find a single reporter in August 2014 to send to the St. Louis, Missouri, suburb of Ferguson, where protesters and police have clashed for 10 days following the shooting death of an unarmed black young man, 18-year-old Michael Brown, by a white police officer. VOA's news item today about riots in Ferguson, written in Washington, DC, has not been updated online for many hours.
VOA senior executives appear to be taking their August vacation leave during the height of the humanitarian crisis in Iraq, Russian military incursions into Ukraine, and a major domestic U.S. news story out of Ferguson, Missouri. VOA Director David Ensor was not seen at the Broadcasting Board of Governors (BBG) board meeting last week in Washington, DC. Ann Noonan, Executive Director of the independent NGO Committee for U.S. International Broadcasting (CUSIB – cusib.org) warned at the BBG meeting of a management meltdown at the Voice of America.
The BBG has oversight responsibilities for the Voice of America. VOA's and BBG's International Broadcasting Bureau (IBB) management failed to provide leadership and resources to VOA's Kurdish Service, which was not able to update its news website, Facebook and Twitter pages last week for up to 11 hours while Kurdish-speaking refugees were fleeing for their lives in northern Iraq pursued by Islamic State fighters. It also took the VOA Kurdish Service a few hours to post online a report about President Obama's major statement on the humanitarian crisis in Iraq.
As of 12:30 AM EDT, August 18, 2014, the latest Voice of America news report about National Guard troops headed to U.S. town of Ferguson has not been updated since 8:35 AM EDT. The VOA report was not filed by a VOA reporter on-the-scene in Ferguson, Missouri, but was written by someone in the decimated VOA Newsroom in Washington based on wire service reports. Today's VOA report showed only two related VOA news reports, both of them old (August 15 and August 16), and none filed from Ferguson, Missouri.
BBC online news report with a video and multiple images, "Michael Baden: Michael Brown 'shot multiple times' – BBC News, was last updated at 12:30 PM EDT.
BBC report was also more balanced and included statements from both the victim's family and the police, while VOA quoted only the victim's family and their supporters.
BBC, Aug. 18: "'We don't know'

Dr Baden said there were no signs of a struggle, as abrasions around the teenager's face were likely from falling to the pavement after being shot.

He also believed Mr Wilson did not shoot him at close range as there was no gunpowder residue on his body, suggesting the officer was at least 2ft away.

Shawn Parcells, a forensic pathologist who assisted Dr Baden, said a wound to Mr Brown's right arm may have been sustained as he had his hands up, 'but we don't know'.

He said the wound was consistent either with having his back to the officer or facing the officer with his hands above his head or in a defensive position.

Witnesses have said Mr Brown was shot as he held his hands up in a position of surrender, while the police and supporters of Mr Wilson [police officer] have said he fired during a fight with Mr Brown."
VOA, Aug. 18: "Lawyers and two medical experts told reporters the gunshot wounds to the head support witnesses' statements Brown's head was down and the teen was surrendering when Officer Darren Wilson shot him.

Brown family attorney Daryl Parks on Monday called for charges to be brought against Wilson.

'We believe that given those kinds of facts, this officer should have been arrested', said Parks.

Wilson is on paid administrative leave during the investigation."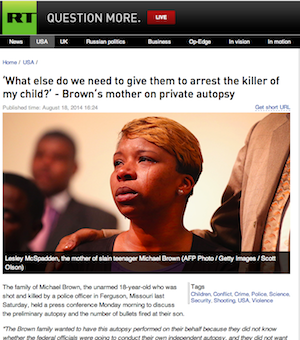 Russia's RT website offers live updates from Ferguson: "Militarized US police face-off with Ferguson protesters LIVE UPDATES, RT."
BBC news website this morning had live video of the Ferguson press conference, with numerous links next to it. VOA had only the last short story the newsroom wrote, released at 8:35 AM EDT.
Like BBC, Russia's RT has also posted a lengthy report on the autopsy: "'What else do we need to give them to arrest the killer of my child?' – Brown's mother on private autopsy – RT."
In terms of audience engagement through social media, Russia's RT has amassed thousands of "shares" for its news reports about events in Ferguson, Missouri, while VOA news reports usually show a few dozen "tweets" and Facebook "shares" and very few comments.
Al Jazeera reported that "the latest autopsy findings came as United Nations chief Ban Ki-moon called on U.S. authorities to protect the right of peaceful protests over Brown's death in Ferguson." VOA English news still has nothing on Ban Ki-moon's statement (VOA eventually included information about the autopsy in its report.)
"US black teen 'shot six times' by police Independent probe of Michael Brown's death, which sparked unrest in Missouri, also found no evidence of struggle" – Al Jazeera.
VOA report, "National Guard Troops Headed to US Town of Ferguson – VOA News," posted today from Washington, and not updated since 8:30 AM EDT, had only three comments from online readers as of 2:00 PM EDT. Russia's RT report with RT video from Ferguson, "Indefinite curfew: Ferguson police deploy tear gas against protesters also posted today," had over 200 comments.
The world is turning to Al Jazeera, BBC, and Russia's RT for news coverage from Ferguson — not to the Voice of America which does not even have a correspondent on the scene.
Not just in terms of online news coverage and social media exposure, but listening to BBC World lengthy radio reports from Ferguson also shows how "the folks across the pond embarrass the hell out of the 'Voice of America' on such U.S. stories," one former VOA correspondent observed.
A reform bill pending in Congress attempts to steer the Voice of America more toward U.S. domestic news coverage, but some senior VOA English news reporters have criticized this proposal, claiming that "restricting VOA to domestic news and policy would bring to a close decades of credible, compelling, on-the-scene news and analysis from around the world." But VOA's English global news coverage is also in shambles, with occasional sloppy reporting that instead of countering helps to boost the Kremlin's propaganda claims with inaccurate or ambiguous information from such crisis spots as Ukraine.
UPDATE
As of 9:00 PM EDT, Aug. 18, 2014, Russia's RT post, "Militarized US police face-off with Ferguson protesters LIVE UPDATES – RT," shows over 5,300 Tweets and over 4,000 Facebook "Likes" and 127 comments.
Today's RT report, "Autopsy reveals cop shot Ferguson teen 'at least 6 times' – RT," shows over, 3,200 Facebook "Likes" and 662 Tweets, and 80 comments as of 8:30 PM EDT.
Another RT report posted today, "'Arrest the killer of my child': Brown's mother pleads after autopsy – RT," shows over 2,100 Facebook "Likes 282 Tweets and 367 comments as of 8:30 PM EDT.
Still another RT report, also posted today, "'Get the f*** out of here!' Ferguson cops threaten to shoot, mace reporters (VIDEO) – RT," showed over 4,600 Facebook "Likes," 1,000 Tweets and 226 comments as of 8:30 PM EDT.
Voice of America's only VOA English News online report today about the situation in Ferguson, posted from Washington with a late update on President Obama's statement, "Obama Appeals for Calm as National Guard Arrives in Missouri – VOA News" showed only 150 Facebook "Shares," 57 Tweets, and 6 comments as of 8:30 PM EDT.
The Voice of America does not have a correspondent in Ferguson, Missouri. Many of VOA's executives and staffers are on vacation in August. VOA reports on the situation in Ferguson are written in Washington and often not updated for many hours. VOA reports about the racial unrest show at best a few dozen Facebook "Likes" and "Tweets."
Germany's Deutsche Welle (DW) had a video report showing President Obama speaking Monday afternoon about the situation in Ferguson. Voice of America did not provide any video in its online report, which was posted late, about President Obama's remarks.
In an apparent violation of the VOA Charter, which requires VOA news to have balance, the Voice of America report today did not mention the Ferguson police department's claim that the victim was allegedly trying to attack the police officer and to grab his gun when he was shot and killed. Both BBC and DW reports mentioned this police claim. DW noted that the protestors in Ferguson do not accept the police story as true.



Despite clashes that have lasted already for 10 days in Ferguson, Missouri, and have attracted worldwide media attention, the Voice of America may not have a correspondent on the scene until tomorrow at the earliest, sources told BBG Watch. We have learned that BBG network Alhurra for the Middle East wanted to debrief a Voice of America correspondent on the scene in Ferguson, Missouri, only to be told that VOA has no one in Ferguson.
The Voice of America English Newsroom, which has been decimated by the VOA and IBB management which had refused to fill vacant positions, looks empty and dead even during business hours in non-vacation periods. It is almost completely empty at night, on weekends, and in August, BBG Watch sources observed. Many VOA and IBB executives are now likewise taking their August vacation, leaving the Voice of America rudderless.