BBG Watch
After a shaky start, some poor quality video and criticism on Facebook, Voice of America's (VOA) coverage from Cuba has improved significantly with numerous postings on the main VOA English news website and VOA Facebook page.
While still not close to BBC's quality of news reporting or even in some cases Deutsche Welle's, with a lot of its personnel in Cuba the Voice of America is performing better with the coverage of President Obama's visit than with its regular day-to-day news reporting operations.
DW pointed out that Raul Castro did not greet President Obama at the airport, VOA did not and posted instead a report with the list of Cuban officials who were present at the airport without making a newsworthy observation. DW also posted a Tweet on this from Donald Trump. VOA did not.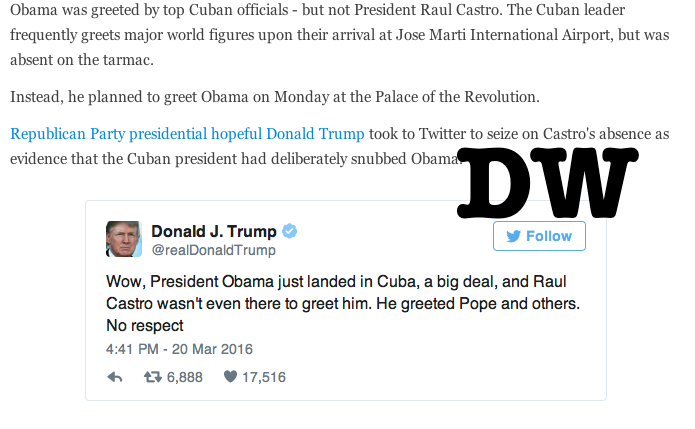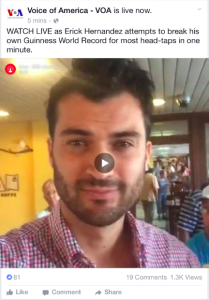 One U.S. taxpayer was winding how newsworthy was watching live from Havana, Cuba on the Voice of America Facebook page a shaky video from a VOA correspondent as Cuban former pro-footballer Erick Hernandez attempted to break his own Guinness World Record for most head-taps in one minute. The person asked whether it would not be a better use of America taxpayers' dollars if the VOA correspondent tried to reach and interview instead independent Cuban bloggers, many of whom have been in and out of Cuban prisons.
WATCH LIVE as Erick Hernandez attempts to break his own Guinness World Record for most head-taps in one minute.

Posted by Voice of America – VOA on Saturday, March 19, 2016
Human rights issues in Cuba are being covered by the Voice of America, but some critics say that VOA reporters should try harder to reach human rights activists rather than offering more videos that anyone else, including U.S. commercial media, can now easily take in Cuba.
VOA had a report about dozens Cuban human rights activists being arrested ahead of President Obama's arrival.
It appears that Radio and TV Marti journalists working for the Office of Cuba Broadcasting (OCB) in Miami did not get Cuban visas to travel with President Obama to Cuba. Both VOA and OCB are federal government entities of the Broadcasting Board of Governors (BBG).
With better than usual reporting in the last several hours, Voice of America journalists in Cuba should be applauded.