NPR
Russian Accuses Voice Of America Of Fake Interview
Anti-corruption crusader Alexei Navalny has been the victim of many dirty tricks by pro-Kremlin media. But when Voice of America published an online interview that had him criticizing other Russian opposition figures, Navalny quickly tweeted that the interview was a fake. The VOA's response: "We may…
BBG Watch Commentary
Commenting on the Voice of America director David Ensor's response to the posting of a fake interview on the VOA Russian website, one veteran VOA journalist observed that for a good reporter like Ensor, it is very short on specifics. It would force CNN viewers to switch channels. It misses the main point of what led to the posting of a fake interview on the VOA Russian Service website.
This devastating mistake is part of a big systemic problem at the Broadcasting Board of Governors and the Voice of America. David Ensor's response is very inadequate in both explanations and solutions. It implies that it is merely a problem of editorial procedures when in fact it is a management and leadership crisis.
The people who should go are senior BBG, IBB and VOA executives and advisors. They are the ones responsible for the problem of outsourcing, POV staffing, exploiting of contractors, not paying them on time but at the same time expecting that they will be totally loyal. It's time to put a stop to the institutional discrimination of contractors, start treating everyone equally, and set the same high standards of performance for all employees.
The VOA Russian Service needs to be rebuilt from scratch, otherwise it will never have any credibility with the pro-democracy opposition in Russia. Director Ensor needs to make drastic changes and announce them. He should go to Russia and meet with Alexei Navalny, the opposition leader embarrassed and harmed by VOA. We do respect Director Ensor's considerable achievements as a foreign correspondent, but we hope now that he will also do the right thing as VOA director.
As a Washington Times op-ed suggested, what needs to be done is an emergency surgery. This is not the time to apply Band-Aids. BBG Watch is posting a few questions which will hopefully help Director Ensor and BBG members get ready to perform the necessary surgery as soon as possible, the sonner the better. It has to start with the top senior managers. Punishing low level contractors and employees will not solve the problem. It will make it worse and will make low employee morale even lower.
Here are the questions, not necessarily in the order of their importance:
1. At what level do you plan to stop outsourcing critical editorial and journalistic functions to poorly paid, poorly trained, poorly vetted and poorly supervised contractors from Russia? How do you plan to integrate those contractors who are needed because of special new media skills into a larger journalistic culture? When will all full time employees, contractors or not, be treated equally?
2. Why were experienced VOA Russian Service editors forced to retire, were pushed out, or quit being disgusted with the "pro-Putin" bias imposed by BBG program advisors? Do you plan to ask some of them to come back? Will you reject the BBG's commercial approach to measuring success and start paying attention to those like Navalny who need VOA the most?
3. Why was a study done by a highly respected journalist fighting Putin's censorship in Russia, who concluded that the VOA Russian website had a "pro-Putin bias" and downplayed human rights reporting, ignored by VOA and BBG management? Will you distribute it to all managers and employees as a valuable lesson in feedback from the most critical segment of the audience?
4. Why did you not call Alexei Navalny immediately and apologize personally? He is, after all, not just a pro-democracy blogger but a leading opponent of Prime Minister Putin, anti-corruption lawyer, and opposition leader. Do you plan to contact Navalny?
5. Why did it take you so long to respond in any way to the incident?
6. Are you concerned that some members of your VOA Russian team were privately accusing this courageous Russian human rights campaigner of giving the interview and then lying about it and that higher level managers who are supposed to supervise these contractors and to advise you were also telling many people within VOA and IBB/BBG that Navalny may be a liar?
7. What does that tell you about the quality and integrity of these managers and their staffing decisions?
8. Why did the Russian news agency RIA Novosti report on the incident right away in Russian, English and in other languages and the Voice of America English website did not even though your own Russian Service posted an apology?
9. When you praised the Russian Service in your February 1st 70th VOA anniversary speech as a model of innovation for other VOA services, did you know that it was getting ready to issue an apology for publishing a fake interview and that a study commissioned by the BBG in Russia not only described their website as "pro-Kremlin" but also rated it as less then mediocre?
10. If you did not know any of this, do you still trust your management team? Are you going to replace it?
11. Did you know that some recently hired program managers thought so highly of a VOA video report from North Korea that they insisted on issuing a press release even though it was so full of crude and unchallenged regime propaganda that even Vladimir Putin would not allow such reporting about himself on the media channels he controls in Russia? Do you think individuals without foreign reporting experience should be hired to fill key positions as program managers at VOA?
12. Did you know that individuals who used to work for state and Putin media channels in Russia have been hired as VOA Russian Service contractors?
13. Does it bother you that VOA Russian website and blogs have been compromised several times by hackers? What do you plan to do about it?
14. Do you really think that people who criticize the management philosophy and the management team at BBG and VOA are supporters of shortwave radio and know nothing about the importance of the Internet and social media?
15. Did you know that the same BBG executives who ended VOA radio and satellite television transmissions to Russia in 2008 also wanted to end them to China and to fire 45 experienced VOA China Branch editors and journalists? What do you think would have happened to the quality and integrity of VOA Chinese programs if Congress did not intervene and stopped this plan? Are you going to resist any such attempts in the future?
16. Considering that Alexei Navalny said that "VOA has gone nuts" and all VOA Russian Service staff should be "let go" and another opposition figure accused them of a "pro-Putin bias," how do you plan to regain credibility among pro-democracy supporters in Russia?
17. If you plan to let things continue as usual, do you think Congress and American taxpayers will support you?
18. If you plan to make drastic changes, when and how will you announce them?
19. What do you plan on doing to eliminate cronyism, send a message to managers who failed, and improve employee morale?
20. Will you ask rank-and-file employees for advice and help or will you rely only on your current management team?
###
From the official Inside VOA website: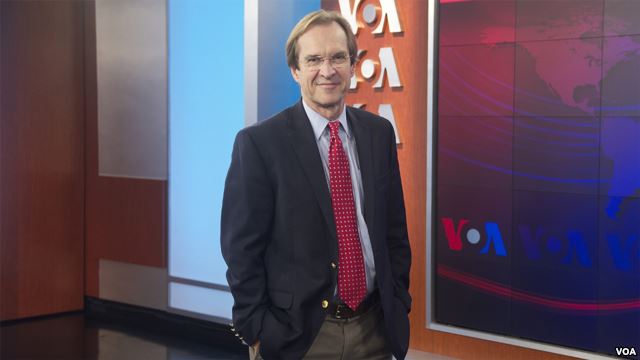 by David Ensor
Every week, about 141 million people around the world, many of them in countries with no access to independent media, get their news from the Voice of America. They count on us to get it right. That is why we must be open with them when we fall short.
On February 2nd, VOA's Russian Service published an immediate apology for running a story that contained comments it attributed to well-known Russian opposition blogger Alexi Navalny, after he tweeted that the words were not his.
On its website, VOA Russian said, "Although we always stand by our efforts to source and verify information, we must be aware of the shifting landscape on these new frontiers of journalism. Methods of verification that once seemed sufficient, even iron-clad, are now often outmoded. As a result of this incident we will strengthen our editorial standards and enact additional safeguards."
This kind of open and honest dialogue with our audience, though painful, should underscore that VOA will continue to serve as a consistently reliable and authoritative source of news. In the words of legendary wartime reporter and onetime U.S. Government broadcast official Edward R. Murrow: "To be persuasive we must be believable; to be believable we must be credible, and to be credible we must be truthful."
The media landscape has changed, and not just in Russia. Last June, a French TV channel ran a telephone interview with a woman identified as Syria's ambassador to France, Lamia Shakkour. She said she was resigning to protest attacks on civilians by President Bashar al-Assad's forces. The station said it had called a telephone number on which it had spoken to Shakkour on previous occasions. After the broadcast, Reuters news agency said it had received an email that came via the website of the Syrian embassy in Paris, confirming the resignation. The ambassador later denied giving the interview, saying it was faked.
Just last weekend, Mr. Navalny, the Russian blogger and protest leader, was the subject of what the New York Times headlined as a "Smear in Russia," one that backfired. The incident began with the publication of a photo of Navalny standing next to an exiled Russian financier who is wanted by police. The use of the doctored photo backfired when the original was produced by the photographer, touching off a series of parodies on the Internet, including a picture of Navalny standing next to a space alien.
Today, the United States faces a political and social landscape around the world that is evolving at breakneck speed. Regimes in Tunisia, Libya and Egypt disintegrated on live television. Information, disinformation, or misinformation, can be spread with the click of a mouse, a tweet, or a Facebook status update. Ferreting out the facts in the digital age is a new kind of challenge, but as Edward R. Murrow also said, "difficulty is the excuse history never accepts." We may not know how an email sent to a blogger can land on the computer of someone else, who then fires off a response that appears genuine. Or how many doctored photos are out there. What we do know is that these photos or comments can spread like wildfire and it is more important than ever to verify the facts.
While some critics long for the days when shortwave radio broadcasts were pumped behind the Iron Curtain, the fact is, listening habits in Russia have changed and so have the methods we use to gather information. The Internet, blogging and social media tools like Twitter are here to stay.
Some years back, VOA radio and television programs were carried on a number of affiliate stations throughout Russia, but under government pressure almost all those broadcasts were stopped by the end of 2008. Since then we have developed a loyal audience on the Internet and on a wide variety of social media-based platforms. A new program, Podelis, which means 'share' in Russian, is a social media-based TV program that allows the audience to choose the topics, and discuss them with VOA hosts. VOA's Russian audience has expanded rapidly because we engage them and offer a platform for views, including those not heard on state-controlled media.
As a correspondent for ABC News based in Warsaw and Moscow in the eighties and nineties, I saw firsthand the lengths to which the Soviet and Polish Communist authorities would go to try to prevent western journalists from communicating with regime critics. Covering dissident views in authoritarian countries is often extremely difficult work. It can require both journalists and dissidents themselves to accept risk. It is essential work that the Voice of America will never stop doing.
At VOA, we know that Edward R. Murrow was right. We must be truthful, and when there is reason to doubt our reporting, we must say so — and we will. Our credibility depends on it.
David Ensor