BBG Watch Commentary
In some countries to which U.S. taxpayer-funded Voice of America (VOA) directs its broadcasts, independent bloggers and journalists who expose government corruption are frequently jailed and sometimes tortured and even killed. VOA and its parent federal agency, the Broadcasting Board of Governors (BBG), proudly proclaim that their mission, which is 100% funded by U.S. tax dollars appropriated by the U.S Congress, is "to broadcast accurate, balanced, and comprehensive news and information to an international audience" and "to inform, engage and connect people around the world in support of freedom and democracy."
Recently released documents show that Voice of America director David Ensor used government email system to plan with his subordinates a satire skit against a private U.S. media website critical of the VOA management.
"Sure Neil. With writers like you, what could go wrong?!," Director Ensor writes to one of his subordinates, expressing support for the idea and promising his participation.
Government records obtained under the Freedom of Information Act (FOIA) requests show that David Ensor and a number of his subordinates exchanged emails at the Broadcasting Board of Governors federal agency to plan their mocking session against BBG Watch.
We at BBG Watch were somewhat surprised when the Voice of America director chose our independent watch dog blog run by former and current VOA journalists and other volunteers to lampoon in a satire skit at a holiday party held last December on government time at a government building in Washington, DC. David Ensor could have chosen to lampoon Vladimir Putin, Iranian ayatollahs, ISIS, others who persecute journalists and undermine free press, or to poke fun at himself. But he mocked BBG Watch instead, comparing its audience numbers to those of The Watchtower, an illustrated religious magazine published semimonthly in 228 languages by Jehovah's Witnesses, a religious sect persecuted in various countries.
The release of agency records subject to at least one of the FOIA requests about the December event does not appear to be complete. It does not include any video recordings of the event at which David Ensor lampooned not only BBG Watch but also two former senior VOA correspondents, a former VOA executive, and a former member of the Broadcasting Board of Governors (BBG) who was appointed to this position by the President and confirmed by the U.S. Senate and is also a former U.S. ambassador.
All of these individuals being mocked by VOA director were private citizens. They were not invited to the event at which they were made fun of and which likely cost U.S. taxpayers several thousand dollars in lost work time and other expenses. This could probably pay for a few VOA reporting assignments about a country or countries that lack free media.
It appears that instead U.S. taxpayers in effect subsidized an attempt to discredit a private U.S. media blog and private U.S. citizens who are exposing waste and abuse at a U.S. government agency charged with supporting similar private journalist bloggers in other countries — the effort being led by one of the agency's top officials.
Several VOA journalists said that such a public performance by VOA director was unprecedented. There is also no record of any former VOA director making comments in a public setting about a religious group that could be construed in any way as making fun of that religious denomination or its activities. While some VOA journalists participated in the skit, others told BBG Watch that they were appalled by the performance and Director Ensor's role.
U.S. government employees using government-issued equipment were seen videotaping Director Ensor and a few of his subordinates making fun of BBG Watch. Agency lawyers did not release the video tape which was listed in the FOIA request, but BBG Watch had posted earlier an audio recording and transcript of David Ensor's holiday skit.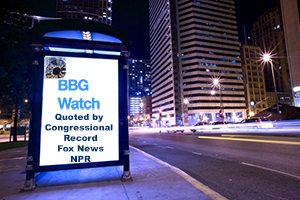 We don't mind being mocked. Our U.S.-based blog has had several scoops in reporting on the BBG international media outreach agency and exposing government waste and abuse. Our investigative reporting was mentioned in Congressional Record, The Washington Post, The New York Times, Mother Jones, NPR and by other U.S. and international media.
It is disturbing, however, that leaders at a federal agency charged with supporting free press abroad choose to spent tax money on trying to discredit citizen journalists in the United States rather than use their time and tax dollars to advance the actual media freedom mission of the Voice of America and the Broadcasting Board of Governors.
###
Emails Obtained Under FOIA
###
Audio Recording and Transcript Posted by BBG Watch
VOICE OF AMERICA DIRECTOR DAVID ENSOR, DEC. 16, 2014: " . . . [in response to] parties urging that we all be accurate, objective and balanced, I have as promised, 10 fun facts about BBG Watch.

And the first one is, on BBG Watch, [name of former VOA Foreign and Intelligence Correspondent] … is writing far more than he ever did.

The second one is kind of a interrogatory Here's my question — where the hell is Truckee, California [managing location of BBG Watch website] anyway?

No. 3. BBG Watch has its own version of the two source rule. Unfortunately, the two sources are [former U.S. Ambassador to Poland, former Broadcasting Board of Governors (BBG) member, former multiple-term Mayor of Knoxville, TN] and [former VOA White House Correspondent].

Fun fact No. 4. [Committee for U.S. International Broadcasting (CUSIB – cusib.org) co-founder and co-director and co-founder of BBG Watch] is more in love with himself than with Kim Jong Un.

No 5. Even people who argue a lot, like say [names of current VOA journalists] …, even they can agree how bad it [BBG Watch] is.

This is one you may not know. [name of Head of Digital Strategy] … secretly hired BBG Watch to drive traffic to the VOANews.com website. And it's working.

No 7. BBG Watch now has as many anonymous posters as HookUP.com

No 8. It's in the running for a literary award for best work of fiction.

No 9. It meets the standard definition of a blog — boring, lousy, obscure, gibberish.

And No 10. According to the Pew Internet Research Report, the BBG Watch audience rivals that of two media powerhouses, the Watchtower magazine [illustrated religious magazine published semimonthly in 228 languages by Jehovah's Witnesses] and the weekly circular for Shopper's Food Warehouse.