BBG Watch Commentary
As confirmed by its own search program, the U.S. taxpayer-funded Voice of America (VOA) did not have a single mention of Antifa on its main VOA English news website until July 5, 2017 while showing dozens of references to such terms as "neo-Nazi," "fascist," "alt-Right," or combined "Trump" and "fascist" phrases in VOA English-language news reports. Critics might say that VOA has shown bias by using the "fascist" label dozens or even hundreds of times with references to Donald Trump and his supporters while avoiding until early July of this year any mention of Antifa as a loose coalition of extreme Leftists committed to using violence to achieve political aims outside of the democratic process. Antifa members have been responsible for much of the violence during post-election anti-Trump demonstrations in various U.S. cities, including some reported violent attacks on journalists and other innocent individuals and some damage to private property.
The first full-length VOA News report specifically on Antifa was not posted until August 19, 2017. In the introduction to the report, VOA editors did not seem at all certain whether Antifa was an extreme Left-wing group engaged in violent acts, or a group committed to the defense of human rights. Considering that some of these VOA reporters and editors collect six-figure U.S. government salaries, that is an astounding degree of uncertainty for any journalist.
VOICE OF AMERICA (VOA): "It's pronounced AN-ti-fa — short for anti-fascists — and it is arguably either a violent far-left militia or a group of human rights activists so dedicated they will risk life and limb to protect democracy."

READ MORE: 'Antifa' Protesters United by Extreme Protest Tactics, Voice of America, August 19, 2017.
One would expect journalists who are now working for the Voice of America, a radio station that had contributed to the fall of some of the most murderous communist regimes in human history, to know that members of any group which advocates and practices violence, whether on the Right or on the Left, cannot possibly be described as "human rights activists" whose aim is "to protect democracy."
One of the only two comments under the VOA report made fun of politically naive Voice of America journalism:
"Antifa concerned with protecting Democracy. Lol.

Antifa are as authoritarian and thuggish as their opponents, don't confuse Anti Fascism with them."
Considering that Congress wants VOA to target only foreign audiences, the VOA report on Antifa fails to identify it as a truly fringe American group of fanatical and violent individuals with communist and anarchist convictions. While the VOA report for foreign audiences includes some American criticism of Antifa for its use of violence, it does not make it clear, as it should, that the vast majority of Americans do not support political violence of any kind, either on the Left or on the Right. The report also does not make it clear that the vast majority of Americans denounce ideologies connected with racism, fascism, communism, and terrorism. These important points were not made clear in the VOA report, creating an unfortunate impression for foreign audiences that Antifa has some community support in the United States and may be more than just a fringe group resorting to using violence.
President Trump has been widely criticized by Americans, many of them on the Left and by some on the Right, for what they saw as inadequacy of his response to neo-Nazi inspired hatred and violence in Charlottesville. By these mainstream American standards, VOA newsroom editors were even worse in their wishy-washy description of Antifa. For any journalist to even suggest that violent Antifa activists could be classified as pro-human rights and pro-democracy is simply astounding. For those who have been reading the content of Voice of America websites, however, it is not surprising, considering the unprecedented move of VOA toward reporting with extreme partisan bias under the watch of VOA director Amanda Bennett.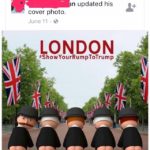 While Broadcasting Board of Governors (BBG) CEO John F. Lansing insisted in an interview with NPR that the Voice of America employees have the "greatest respect for the President," VOA journalist were posting memes showing Donald Trump with a swastika, as a male sex organ, and calling him in personal but public Facebook posts "F*ckface Von Clownstick" and other insulting names.
Searches of the VOA English news website have shown only six VOA reports with any reference to Antifa. The first one was not until July 5, 2017. Searches of the VOA English news website also show 333 "fascist" references, 208 "neo-Nazi" references, 62 "alt-Right" references, and 42 matches for "fascist" and "Trump."