BBG Watch Commentary
While some recent U.S. taxpayer-funded Voice of America (VOA) news reports endangered Americans and non-Americans, Muslims and non-Muslims with their unbalanced, sanitized accounting of the killing of 20, mostly foreign non-Muslim civilians, taken hostage by Islamist terrorists in Dhaka, Bangladesh, one exceptional VOA report did not try to hide the facts and offered a powerful rebuke to terrorists from Islamic scholars.
At least one Voice of America news report on July 2, "Dhaka on Lockdown After 20 Hostages Killed in Restaurant Standoff" | VOA, included a misleading but unchallenged quote from a local politician that "terrorism has nothing to do with religion" while withholding critical facts linking the terrorists in Dhaka to religious fanaticism, targeting of non-Muslim foreigners and selecting victims by testing them on their knowledge of the Koran.
The VOA report on July 2 also failed to note that at least one of the victims was an American citizen, as a BBC report filed at about the same time did. VOA only reported at that time that "most of those who died were Italian and Japanese nationals" and said nothing about them being specifically targeted for being non-Muslim foreigners, a point which the BBC report made very clear.
Another VOA news report, posted on July 4, "Bangladesh Mourns; Investigators Question Hostages Rescued From Attack" | VOA, completely omitted the critical details of how the hostages were selected to die and were hacked to death based on their religion and religious knowledge.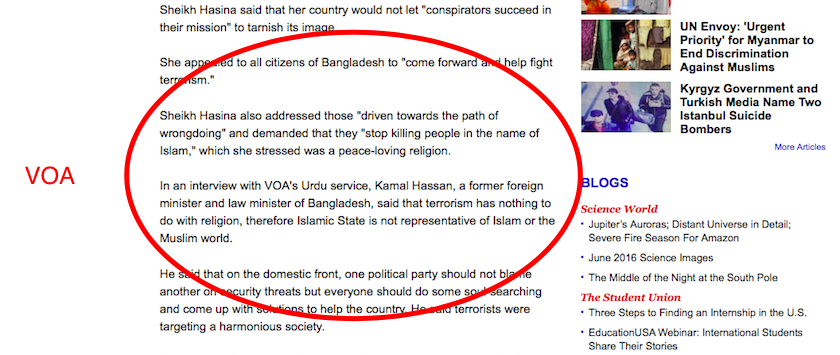 Such unbalanced and selective Voice of America reporting is not only journalistically unethical. It may also put lives in danger in any similar future terrorist attacks if more people are not made aware of these facts.
Unlike the Voice of America news report, a BBC news report, "Bangladesh siege: Twenty killed at Holey Artisan Bakery in Dhaka" | BBC said, quoting Bangladesh's Daily Star newspaper, that "the gunmen tortured anyone who was unable to recite the Koran. They provided meals overnight for only the Bangladeshi captives, it [Daily Star] said."
"It was an extremely heinous act," Ms Hasina [Bangladeshi PM] said in a televised statement. "What kind of Muslims are these people? They don't have any religion," BBC reported.
BBC bolded who was unable to recite the Koran. part of the sentence for emphasis and provided a link to The Daily Star report.
Even though Voice of America has new director, Pulitzer Prize-winning journalist Amanda Bennett, some of its reporters and editors have not yet learned how to report on terrorism objectively and present all material facts without the risk of fanning an anti-religious or an anti-Muslim bias.
One VOA report on the Bangladesh terrorist killings, however, stands out as proof that at least some VOA journalists know how to approach this issue with truth and balance. This excellent VOA report is quite in contrast with other, sanitized and unbalanced Voice of America reporting. Much of it still seems to be driven not by fact-based journalism but a desire to hide facts which may challenge a politically correct narrative.
The VOA report, "Islamic Scholars Condemn Killing of Hostages in Bangladesh" | VOA, did not omit any critical facts while offering a powerful rebuke to terrorists from Islamic scholars.
###

Maas Hussain

July 02, 2016 7:04 PM


The terror attack at an upscale Dhaka restaurant that left more than 20 people dead was condemned Saturday by some Islamic scholars in Bangladesh, who said the targeting of non-Muslims is contrary to the teachings of the Prophet Muhammad.

In her speech to the nation Saturday evening, Bangladesh Prime Minister Sheikh Hasina also called the attackers "un-Islamic."

Militants burst into the restaurant Friday evening yelling "Allahu Akbar" ("God is great") and firing rifles as they took the people inside hostage. Bangladeshi troops stormed the restaurant about 12 hours after the attack began, rescuing more than a dozen people.

When the standoff was over, authorities found 20 people, mostly foreigners, hacked to death by the attackers. At least two police officers were also killed. Among those killed were nine Italians, seven Japanese and one American.

Six of the attackers were killed and one was captured.

It is believed many of those killed by the militants were slain a few hours after the siege began. Some of those who were rescued reported that the militants spared those who could recite a verse from the Quran.


No 'scent of heaven'

Leading cleric Maulana Fariduddin Masoud, chairman of Bangladesh Jamiatul Ulama (BJU), a national body of Islamic scholars, said the killing of the innocent people by the suspected Islamists was a barbaric act and the targeting of non-Muslims was antithetical to the teachings of Islam.

"Someone who kills the non-Muslims who are living in Muslim-majority society will not even get the scent of heaven, let alone getting an entry to the heaven. Attacking non-Muslims is haram [forbidden] and impermissible in the eye of Islam," Masoud said.

"Their blood, honor and wealth are as sacred as those of Muslims," the cleric told VOA on Saturday.




Condemning terrorism as forbidden and un-Islamic, Maulana Fariduddin Masoud, chairman of Bangladesh Jamiatul Ulama (BJU), and his team reveal the fatwa in Dhaka, June 18, 2016. (J. Samnoon/VOA)

Last month, Masoud issued a fatwa, signed by more than 100,000 Islamic scholars, legal experts and clerics, condemning terrorism and militancy, including violent attacks on non-Muslims.

"According to Prophet Muhammad, such offense deserves harsh punishment," Masoud told VOA.

The carnage at the restaurant took place during the Muslim holy night of Laylatul Qadr, or Night of Power, when Muslims are supposed to spend the whole night in worship of God, the Islamic scholar noted.

"During this holy night, leaving out compulsory prayer, the barbarian gang went down to slaughter innocent people. By indulging in such ghastly crime, they have proved that they are not fighting for Islam, but they are enemies of Islam," Masoud said.

The militants killed nine women and one child during the Dhaka attack. BJU's legal adviser, Mufti Junud Uddin Maktum, said that even during war, killing of those who are not involved in the war, including women, children and elderly people, is sternly prohibited in Islam.

"As they launch such attacks targeting innocent people, they believe that they are on holy jihad. It's completely wrong. Jihad, which is one of the main orders of Islam, is striving for self-improvement and to establish peace, security and eternal welfare," Maktum told VOA.

"What they are indulging in is nothing but terrorism, which is haram and illegal in Islam," he said.