BBG Watch Commentary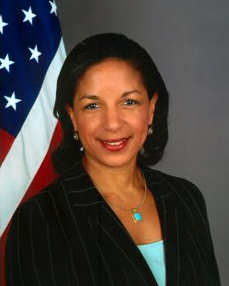 Decline of the Voice of America (VOA) English news website continues as it fails to post and update news stories in a timely fashion. Today, the VOA website featured a Reuters report on the Russian human rights spokesman but had nothing for many hours on U.S. National Security Advisor Susan Rice sharply criticizing China's and Russia's human rights record and Russia's interference in Ukraine.
UPDATE: Hours after other media outlets reported on the story and apparently many hours after their own correspondent alerted them to the speech and hours after he had written and sent a report, the VOA web team eventually posted his report, Rice: US Faces Tough Choices in Upholding Human Rights Principles, National Security, but not as one of the top news stories. VOA Central Newsroom and VOA English web team had the information from their correspondents, but failed to use it in a timely fashion, as it has been the case many times before.
"The Chinese people are facing increasing restrictions on their freedoms of expression, assembly and association. This is short-sighted," Susan Rice said in remarks to the "Human Rights First Annual Summit."
Rice also said that Russia has engaged in "systematic efforts to curtail the actions of Russian civil society," has stigmatized the lesbian and gay community in Russia and coerced neighbors like Ukraine.
Rather than putting a news report about Rice's comments on its English-language homepage, the Voice of America featured a Reuters report on a statement from the Kremlin's human rights advisor suggesting that President Putin may grant amnesty to some political prisoners in Russia.
The VOA English website also used today a Reuters report on Secretary Kerry's comments about the situation in Ukraine rather than providing its own original reporting. Last Saturday, the VOA website had only one sentence on the State Department's statement condemning violence against anti-government protesters in Ukraine.
The Voice of America English news website has also failed to report on numerous comments about the situation in Ukraine form members of the U.S. Congress. The VOA website had nothing today on Helsinki Commission Chairman Senator Ben Cardin (MD) issuing a statement on the eve of the December 5-6 OSCE Ministerial Council taking place in Kyiv, Ukraine.  Senator Cardin condemned "the brutal dispersal of peaceful protests and beatings of dozens of journalists constitute serious violations of Ukraine's OSCE commitments on freedom of assembly and freedom of expression." VOA English news also failed to report on Senator McCain's statement, in which he urged Ukraine's leaders  to "respect their people's basic rights, including freedom of expression and assembly, and refrain from acts of violence against peaceful demonstrators."
Rather than reporting on Ambassador Rice's statement, the VOA website was featuring what appeared to be another short wire service news story Ukraine's PM Warns Protesters Not to Escalate Tensions.
euronews – ‎12 minutes ago‎
WASHINGTON (Reuters) – President Barack Obama's national security adviser, in a sweeping review of global human rights practices, singled out China and Russia for criticism on Wednesday over how they treat their citizens. The adviser, Susan Rice, …