BBG Watch Commentary by Another Backbencher
As of Friday, Oct 3 at 1:54am, the Voice of America Web entertainment page still has two lead-ins to Clooney wedding stories, including one that is STILL reporting that that Clooney is "set to renounce" his bachelorhood oath, and marry…etc.
It's a Reuters story that VOA originally published Friday, Sept 26 at 6:14pm.
Are they going for a solid week? Is this some kind of contest for how long VOA can keep up an out-of-date headline on an obsolete story? (Or maybe it's a super-subtle way for VOA news managers to thumb their noses at those who expect them to monitor their own web site.)
BBG Watch Commentary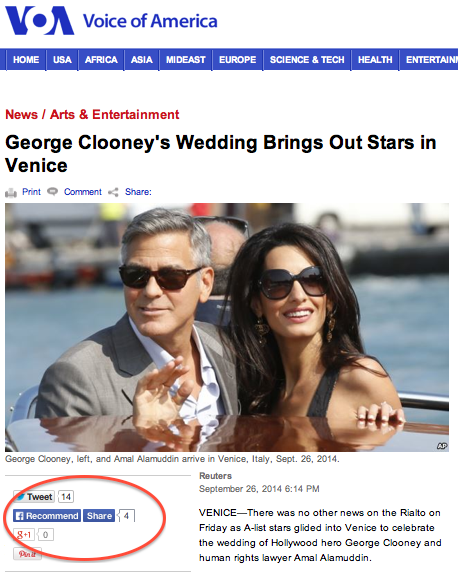 The week-old Reuters George Clooney – Amal Alamuddin wedding story on the Voice of America website is showing only 4 Facebook "Shares," 14 Tweets and no comments as of Friday, Oct. 3, 2:00am.
We could not get social media statistics on the BBC website, but BBC Facebook post on the George Clooney – Amal Alamuddin wedding story is showing 3,683 Facebook "Likes," 195 "Shares," and 330 comments.