BBG Watch Commentary
Even at 6:00 PM ET Tuesday, the lead news story on the Voice of America (VOA) mobile website was not the Istanbul airport terror attack. The Turkey story was buried toward the bottom of the VOA mobile site under Europe and Middle East news and it was not being promptly updated compared to coverage by BBC, Germany's Deutsche Welle (DW), and Russia's RT and SPUTNIK. The story was also not quickly updated on the regular VOA website, but it became the lead story there earlier than on the mobile site.
One of VOA's top news on the mobile site instead of the Istanbul attack story was "Leaderless, Rudderless, Britain Drifts." VOA described Great Britain as being in "chaos" — a phrase found in many recent Russia's RT and SPUTNIK reports.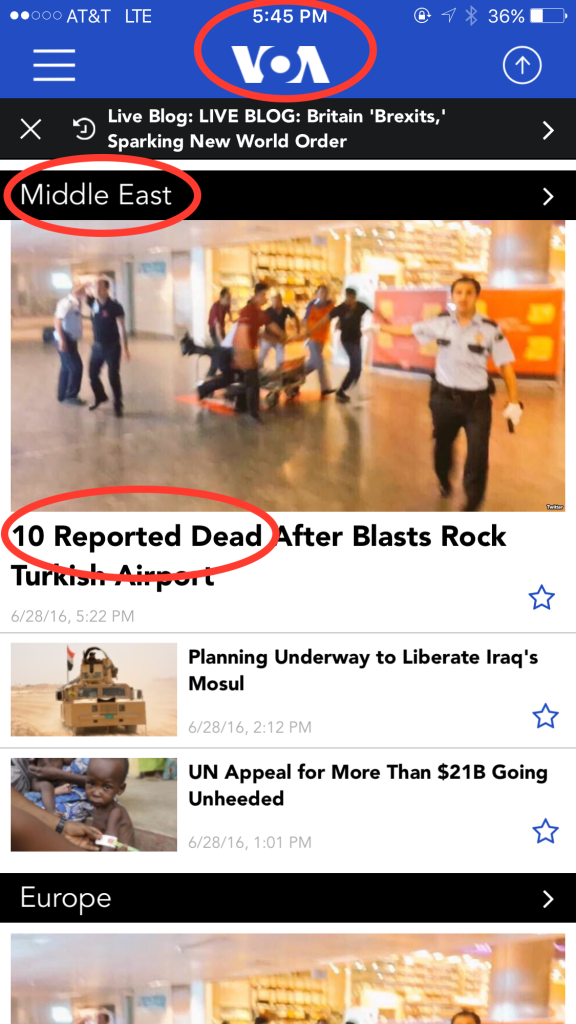 Long after BBC, DW, RT, and SPUTNIK reported the much higher official casualty figure, VOA was still reporting at 5:45 PM only 10 dead. The VOA Russian Service website still had nothing on the Istanbul attack at that time, although VOA Turkish and Kurdish services did.
Only after 6:00PM, VOA at some point advanced the Istanbul airport attack story to a lead position on its mobile website. Eventually, VOA also updated the casualty figure.
This was, however, long after all other U.S. and international media outlets had the Turkish story in the first place on their mobile and regular websites and were providing far more extensive coverage than VOA.
The initial VOA report mentioned only "Kurdish rebels" as the possible perpetrators of the attack and did not mention ISIS.
"There was no immediate claim of responsibility for that attack, either. But Kurdish rebels fighting for autonomy in Turkey's southeast have been linked to a spate of similar attacks in recent months," VOA reported.
BBC correctly reported that "Recent bombings in Turkey have been linked to either Kurdish separatists or the so-called Islamic State group." BBC provided a list of recent terror attacks in Turkey, showing those claimed by Kurdish separatists as well as those claimed by ISIS.
RT was covering the Istanbul airport attack live and after 8PM ET was showing six different attack related stories at the top of its website. BBC and DW also provided quick and extensive coverage. BBC website is showing at the pot of its homepage seven Istanbul attack related reports. By 2 AM Wednesday, VOA has only four Istanbul items, one of them a photo gallery.
The Voice of America was once again far behind other international and U.S. media outlets in promptness, quality and quantity of coverage on a major breaking news story.