BBG Watch Commentary



A number of former and current Voice of America (VOA) journalists, including both Democrats and Republicans, have urged us to share this open letter to Hillary Clinton about VOA posting a one-sided Donald Trump puff video for Russian-speaking audiences, including Russian-American voters in the United States.


###


MEMO FOR: Hillary Clinton, U.S. Democratic Party Presidential Candidate
FROM: Concerned U.S. Taxpayers Paying For Broadcasting Board of Governors' And Voice of America's Budgets
SUBJECT: Voice of America Posted A One-Sided Trump Puff Video Which Can Influence U.S. November Elections
We would like to bring to your attention a recent video posted online by the U.S. taxpayer-funded Voice of America (VOA) Russian Service which is one-sided and designed to promote your political opponent in the upcoming U.S. presidential elections in November, Mr. Donald Trump. This VOA U.S. taxpayer-funded video can influence the outcome of the vote among Russian-American voters who may view it on the VOA website, its social media platforms and through sharing on their own social media pages. It is through sharing on Facebook that this questionable VOA video came to our attention.
The video, for which the Voice of America Russian Service provided Russian-language subtitles, presents Mr. Trump in a highly positive, almost hagiographic manner through a serious of photographs dating from his childhood to the present. The video is remarkably one-sided and biased. VOA did not pair it on social media platforms with a similar video about you. The video omits any of the numerous and serious controversies surrounding Mr. Trump. Even if VOA does report on these controversies elsewhere, this video is not a news report but a profuse tribute to his candidacy. It is highly deceptive, especially for audiences in Vladimir Putin's Russia, but also for Russian Americans who can vote in U.S. elections.
The Voice of America Donald Trump video violates the VOA Charter, which says that "VOA news will be accurate, objective, and comprehensive." This 1976 Public Law 94-350 also says that "VOA will represent America, not any single segment of American society." These provisions apply to every single VOA report. A puff piece on Mr. Trump is not objective journalism. While video bios can be useful for foreign and American audiences, they cannot be only hagiographic to highlight any candidate for a political office whose life may be filled with a lot controversy.
There was no similar Hillary Clinton video bio posted anywhere near the Trump video on the VOA Russian YouTube page, not that posting a second video done the same way about her would have been any more acceptable.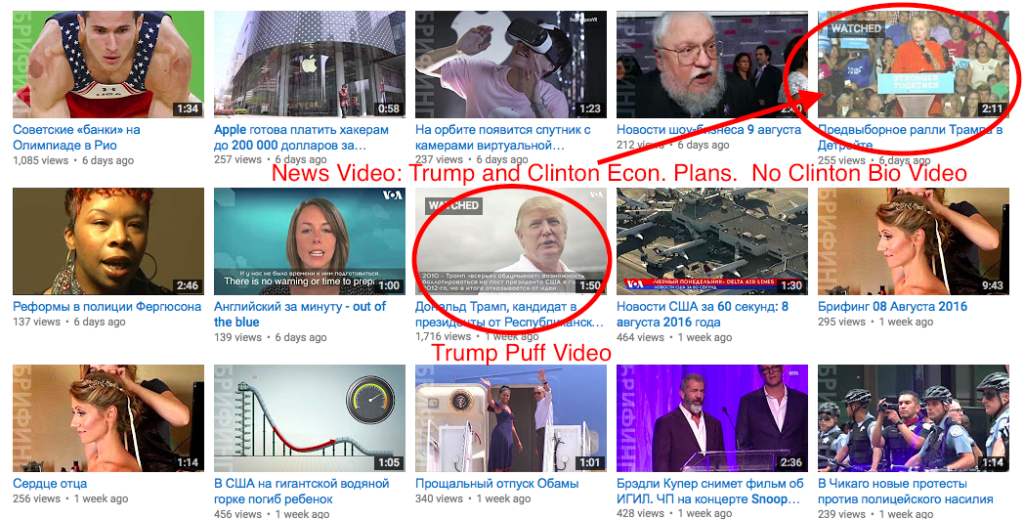 Current Voice of America director Amanda Bennett, who had expressed strong support for the VOA Charter on its 40th anniversary this year and ordered anti-bias training for VOA journalists, has admitted in a recent email that a significant portion of online traffic for VOA foreign language posts comes from the United States. This means that biased and on-sided Voice of America news reports and videos can influence the outcome of U.S. elections, since some of those viewing these VOA posts are Russian-speaking U.S. citizens who vote.
One web user who was appalled by the VOA Russian Service video posted this sarcastic comment: "Instead of attending Leningrad State University law school and getting a job at the KGB" (end of translation), Mr. Donald Trump is running for the President of the United States…
A Russian-American who had worked for the Voice of America as a radio announcer and reporter during the Cold War, when it was still well-managed before the creation of the Broadcasting Board of Governors, said that "the VOA Russian Service video is showing a clear preference for one presidential candidate over the other one." "It's OK to do this at home using your own platforms and equipment. But it's not OK to post this on the VOA FB account and to use government equipment, to do this at work, and get paid for it," a concerned U.S. voter wrote. "It's illegal for VOA staffers to place this kind of election propaganda on the USG broadcast entity!," this former VOA reporter and later high-level manager wrote.
In your testimony to the House Committee on Foreign Affairs you said on January 23, 2013: "Broadcasting Board of Governors is practically defunct in terms of its capacity to be able to tell a message around the world." Your statement is still true. We quote it in full:

SECRETARY OF STATE HILLARY CLINTON: "And finally, we need to do a better job conveying a counter-narrative to the extremist Jihadist narrative. You know, I've said this to this Committee before — a lot of new members on it — you know, we have abdicated the broadcasting arena. You know, yes, we have private stations: CNN, Fox, NBC, all of that. They are out there, they convey information, but we're not doing what we did during the Cold War."

"Our Broadcasting Board of Governors is practically defunct in terms of its capacity to be able to tell a message around the world. So we're abdicating the ideological arena, and we need to get back into it. We have the best values. We have the best narrative."

"Most people in the world just want to have a good decent life that is supported by a good decent job and raise their families and we're letting the Jihadist narrative fill a void. We have to get in there and compete and we can do it successfully."

Recently, the current BBG Chairman Jeff Shell, accompanied by BBC CEO John F. Lansing, BBG executive Jeffrey N. Trimble and RFE/RL President Thomas Kent, was expelled from Russia at the Moscow airport while his companions were allowed to enter the country. It turns out, however, that while they were going to Russia on U.S. government business, which in itself may have been questionable at this time, Mr. Shell was reportedly going there on his private company business.
The State Department deputy spokesperson Mark C. Toner strongly implied how embarrassing such a private business trip to Russia by a BBG official was at this time when he commented that there are "some of the ongoing questions and details that we're trying to sort through, which is in exactly what capacity he [BBG Chairman Jeff Shell] was traveling."
BBG executives who should have been paying attention to program content, went with Mr. Shell instead on this ill-advised, badly-timed and costly trip. While Mr. Shell paid for his own travel, their time and travel were paid for by U.S. taxpayers. (BBG budget is $777M in FY 2017 Budget Request; BBG budget includes $224M for VOA.)
This travel money and their time would have been better used to carry out desperately needed management reforms the BBG and to monitor VOA programs. Complaints about biased VOA coverage were also made by Donald Trump supporters and Bernie Sanders supporters, but according to our Russian-speaking colleagues, the pro-Trump bias within the VOA Russian Service is particularly strong.
Among current and former Voice of America journalists who saw the VOA Russian Donald Trump puff video are both Democrats and Republicans, including some supporters of Mr. Trump's candidacy. We are all, however, appalled at U.S. taxpayers' dollars being used to produce VOA puff or hit pieces on any candidate for a political office in the United States.
The idea of the BBG chairman doing private business in Russia and being assisted by BBG executives on U.S. government time and money is also highly disturbing. The law that allows this needs to be changed.
Whether you are the next U.S. president or not, we hope that you will support bipartisan efforts to reform the Broadcasting Board of Governors and the Voice of America and to free this venerable institution from failed leaders and managers.
###