BBG Watch Commentary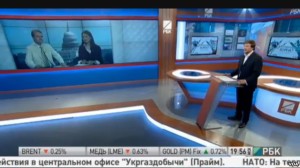 All American and European media and information strategy experts consulted by BBG Watch agreed that U.S. taxpayer-funded Voice of America (VOA) helped Russia score propaganda points against the U.S. with the poor performance of VOA participants in a joint TV discussion program with the Russian Business Channel (RBC) last Thursday and by relinquishing nearly all control of the show to the Russian side.
Most experts on both sides of the Atlantic also said that the Voice of America management and the Broadcasting Board of Governors (BBG), the U.S. agency in charge of VOA, were being used in this project to help the Kremlin score propaganda points against the U.S., otherwise neither RBC's owners and management nor the Russian authorities would have allowed such a project to proceed.
The only people who don't know this seem to be VOA executives who are desperate to find an easy access to a large audience in Russia even if it means helping the Kremlin, since they can't secure a large audience any other way, some of the experts observed. Our experts, some of whom still have connections with U.S. international broadcasting or other U.S. government agencies, preferred to remain anonymous in order to be able to offer more frank assessments.
A VOA press release claim that the "discussion was very blunt, as discussions often were in the days of the Cold War," was hardly true, many of our experts observed. The Russian side may have been blunt, but not the VOA participants. The show also did not offer much of a discussion, with the Russian host in total control of the program, leading and dominating whatever limited exchanges of views he would allow.
It was also not the "first-ever co-production between VOA and a major TV network within Russia," as VOA Director David Ensor described it in a press release. It was a program obviously designed, hosted, controlled and dominated by the Russian side to score propaganda points against the U.S.
Once again, the VOA senior management has been AWOL in allowing this program to be designed and presented the way it was and in allowing Voice of America to be used to boost the credibility of Russian public diplomacy, if not propaganda. The management on the Russian side, and probably others, have put a lot of effort to achieve the results they wanted to achieve with this program for Russia. The VOA management did nothing to make sure VOA was given a fighting chance to make a positive impact in Russia.
The Kremlin knows that the Voice of America can be much more easily manipulated and much less able to counter Russian propaganda than Radio Free Europe / Radio Liberty (RFE/RL), which also reports to the BBG, one U.S. expert told BBG Watch. The VOA press release statement that "the RBC has an audience share of 11 percent within the Russian Federation," shows that VOA management is focused on only one thing — getting access to the TV audience in Russia — and does not seem to care if it is helping or hurting America's image or having a positive rather than a negative impact. Most of our experts believe that at least the first show damaged America's image and improved Putin's image in Russia and among Russian-speaking TV viewers who may have seen the program outside of Russia.
The timing of the first show was highly curious, as it premiered right after Ukraine, NATO, EU and the U.S. have accused Russia of in effect invading Ukraine by sending large military units to fight inside the territory of a sovereign state. The timing was very likely the choice of the Russian side, as was in all likelihood the show's title, "Cold War?."
The title sends two messages that the Kremlin wants to impress upon the Russian-speaking population: 1.) that VOA is still a relic of the Cold War, as is the United States and the Ukrainian government in Kyiv, and 2.) Russia is once again under siege and a target of propaganda attacks by a hostile America.
Both of these messages are highly advantageous to President Putin in Russia and among Russian speakers in eastern Ukraine. The Voice of America agreed to participate in spreading these messages in Russia and in other countries, such as Ukraine, where this program may be seen by Russian speakers, some of the experts observed.
The video on the RBC site does not seem to have much impact on social media. As of September 1, it shows zero Facebook "Likes," and only 8 Tweets. The site shows that as of September 1, the video was seen 1,111 times.
If the video does not display, try these:
Архив программы 'Холодная война?'
All experts consulted by BBG Watch agreed that in the first show Voice of America was cleverly used by the Russians to prove that the accusations of a Russian military aggression against Ukraine are utterly false. They also agreed that VOA helped the Russian side to win this argument easily by failing to counter it effectively, almost not at all, although the VOA guest managed to say that there are Russian troops in Ukraine before she was cut off.
One European information strategy expert observed that this was clearly a Russian-designed and Russian-controlled format despite VOA's announcement that the show was produced jointly.
Another expert said that the FSB, the Russian intelligence service, and the Russian military would have never permitted this show to be aired in Russia if it in any way diminished Russia's disinformation, propaganda or military operations.
The fact that the show with the almost passive participation Voice of America aired in Russia proves that the Russian authorities view it as a propaganda victory for the Kremlin. It could not have been otherwise, the expert said. The Russian host had to make sure the Russian side did not lose any arguments, which may explain his initial nervousness, and he did a splendid job overall, a former VOA executive observed.
A former State Department official and Russia expert said:
"I think this joint project is a big mistake because it sends the wrong message and becomes yet another reason the Broadcasting Board of Governors will use not to move to the next generation of international communications, such as direct to home satellite television. The United States will be used [in this project by Russia], I fear."
The Voice of America did have a direct to home 30 minute daily satellite television news program, which the VOA management eliminated in 2008 around the time of the Russian military incursion into the Republic of Georgia. VOA Russian radio programs were also eliminated at that time, but VOA never became a major digital news provider in Russia.
In 2011, an independent Russian media scholar and journalist concluded in a study commissioned by the BBG that the VOA Russian Service website had a "pro-Putin bias." Many experienced VOA Russian Service journalists who could have hosted a real debate with the Russian television host were pushed out of their jobs by the management between 2008 and 20011.
During the first show with RBC last Thursday, Voice of America was woefully unprepared to answer the requests of the Russian host for any "evidence" of a Russian invasion of Ukraine, but the word "invasion" was generally avoided by both sides. In the case of VOA, it was probably in order not to offend the Kremlin and cause it to shut down the joint project. It was painfully obvious that VOA participants were practicing self-censorship. The Russian host did not have to censor himself as he was clearly pushing the Kremlin line, even though RBC is considered one of the more "liberal" TV channels in Russia. It generally avoids controversial political topics that could get it in trouble with the Kremlin.
When one VOA participant tried to offer some evidence of Russia's military intervention in Ukraine, he was ineffective and appeared to be protesting too much. The Voice of America side also avoided any mention of President Putin, any historical comparisons between Putin and Stalin's dealings with Hitler, or the negative perceptions in the U.S. of Putin's aggressive moves against Ukraine, other neighboring countries and domestic opposition and independent media.
One wonders how the VOA Charter is being served if VOA appears to stay away from presenting forcefully U.S. criticism of Putin and his aggressive nationalism that threatens other nations, threatens peace and stability in Europe, and has largely destroyed democracy in Russia. None of these points were made by the U.S./VOA side.
The first program was definitely not in compliance with the VOA Charter, considering the relinquishing of control to the Russian side, self-censorship and weak performance of the VOA participants, many of our experts observed.
One U.S. Russia expert said that Voice of America was being used to make VOA and the United States look weak and foolish while at the same time giving the appearance of objectivity to the Russian side and its propaganda by its participation in this project. The title of the show itself was no doubt carefully selected by the Russian side to make the VOA appear outdated, predatory and ridiculous, all at the same time. If the title was selected by VOA, which is doubtful, than it poses even more questions.
Another U.S. Russia expert observed that while the Russian Business Channel (RBC) may be more objective than many other Russian media outlets, at least for now, in the current political climate in Russia no joint project with any Russian media outlet can be considered safe. This show, if VOA allows itself to be used, does not renegotiate the terms of cooperation, and does not offer more effective hosts and guests, will make President Putin more popular in Russia rather than less popular, and will increase support for his policies, another U.S. expert told BBG Watch.
Still another U.S. Russia expert pointed out that it is fine to have Russians as guests in media programs, but these programs have to be "a solely owned American project, in Russian, on Internet TV, and also with podcasts, etc." This expert also pointed out that the guest invited by the Voice of America to participate in the program is not an expert on Russia but specializes in Central Asia.
According to this observer, the role of the VOA guest in the show was unclear in addition to being ineffective. A former VOA broadcaster observed that while the VOA guest seemed sometimes flustered and faltered, she was pleasant and not overbearing. Several of our experts pointed out that the VOA host of the program in the white suit didn't contribute much of anything and left it to the VOA guest to provide almost all the responses, which seemed strange. She was being cut off by the Russian host and VOA was in general totally outmaneuvered.
The VOA management apparently not only allowed the Russian side to be in control of the show but did not even make sure that the VOA participants should have had at least some idea about the issues that were going to be discussed. It seemed that only the Russian side knew what they were going to ask and apparently caught VOA by surprise. If VOA knew what the Russian side was going to ask, then VOA was totally not prepared and did not seek or was not even offered an opportunity to present an effective response. In any properly set-up debate, each side knows the questions that will be debated.
A EUROPEAN INFORMATION STRATEGY EXPERT: "I am inclined to believe that the Russian side is targeting the Russian speaking public not only in Russia but also outside of Russia. Only, the method used is really interesting. They are actually very Western, almost posing as a Western broadcast: an anchor standing, moderating a controversial discussion. But at the end of the day: the official Russian view eventually easily prevails. So whom is it actually directed at?…Well, this is a product that would be perfect for the Russian speakers living IN THE U.S. Questions like: "What do you see in Washington that we do not see here" is really a typical attempt to convey the message: "you are only seeing the situation from very far away, you have no idea."

The chart with Putin's high approval ratings in Russia shown by the Russian side is really right out of the agitprop toolbox. The answer of a Voice of America participant who said that it is just the result of propaganda falls short. Because it is her word against a statistic. It means: Voice of America response is completely non-effective in terms of a counter-narrative. Voice of America should have had either a similar chart showing Putin's approval ratings in the West or some other statistics. (The Russian side was obviously in full control of the show and VOA was not prepared.) VOA participant's comment, albeit correct, had absolutely no weight. It is poor trade craft in terms of countering. Also, the Russian anchor was always interrupting the Voice of America guest right when she was about to score an argumentative point.

The point of the U.S. sanctions with the discussion with the VOA stock market reporter is really quite telling too. There was a true effort to prove that these are counterproductive. The tragedy of propaganda is that you do not demolish propaganda by weak facts.

To answer the question: Is Voice of America making an impact in Russia? If the intention is to have the Russians outside of Russia rally around the Kremlin, by proving that the U.S. population is poorly informed, yes VOA is having an impact, just probably not the one intended.

If the target group is the Russian speaking population in Russia, then the output will be to confirm what their propaganda machine has already told them, as in: see even VOA says it or cannot effectively deny it. What will be retained is the poor performance of the ones telling the truth (Voice of America).

A counter-narrative to be effective has to be aggressive, it should NEVER, EVER be defensive or perceived as such.
FORMER U.S. DIPLOMAT AND RUSSIA EXPERT: The show had poor production values compared to RT. VOA participants appeared not to have significant previous experience with TV discussion programs. Voice of America should have clearly mentioned the word "invasion." "Cold War?" as title is highly problematic. If polls show that some 80 percent of Russians get their news from TV, why would they watch this? What is the strategy for reaching TV viewers or other audiences? This is all over the place.
U.S. INTERNATIONAL MEDIA EXPERT: The Russian host was able to neutralize everything Voice of America participants tried to say, in fact, he cut them off several times. Voice of America participants instead of defending themselves by answering questions should have themselves asked questions and should have definitely tried to insert their own charts and graphs–for example results of the polls taken in America about Putin and Ukraine. They should have somehow mentioned that although Putin has a very high approval rating in Russia, the rest of the world thinks he is a thug. They should have said that Hitler's rating was also very high when he started to invade neighboring countries. Overall, VOA participants looked tired and stressed, one of them in a white suit.
FORMER U.S. INTERNATIONAL BROADCASTER: "The Russian host was very polite, but a bit patronizing. He asked for a proof that Russian military units had invaded Ukraine, and Voice of America participants could only say that this information came from the Pentagon and the NATO command….but nothing concrete…they did not sound very convincing…

Another setback for Voice of America was when the Russian host asked about the U.S. sanctions. Again there was no clear answer to that from VOA.

Voice of America participants did not ask a single question, even though this was presented as a co-produced program.

If these programs continue, Voice of America needs to get people who know how to talk with these Russian guys."
FORMER CABINET MEMBER IN A NATO COUNTRY: "My first impressions are negative. The talk show was dominated by the pro-Kremlin anchor in Moscow while his co-host in Washington, D.C. and VOA's guest looked really helpless. Such TV 'debates' are just wasting time, money and efforts of the U. S. international broadcasting agency. They actually help the Kremlin score propaganda points domestically and abroad. The Broadcasting Board of Governors (BBG) and the Voice of America management should realize that the Russian propaganda machine is just using them."
Some current VOA broadcasters, while acknowledging the VOA management's shortcomings, saw some value in the rebroadcasting of the show in Russia, providing that VOA can find much better hosts and guests who can be a better match for the Russian hosts and any guests. They point out, however, that many VOA Russian Service journalists who could have done this much more effectively have been forced by the management to leave VOA.
One highly respected broadcaster not associated with the Russian Service but who understands Russian said:
VOA NON-RUSSIAN BROADCASTER: "They are desperately trying to get to the Russian market, so this may not be the most effective step, but it gives them something to do. You cannot assess effectiveness of anything from the one show.

The problem is that VOA and BBG machine is so desperate that they will jump on any opportunity to promote any project, even if the product is not yet particularly solid."
This particular observer thought that the VOA participants at least clarified the Western position on the Ukrainian crisis, but almost everybody else pointed out that while the VOA participants may have done this, their presentation was cut short and was not strong or persuasive.
A VOA JOURNALIST AND RUSSIA EXPERT: "This is better than nothing. At least, VOA has some presence in Russia in a co-production with RBC. People watch TV."
When one of our other experts pointed out that the RBC host was clearly far better than the VOA participants, totally controlled the show, and made strong pro-Kremlin points which the VOA/US side was not good in challenging, a VOA journalist gave this response:
A VOA JOURNALIST AND RUSSIA EXPERT: VOA Russian Service has lost most of its talent in recent years. Less experienced people were hired and brought their friends from Russia.
A FORMER VOA MANAGER: "I can't believe how foolish and misguided this whole idea is. Russian journalists dealing with or working in the U.S. are master propagandists and spin-meisters, their guests will be the same. Our side, no matter how articulate, has no chance. Particularly given the suspicion and scepticism of the Russian audience going in. However, to be fair, it would be good to see a program or two. A lot depends on the organization, the anchors, the set-up."
The first show proved that the Russian side blew VOA out of the water and that the set-up was completely advantageous to the Russian side and completely disadvantageous to VOA.
A FORMER VOA RUSSIAN SERVICE BROADCASTER AND AUDIENCE AND AFFILIATE RELATIONS SPECIALIST: Sounds exciting and full of promise, but in reality I'm afraid that this may end up being one more bit of propaganda for the Russian side.

I found the Russian host to be irritating. The VOA host looked nervous. The amount of time given to VOA was disproportionately small. The VOA guest was repeatedly cut off and not allowed to finish her arguments. Technically the show was poorly produced.

I definitely got the impression that the Russian side had the upper hand. Are the topics decided in advance? Could VOA add graphics, video clips and video with voice-overs of important U.S. figures speaking on a given topic? Will the VOA side be able to come up with a credible and forceful new guest each week?

Voice of America needs someone who knows how to speak in sound-bites and could always get her or his point across. That's the kind of guests they need.

As for the timing, the strained relations between the U.S. and Russia could actually boost interest in the program. People might be curious to hear the U.S. perspective, like in the real Cold War days of jamming of VOA radio programs to Russia. That makes it doubly important for the U.S. perspective to be strong and well-presented. Personally, I don't think the show will last."
FORMER VOA EXECUTIVE: "The Russian side used the show, which was not really co-produced but controlled almost entirely by the Russian channel, for propaganda purposes to score points against Ukraine's President Poroshenko and against the Ukrainian government and the U.S. Most people in Russia who watched this show would probably conclude that there is no Russian invasion of Ukraine and that the U.S. has absolutely no proof otherwise. Voice of America participants were not at all convincing.

If the Voice of America actually demonstrated Russian aggression in Ukraine and wide condemnation of President Putin in the United States and in Europe, the Russian channel would not have aired the show because it would lead to a retaliation from the Kremlin and the FSB, as well as the Russian military fighting a war in Ukraine. It's astounding that the VOA management is unable to see this.

The Russian side will not allow VOA to get better or to have control over the show. If they do, this would defeat the purpose of making the U.S. appear weak and without good arguments. It would lead to retaliation from the Russian authorities against the Russian station. If VOA were to become effective in countering Russian propaganda and disinformation, the show would be immediately cancelled."
FORMER VOA JOURNALIST: "The first show was a clear propaganda victory for the Kremlin and Voice of America contributed to it in a major way. The only way the program can be salvaged is with better hosts and guests on the Voice of America side and if VOA has at least half of control over the show. In my view that's never going to happen in a country ruled by a former KGB officer who is engaged in a war with Ukraine. It's amazing that VOA executives can't see that Putin will not allow this project to continue it it damages Russia's war and disinformation effort in any way. If he did or if the Russian Business Channel would allow balanced information and a debate TV program to continue, it would amount to weakening of domestic support for Russia's war and would be seen by Putin and his associates who monitor such media outreach as treason. In fact, any effective U.S. media outreach in Russia would be seen as a threat to Russia's national security, so this program must not be effective for the United States, but it is effective for Russia.

What is it so difficult for VOA and International Broadcasting Bureau (IBB) executives to understand this? The only way this show will continue is if it is good for Putin and bad for the U.S. The first show demonstrated that this is indeed the case. There is, therefore, a good chance that the show will continue, at least for a while."
A FORMER RFE/RL RUSSIAN EXPERT, JOURNALIST AND MANAGER: "I watched the video and my first impression is that it is not very professional, but this may be due to the fact that it is the first time the program went on the air. The whole thing looked somehow embarrassing with embarrassed participants on all sides. The Russian host clearly dominated the show and in fact neutralized the American guests at VOA. Even in a joint project, the host should be from VOA, not from RBC. But it must be someone strong and authoritative."
The Federalist, one of our regular commentators, thinks that the joint show "will crash and burn after launching" unless it continues to score propaganda points for the Kremlin, as it did the first time.
###
VOA PRESS RELEASE
VOA Russian and Russian Affiliate Launch New Show about US-Russian Relations
WASHINGTON, D.C.—
A groundbreaking TV show co-produced by Voice of America's Russian Service and the Russian Business Channel premiered live Thursday in a primetime slot to audiences in Russia.
Cold War? connects VOA hosts in Washington and New York with RBC's Moscow-based host for a candid discussion with in-studio guests about points of contention between the two countries.
The first episode aired Thursday at 7:35 p.m. Moscow time, directly after RBC's evening news program, and featured guests Maria Snegovoaya, a columnist at Vedomosti, a major Russian language business daily, and Erica Marat, a professor at the National Defense University.
The discussion was very blunt, as discussions often were in the days of the Cold War. In one exchange, the RBC host in Moscow, Andrey Reut, said that Western sanctions were ineffective and did nothing but increase President Putin's popularity. Marat responded that Putin's ratings aren't growing because of the sanctions, but because of propaganda in Russia's government-controlled media and the government's suppression of the opposition media.
VOA Director David Ensor says Cold War? "comes at an absolutely critical time in U.S.-Russia relations and builds on a very successful partnership between VOA and RBC." Ensor added that it also marks the first-ever co-production between VOA and a major TV network within Russia.
VOA Russia Service broadcasters Alexey Berezin (in Washington) and Michael Gutkin (in New York) co-host the weekly show along with RBC New York co-host Boris Koltsov and RBC Editor-in-Chief Andrey Reut in Moscow.
For two years, VOA Russian has been providing popular daily 5- to 10-minutes interactives from the New York Stock Exchange that air live on RBC's evening business news show. Cold War? is the first full-length VOA program, however, to air on Russian TV since 2007, when the Russian government clamped down on its already restrictive media environment. Voice of America's Russian Service has since employed a successful digital strategy to inform and engage a Russian audience that is one of the most active social media communities in the world.
The RBC has an audience share of 11 percent within the Russian Federation.
For more information about this release, contact the VOA Public Relations office in Washington at (202) 203-4959, or write topublicrelations@voanews.com. For more information about VOA, visit the Public Relations website at www.insidevoa.com, or the main news site atwww.voanews.com.