BBG Watch Commentary
U.S. taxpayer-funded Voice of America (VOA) has almost completely ignored the arrest and subsequent detention in Mexico of U.S. Marine Sergeant Andrew Tahmooressi who in March 2014 inadvertently arrived at the Mexican border in his vehicle that contained firearms registered in his name in the U.S. He was apparently not attempting to enter Mexico, but became confused and took a wrong turn that landed him on Mexican territory and in a Mexican prison.
Voice of America is also not reporting on criticism of the Obama Administration for not doing enough to obtain release of Sergeant Tahmooressi in contrast to exchanging five Taliban prisoners from Guantanamo for Army Sgt. Bowe Bergdahl who was held by the Taliban in Afghanistan.
A search of the Voice of America English news website does not show any reports on Sergeant Tahmooressi who honorably served two combat tours in Afghanistan and suffers from Post Traumatic Stress Disorder (PTSD), which is blamed for his apparently inadvertent crossing of the Mexican border.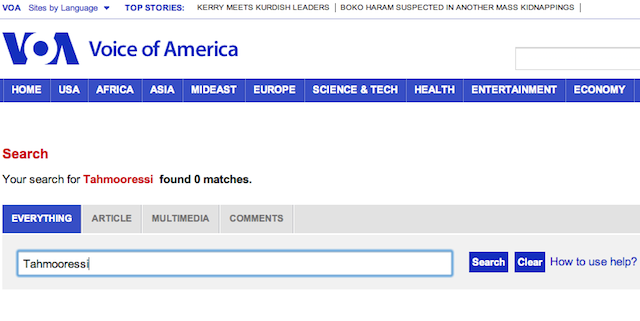 A search of the Voice of America Spanish news website showed only one short news story, dated May 23, 2014, which mentioned U.S. State Department attempts to get Mexican authorities to release Sergeant Tahmooressi. After a month, this VOA Spanish news report shows only 3 (three) Facebook "Shares."
According to a search, VOA Spanish Service has not posted since then online any updates on the story, despite numerous other appeals for the U.S. Marine's freedom, including a May 31 visit with him in prison by Rep. Matt Salmon (R-AZ) and criticism of President Obama from Rep. Duncan Hunter, R-Calif. for not doing enough in the case of Sergeant Tahmooressi.
"Meanwhile, as far the Administration went for Bergdahl, Andrew Tahmooressi is still stuck in a Mexican jail for making a wrong turn and the only thing grabbing the president's attention so far is an online petition that forces him to respond," Rep. Hunter said.
The VOA Charter requires the Voice of America to "represent America, not any single segment of American society, and … present a balanced and comprehensive projection of significant American thought and institutions. The VOA Charter also says that "VOA will present the policies of the United States clearly and effectively, and will also present responsible discussions and opinion on these policies." (Public Law 94-350)
Neither VOA English nor VOA Spanish news website had anything on the June 21 visit with Sergeant Tahmooressi at a prison in Tecate, Mexico by U.S. Rep. Ed Royce (R-CA), Chairman of the House Foreign Affairs Committee, and a second visit by Rep. Matt Salmon, Chairman of the Western Hemisphere Subcommittee.
According to a search of the Voice of America English news website, VOA English News did not report on Sergeant Tahmooressi at all or on the political controversy that this new story has generated in the U.S. with Republicans accusing the Administration of inaction.
.@RepEdRoyce & @RepMattSalmon, working for his release, met w Sgt. #Tahmooressi in #Mexico today #MarineHeldInMexico pic.twitter.com/NYqsKbGV4Y

— Foreign Affairs Cmte (@HouseForeign) June 22, 2014
The Voice of America has also not reported online about Chairman Royce's letter to Mexico's Foreign Secretary, Dr. Jose Antonio Meade Kuribeña, in which Chairman of the House Foreign Affairs Committee expressed his serious concern about Sgt. Tahmooressi's arrest and detention and urged a quick resolution.
Sources told BBG Watch that both Rep. Ed Royce and Rep. Matt Salmon have had enough of Voice of America's failures to report on U.S. news for international audiences as required by its congressional VOA Charter, not only with relation to news generated in the U.S. Congress, but also news coming out of the White House, the State Department and independent U.S. institutions and experts commenting on U.S. foreign and domestic policies. This view is widely shared in Congress among both Republicans and Democrats, both in the House and in the Senate.
Sources told BBG Watch that members and staff of the House Foreign Affairs Committee are reported to be unhappy with Voice of America director David Ensor for his alleged support of opposition to H.R. 4490 (the United States International Communications Reform Act of 2014) which was introduced in April by Chairman Royce and Rep. Eliot Engel (D-NY), the Committee's Ranking Democratic Member.
Ensor and a group of VOA English Newsroom reporters oppose the bill's wording linking VOA with U.S. public diplomacy, but a union representing BBG's federal employees, AFGE Local 1812, came out in support of the bill and its proposed management reforms while asking for some of the text in the proposed legislation about VOA's mission to be modified.
Congressman Salmon has expressed his deep displeasure with mismanagement and violations of the VOA Charter by VOA executives by proposing that the Voice of America be completely defunded. It is the first such defunding proposal from Congress in VOA's history under its many directors.
Rep. Ed Royce reacted recently to the State Department Office of the Inspector General (OIG) audit on wasteful spending and abuse of power at the Broadcasting Board of Governors (BBG), the agency that oversees U.S. international broadcasting, including the Voice of America. The audit details a "systemic failure" of BBG acquisitions, including nearly $5 million in unjustified and unapproved spending.
READ: State Dept Inspector General Audit Finds Wasteful Spending, Other Problems at Broadcasting Board of Governors — Royce Reacts, June 21, 2014.
###
Washington, D.C. – Earlier today, U.S. Rep. Ed Royce (R-CA), Chairman of the House Foreign Affairs Committee, along with Rep. Matt Salmon (R-AZ), Chairman of the Western Hemisphere Subcommittee, traveled to Tecate, Mexico where they visited with U.S. Marine Sergeant Andrew Tahmooressi, in order to check on his condition. Sgt. Tahmooressi is currently being held in El Hongo II prison in Tecate, Mexico following his arrest in March.

A photo of Royce and Salmon meeting with Sgt. Tahmooressi is available via Twitter HERE.

Following the visit with Sgt. Tahmooressi today, Royce and Salmon issued the following statements.

Chairman Royce said: "The Committee has been following Sgt. Tahmooressi's case quite closely. I found him to be in good spirits, but this visit confirmed my belief that Sgt. Tahmooressi, after serving two honorable tours in Afghanistan and now suffering from Post Traumatic Stress Disorder, needs to come home. While I remain respectful of Mexico's laws, today after I thanked him for his dedicated service, I assured Sgt. Tahmooressi that I will continue working to secure his release so that he can begin needed treatment for his PTSD."

Chairman Salmon said: "After visiting with Sergeant Tahmooressi for the second time in two weeks, I remain confident that his situation is improving and will end with his release in the near future. His spirits remain upbeat and he has full confidence in his new attorney. I once again expressed my heartfelt gratitude to Sgt. Tahmooressi for his military service, and relayed to him the overwhelming support he is receiving from millions across America. It remains a top priority that Sgt. Tahmooressi return to the U.S. to receive treatment for the PTSD he suffered while serving in Afghanistan. I ensured him that I will continue to do everything in my power to make sure his case is heard quickly and fairly."

Note: Earlier this month, Chairman Royce wrote a letter to Mexico's Foreign Secretary, Dr. Jose Antonio Meade Kuribeña, expressing his serious concern about Sgt. Tahmooressi's arrest and detention and urging a quick resolution. Chairman Royce's letter is available HERE.

On May 31, Chairman Salmon first visited Sgt. Tahmooressi in prison. Information on that visit is available HERE.

###