BBG Watch Commentary
The Voice of America (VOA) was for Hillary Clinton in 2016, as was the Democratic National Committee (DNC). Hopefully, former DNC head Donna Brazile's explosive revelations how key DNC staffers worked with Hillary Clinton to derail the candidacy of Senator Bernie Sanders should also bring greater U.S. media attention to how some VOA executives, managers, editors and reporters who are U.S. federal government officials or employees collecting federal salaries and benefits paid for by all U.S. taxpayers, openly supported Hillary Clinton and how VOA attacked her opponents in one-sided reports, videos and commentaries in violation of its Charter.
The difference between the Voice of America and the Democratic national Committee is that VOA is funded 100% by U.S. taxpayers, while DNC is not. Another difference is that DNC must follow its own private Charter and Bylaws, while the Voice of America's electioneering for Clinton against Bernie Sanders and Donald Trump was in violation of U.S. public laws applying specifically to VOA, a U.S. government entity with a congressional Charter.
Outside commentators against Sanders and Trump, even those paid by VOA, did not do anything wrong in expressing their opinions after being asked for them by VOA. The right to free expression and free non-government press is guaranteed in the U.S. Constitution. The Voice of America, however, as opposed to outside commentators is not non-government press. The fact that VOA became highly partisan and biased was, therefore, the fault of VOA's management and the management of its dysfunctional parent federal agency, the Broadcasting Board of Governors (BBG). Its officials, managers, staff editors and staff reporters failed to follow U.S. law in the VOA Charter by making sure that all commentaries presented by VOA were always balanced with countervailing opinions and that serious accusations were immediately answered by those being accused or their supporters. While outside commentators cannot be blamed, the BBG's and VOA's practice of using outside commentators, paid or unpaid, needs much closer public scrutiny, as do corporate or family business interests in Russia and China among BBG and VOA top officials and their partisan statements and connections that could have a strong influence on VOA reporting.
Unfortunately, mainstream U.S. media did not pay much attention at the time to these abuses of U.S. law and journalistic ethics happening at the Broadcasting Board of Governors headquarters in Washington, D.C. It is the same dysfunctional federal agency in charge of VOA and other U.S. international media which in 2013 the then Secretary of State Hillary Clinton, herself an ex officio BBG Board member, called "practically defunct." Even then, Hillary Clinton had no idea how badly managed the BBG had become.
Because much of the Voice of America's leadership and some of its journalists were busy trying to make sure Hillary Clinton gets elected, they and their colleagues at Radio Free Europe/Radio Liberty (RFE/RL), also managed and overseen the BBG, failed to uncover and disclose in real time Russian manipulations of the U.S. electoral system. Had they done so in real time, while it was happening, this would have been the greatest contribution VOA and RFE/RL could have made in support of democracy, which is the BBG's stated mission funded by all U.S. taxpayers: Clinton's, Sanders' and Trump's supporters and all other U.S. citizens and residents who pay taxes.
Russian propaganda was supposed to be the BBG's area of special expertise. The agency had plenty of personnel and money to expose and counter it in real time. The Broadcasting Board of Governors had more funding in 2016 than the U.S. was spending in today's dollars on foreign and domestic propaganda, including VOA, during World War II against Nazi Germany and Japan. Unfortunately, VOA and RFE/RL have not done with regard to Russia what has been expected from them for many years while getting substantial funding from U.S. taxpayers year after year for that very purpose. The federal bureaucracy uses on itself or wastes much of that public money.
In 2016, both Radio Liberty and the Voice of America had more reporters in Russia than probably any other Western news organization. But such a large presence in Russia did not help and probably hurt their journalistic efforts. It simply made it easier for Putin's FSB secret security service to harass and intimidate BBG-hired journalists to make sure that no reporting was being done that could expose critical information about the secret interference through the use of targeted social media posts and political ads aimed at American voters.
Despite having such a large number of reporters in Russia, both VOA and RFE/RL failed to uncover a single obvious sign of Russian-generated Facebook, Twitter and YouTube political ads designed specifically to influence the U.S. vote at the time when the Russian interference was actually taking place. Some VOA reporters were too busy writing reports designed to help Hillary Clinton win over Bernie Sanders and Donald Trump. At the same time, Radio Liberty was getting rid of some of its best investigative reporters in an apparent attempt not to create too much controversy with President Putin, the Kremlin and the FSB.
Had Radio Liberty and the Voice of America done such investigative reporting and promptly presented their findings, they would have been immediately picked up by U.S. and world media. Americans would have been warned in real time. The BBG could have helped to protect not just Hillary Clinton from Russian meddling, but the entire American electoral process. Ultimately, such real time reporting would have been also beneficial to Trump and Sanders by removing both Russian interference and any doubts about what might have influenced the vote's outcome. Instead, the Voice of America in particular became an electioneering platform for Hillary Clinton, which was against the U.S. law, and failed to fulfill its journalistic mission. Voice of America's one-sided and partisan reporting and commentaries seriously undermined public trust and support for VOA and BBG in the United States. VOA's foreign audiences also noticed the bias.
In the end, the help Hillary Clinton got from some of VOA's executives, editors and journalists probably made no difference for her win in the Democratic primaries over Bernie Sanders. It only distracted reporters from what should have been their real work. The BBG bureaucrats wasted taxpayers' money by failing to show leadership and failing to provide effective oversight.
The Russian Services of the Voice of America and Radio Liberty had a duty to investigate and could have uncovered and disclosed the Russian interference with the U.S. election campaign. They both failed to do their job despite the BBG's $740 million annual (FY 2017) budget.
It appears that at least some of BBG's and VOA's officials have been more concerned about doing corporate business in Russia and China and in maintaining good relations with the authoritarian governments. Some former BBG Governors doing business in Russia had meetings with Russian officials; others planned to meet with Russian officials serving Putin. It is no surprise that they also want to keep the large RFE/RL news bureau in Moscow and the smaller VOA bureau in Beijing. Political and media scandals are usually bad for business in countries like Russia and China. U.S. government officials who have business and financial interests in Russia and China are less likely to rock the boat and ask journalists for aggressive reporting. Under their watch, RFE/RL's management dismissed some of the more enterprising Radio Liberty reporters who were trying to uncover corruption surrounding Putin. Voice of America and BBG officials were promoting at the same time VOA English-teaching programs to China that were not likely to upset the communist rulers in Beijing. BBG officials also failed to put a stop to partisan and one-sided reporting on U.S. politics by the Voice of America and failed to investigate how VOA program content provided by outside contributors could influence U.S. voters.
There is abundance of evidence how in violation of its VOA Charter, which is U.S. law, some Voice of America managers, editors and staff reporters worked to get Hillary Clinton elected. VOA staff reporters posted highly partisan content on Facebook, including public posts in which they called Donald Trump an "F-word." One of VOA foreign language services produced a video in which Trump was called by a Hollywood actor "pig," "dog" and other insulting names without any balance or a response. The video was eventually removed after much criticism.
While the vast majority of Voice of America reporting was pro-Clinton, an article published in June 2016 by ShadowProof showed how VOA sided with Hillary Clinton against Bernie Sanders. VOA posted a one-sided commentary full of attacks on Sanders that were not answered or challenged within the same webspace, as they should have been considering their extremely strident nature and serious accusations against an American citizen and politician. Ironically, VOA officials have been known to insist that Russian officials and Chinese officials be given an opportunity by VOA journalists to respond to accusations against them.
DAN WRIGHT: "For reasons still unknown, a United States government owned and operated media outlet, Voice of America, published a hit piece on Democratic presidential candidate Senator Bernie Sanders.

"The story, titled "Does Bernie Sanders Believe in Democracy?," was written by Jamie Kirchick, who has elsewhere openly advocated for the election of former Secretary of State Hillary Clinton as president."

"Senator Sanders, according to this story in a US state media outlet, has been a 'shill' for undemocratic regimes," Dan Wright writes in ShadowProof.
He correctly pointed out that "Kirchick's piece appears in the 'Opinion and Commentary' section of the VOA website, which shows a quote from VOA's charter at the top of the page, stating, 'VOA will present the policies of the United States clearly and effectively, and will also present responsible discussion and opinion on these policies'."
Dan Wright also correctly observed that:

"As broad as that mandate may seem, electioneering and hit pieces on US citizens obviously fall outside those parameters. VOA does not have the right to advocate for a particular candidate or even to attack one. That is not within its charter, nor should any US citizen have to subsidize their own defamation."

It is important to point out that the outside contributor, whose commentary was mentioned in the ShadowProof article by Dan Wright, did not do anything wrong in expressing his opinions for VOA for which he was asked. While his exact contractual arrangement with VOA is not known, he was not a VOA staff employee and was perfectly entitled to his views and to expressing them freely for any media outlet that wants to know them. It was entirely the fault of the VOA and BBG senior management in not making sure that the opinions of an outside commentator about Bernie Sanders were properly balanced by VOA editors with simultaneously posted opinions of those Americans who may disagree with Sanders' critic and for not properly disclosing the exact nature of the commentator's relationship with VOA.
There were many other one-sided VOA posts about Bernie Sanders that Dan Wright could have also mentioned.
On February 1, 2016, the Voice of America posted the following commentary without any attribution.

FROM VOA: "The fact that Sen. Bernie Sanders, a self-declared Socialist, is heating up the campaign trail against the one-time presumptive primary winner, former Secretary of State Hillary Clinton, is one of the biggest tragedies facing America right now. It also happens to be one of the most under-reported."
On March 27, 2015, the Voice of America posted the following commentary without any attribution or balance.
FROM VOA: "Sen. Bernie Sanders, the self-described socialist who kicked off his presidential campaign on Tuesday with a characteristically fiery speech, isn't going to win the 2016 Democratic nomination unless lightning strikes."
Neither VOA director Amanda Bennett, her deputy Sandy Sugawara nor Broadcasting Board of Governors CEO John Lansing, all of them Obama administration holdovers, has a handle on the situation at BBG and VOA. Neither does Lansing's deputy Jeff Trimble who has been with the agency for many years. Partisan bias in VOA program content has reached unprecedented levels under their watch and employee morale has reached unprecedented low depths, as shown by the 2017 OPM's Federal Employee Viewpoint Survey (FEVS).
Low morale is an "existential threat" to the Voice of America, the union representing Broadcasting Board of Governors employees said. Where there is low morale and poor leadership in any media organization, violations of journalistic standards become a daily occurrence.
[BBG Watch: June 16, 2016 screenshot from the Voice of America's "U.S. Opinion & Commentary" page shows only what is clearly a hit piece against Bernie Sanders. It is not balanced on the same page with any other content, whether from Sanders' himself in response to the severe criticism or from any of his supporters. Previous VOA posts about Sanders on the same VOA "U.S. Opinion & Commentary" page were also largely one-sided. Two or three only one or two sentences posts were pro-Sanders. There was no long commentary on the VOA page in strong support of Sanders. Several of the VOA posts on the "U.S. Opinion & Commentary" simply cast doubt that Sanders could be a viable presidential candidate.
U.S. law specifically prohibits the Voice of America from trying to influence American public opinion. Some of these one-sided commentaries were promoted by their authors, who were contractors working for VOA, on their own social media pages, where they were seen by American voters.
Some VOA English newsroom staff reporters themselves crave having one of their VOA Twitter posts picked up U.S. media, such as The Washington Post, which is the only way their posts can get any significant audience engagement. It is, however, not abroad, where VOA is required by law to direct their content, but in the United States. The vast majority of VOA newsroom correspondents' social media posts quite often barely get more than two dozen likes or comments, often less. But when one of them is picked up by The Washington Post, they can get hundreds and sometimes even thousands of likes and many comments, almost all of them from Americans living in the United States who are highly critical of Trump. Such one-sided audience engagement has nothing to do with VOA's mission abroad funded U.S. taxpayers]
###
VOICE OF AMERICA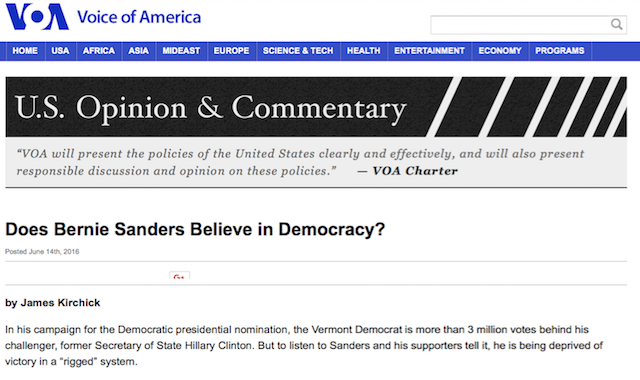 (…)
[BBG Watch:
A screenshot from Voice of America's "U.S. Opinion & Commentary" page with a hit piece against Bernie Sanders from June 14, 2016, titled "Does Bernie Sanders Believe in Democracy?"
]
BBG Watch: A screenshot from Voice of America's "U.S. Opinion & Commentary" page with an unattributed one-sided commentary highly critical of Bernie Sanders. With the VOA-provided headline,"The Rise of Bernie Sanders – the Fall of America," the VOA post is dated February 1, 2016. It is not clear whether the headline was composed by VOA or came from an outside publication.]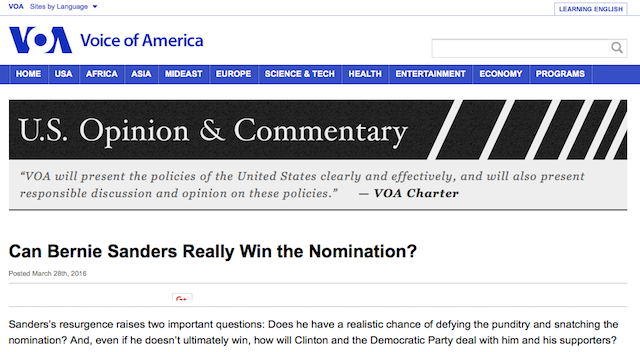 [BBG Watch:
A screenshot from Voice of America's "U.S. Opinion & Commentary" page with an unattributed one-sided commentary about Bernie Sanders. With the VOA provided title, "Can Bernie Sanders Really Win the Nomination?," the VOA post is dated March 28, 2016. It is not clear whether the headline was composed by VOA or came from an outside publication.
]
[BBG Watch:
A screenshot from Voice of America's "U.S. Opinion & Commentary" page with an unattributed one-sided commentary about Bernie Sanders. With the VOA provided tile, Bernie Sanders: "Why the Guy Who Won't Win Matters," the VOA post is dated May 27, 2015. It is not clear whether the headline was composed by VOA or came from an outside publication.
]
[BBG Watch: However, most of the one-sided and partisan commentaries on the Voice of America's "U.S. Opinion & Commentary" page were against the Republican Party presidential candidate Donald Trump. "
The Unraveling of Donald Trump
" VOA post is attributed to an outside commentator who was presumably a freelance contractor for VOA. The commentator did not do anything wrong in expressing her opinions. It was entirely the fault of the VOA and BBG management in not making sure that any controversial opinions were properly balanced with opinions of those Americans who may disagree with the outside commentator and for not properly disclosing the nature of the commentator's relationship with VOA.]