BBG Watch Commentary
As of early Saturday, July 23, U.S. taxpayer-funded Voice of America (VOA) has not been updating its VOA English News Munich massacre story for over three (3) hours despite the fact that several hours ago the German police had identified the gunman as a German-Iranian. VOA English News has not yet reported on the gunman's identity.
The Voice of America is even further behind on social media. VOA News "FROM OUR CORRESPONDENTS" Twitter feed seen on the VOA home page and the VOA News Facebook post on the Munich story have not been updated, as of 12:50 AM ET Saturday, for over four (4) hours.
Amazingly, VOA News still does not have any recent updates the Munich story on its main Twitter page as of 1:40 AM ET Saturday. The latest VOA tweet on the VOA News Twitter page, "In Open Letter to President Xi, Chinese Lawyers Demand Rights Protection" is one hour old, followed by three-hours-old VOA tweet: "Mission Continues as 'Star Trek' Popularity Endures," four-hours-old: "US Markets Bounce Back at Week's End," five-hours-old: "Clinton Chooses Virginia Senator Tim Kaine as Vice Presidential Running Mate," and six-hour-old: "Police in #Munich say they believe a lone gunman responsible for the attack there has killed himself."
BBC, Russia's RT and SPUTNIK, Germany's Deutsche Welle (DW), Radio France Internationale (RFI) and many other international and U.S. media continue constant updates of the story and have identified the gunman, who apparently had committed suicide, several hours ago.
The Voice of America has an English-speaking audience in Iran and among Iranians abroad but presumably does not care keep them up-to-date on this story, at least not in English. The VOA Iranian Service, however, was posting news updates on the story on its website and on social media.
Very few employees work in the VOA English newsroom at night or on weekends. VOA correspondents have turned in for the night. No one is updating the story on the VOA News website or VOA English News Facebook and Twitter pages.
As of 12:46 AM ET Saturday, the four-hour-old VOA News Facebook post on the Munich massacre which links to an un-updated VOA report is showing only 77 "Likes" and one (1) "Share."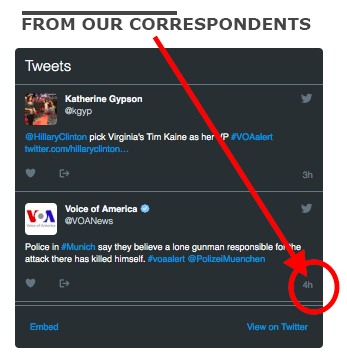 Munich gunman suspected to be 18-year-old of Iranian origin resident in the city, police say https://t.co/gtK5XlM99E

— BBC Breaking News (@BBCBreaking) July 23, 2016
Ten people confirmed killed in #MunichShooting, including the suspect. 16 injured. https://t.co/J1HPUcX467 #Muenchen pic.twitter.com/gO0s6ZK00L

— dwnews (@dwnews) July 23, 2016
#MunichAttack #shooter had dual citizenship https://t.co/tEG2xWBxHP pic.twitter.com/qKWyn1GFdd

— RT (@RT_com) July 23, 2016
President #Obama jokes during comments on #MunichShooting https://t.co/bkmzyiThPn pic.twitter.com/cLeknmA1eF

— RT (@RT_com) July 23, 2016
Police in #Munich say they believe a lone gunman responsible for the attack there has killed himself. #voaalert @PolizeiMuenchen

— Voice of America (@VOANews) July 22, 2016