BBG Watch Media
"A local leader of the African American advocacy group the NAACP has reportedly been pretending to be African American. Rachel Dolezal's identity came under scrutiny amid a difficult chapter of American race relations," Germany's DW reported. BBC and RT had already reported the same news a few days ago. As of Monday, June 15, 12:30 PM ET, U.S. taxpayer-funded Voice of America had no story on Rachel Dolezal on VOA's main English language news and information website. It has been widely reported news, not only internationally but also in the United States. The Voice of America ignored it, as it has ignored or underreported many U.S. and international news stories in recent years.
UPDATE: As of one hour ago, BBC posted online a report that "Rachel Dolezal, the US activist who was at the centre of a row after allegations she had been 'pretending to be black', has stepped down from her role at a civil rights organization." As of 1:24 PM ET June 15, the Voice of America still has no report on the story that has been widely reported on by othe U.S. and international media for days. Critics point out that VOA Newsroom has hardly anyone working on weekends. It's even worse during the summer vacation season. The story broke last week and developed over the weekend. BBC, RT, and DW posted their Rachel Dolezal's stories on Saturday, June 13. Many news organizations already had reported on the story on Friday, June 12.
SEE LATEST BBC NEWS UPDATE ON THE STORY FROM MONDAY, JUNE 15: Rachel Dolezal, civil rights activist, quits NAACP after 'black' row
The new top USA news story on VOA News homepage as of Monday, June 15, 2:50 PM ET is: "US Shark Attacks Occurred in Waist-deep Water" | AP on VOA News Website. The date stamp for the shark story is June 15, 2015 1:59 PM. The shark story is not from VOA, but from Associated Press. Also today, VOA News posted another AP report: "US Archbishop Quits After Archdiocese Charged With Cover-Up" | AP on VOA News Website. The Catholic archbishop resignation report on the VOA website has June 15, 2015 12:45 PM time stamp.
As of 3:55 PM ET Monday, June 15, the shark story has 1 (one) Facebook "Like" and the archbishop story has 0 (zero) Facebook "Likes" on the VOA News website.
Other AP U.S. news reports on the VOA News website, as opposed to VOA original news reports which are becoming scarcer and scarcer, include: "'Jurassic World' Bites Off Biggest Global Debut of All Time" | AP on VOA News Website with June 15, 2015 3:47 AM and 7 (seven) Facebook "Likes" as of 4:05 PM ET June 15 and "Janet Jackson Announces Tour Dates" | AP on VOA News Website with June 15, 2015 10:28 AM time stamp and 4 (four) Facebook "Likes" as of 4:05 PM ET June 15.
While ignoring a much more socially significant Rachel Dolezal U.S. news story, VOA originated its own U.S. news crime story which can only be described as marginally newsworthy for international audiences: "Search for Escaped US Prisoners to Expand" | VOA News. This VOA News crime story with June 14, 2015 11:19 AM time stamp is showing only 6 (six) Facebook "Likes" as of 4:15 PM ET, June 15. In fact, VOA News posted several original news reports on the New York prison escape story, most of which even after several days show less than 20 (twenty) Facebook "Likes." RT's U.S. prison escape report: "Manhunt in NY state after murderers power their way to freedom in 'elaborate escape'" | RT from June 7, is showing more than 3,100 Facebook "Likes" as of June 15.
Russia's RT report on Rachel Dolezal from June 13 is showing more than 4,000 Facebook "Likes" on RT's website as of 1:00 PM ET, Monday, June 15.
Most VOA News reports rarely pass 100 Facebook "Likes" mark on the VOA English language news website or on many of VOA's foreign language websites. RT's U.S. news reports seem far more popular on social media than Voice of America U.S. news reports, as ironic as it may seem.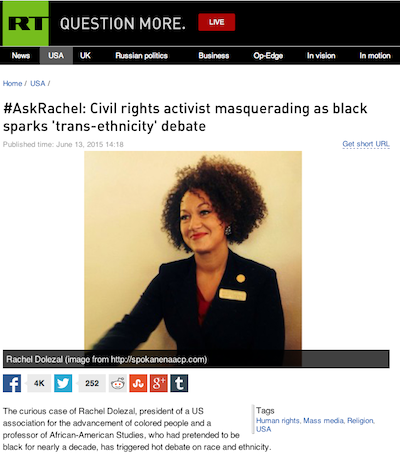 OTHER MEDIA
New York Times
–
2 hours ago
It was not clear whether Ms. Dolezal would also give up her part-time teaching position in African-American studies at Eastern Washington …