BBG Watch Commentary
The Catholic Church sainthood for Popes John XXIII and John Paul II was among three top news stories all day Sunday on Al Jazeera, BBC, DW, and Voice of Russia, but the Voice of America (VOA) English news website had the story in the distant ninth place when BBG Watch checked the VOA website around noon. The canonization story stayed in that position on the VOA website all afternoon and evening. It was never updated. Most of VOA's top news stories also did not see much updating all day Sunday, which is a common occurrence for the VOA website, particularly on weekends and on weekdays after business hours in Washington.
The VOA report was short and consisted largely of very basic information gathered from news wire dispatches. It had zero content relating in any way to these two popes and the United States, American Catholics, U.S.-Vatican relations, or particularly strong links between Pope John Paul II and President Reagan in supporting the Solidarity trade union movement's struggle for freedom and democracy in Poland during the 1980s. Voice of America had provided extensive news coverage of Pope John Paul II during that entire period. VOA may have been also the only Western broadcaster to have interviewed Cardinal Karol Wojtyla shortly before he became pope.
Despite this history, VOA offered today coverage that was both perfunctory and lacking substance and focus expected from a publicaly funded media outlet. U.S. taxpayers pay for the production of VOA programs and for salaries of its many executives and a diminishing number of journalists.
Even though Voice of America is targeting audiences in the Muslim world, today's VOA report also had nothing on John XIII's and John Paul II's historic roles in seeking reconciliation and better relations with Islam and other religions. These themes were highlighted in reports by Al Jazeera and Russia's RT.
RT reported that Pope John Paul II was "the first to pray in a synagogue, to enter a mosque in an Islamic country and to preside over a meeting of leaders of all the world's main religions."
There was nothing similar or unique in today's Voice of America report, "Pope Francis Canonizes 2 Predecessors," which was also much shorter than reports posted online by Al Jazeera, BBC, DW, RT and Voice of Russia.
Russia's RT report had 914 words, compared to VOA's 364. RT report also included numerous photos and tweets. VOA report had only one photo, which was taken not at the Vatican Sunday but several days earlier in Krakow. Another peculiar feature of today's VOA report on the canonization ceremony in Rome was that it began with a VOA video report that was about Pope John Paul II but was recorded several days earlier in Poland.
BBC report had 643 words, three current videos, numerous photos and links to several other related BBC reports.
Voice of Russia report had 411 words with much more substantive content for international audiences than the VOA report, which not only did not have any American angle to it, but also did not mention John Paul II's historic role in helping to bring down communism in Poland and to end the Cold War.
Ironically, the Voice of Russia report said that "former German chancellor Helmut Kohl paid tribute to John Paul II in an editorial for Il Messaggero as the man who played a decisive role in making the fall of the Berlin Wall possible. Voice of Russia also quoted a U.S. expert: "By sainting them together, Francis 'is speaking not just to the outside world but to rival camps within the Catholic fold who see John XXIII and John Paul II as their heroes', said US-based Vatican expert John Allen."
Russia's RT also reported that as "one of the most influential figures, John Paul II, the Polish pope, helped topple Communism in Eastern Europe and improved the Catholic Church's relations with other religions, including Judaism, Islam, the Eastern Orthodox Church, and the Anglican Communion."
Why couldn't VOA say something similar or offer even more than RT and Voice of Russia? Today's VOA report had no comments from any American Catholics or experts who have been probably most outspoken and have written most books and scholarly articles on Pope John Paul II and the ecumenical movement.
Deutsche Welle report from the Vatican had 550 words and links to three other related DW news reports. DW also posted a news analysis: "Opinion: Pope Francis' clever move."
Al Jazeera reported that according to Vatican sources, former Polish president Lech Walesa, "whose Solidarity movement backed by John Paul II helped topple communism in Eastern Europe," was believed to be among 98 foreign delegations to the event. Lech Walesa and John Paul II were particularly close and are both credited with bringing about the peaceful end of communism in Poland. There was no mention of any of this in the VOA report. Significant details such as these are not only important but they relate closely to VOA's news mission, particularly in countries without free media.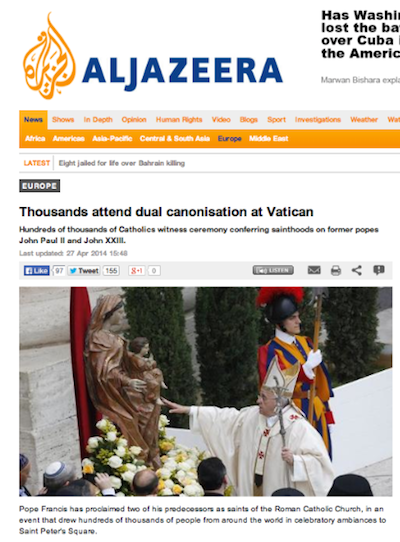 The fact that Al Jazeera, RT and Voice of Russia would note John Paul II's role in bringing down communism and Voice of America did not in today's report shows how poorly managed VOA has become. Al Jazeera reported that "John Paul II also inspired widespread admiration for reaching out to other religions and for his firm condemnation of Soviet Communism and the mafia and his ability to fire up young people and lay movements."
The VOA news item must have been written by someone, possibly a poorly-paid contractor, who obviously had no idea how extensively Voice of America was reporting in the 1980s on Pope John Paul II and his support for Solidarity and Lecha Walesa. Under its current management, VOA news reporting has declined considerably in recent years both in quantity and quality. Compared to the total of many dozens of reports VOA posted online on the British royal wedding in 2011, the British royal baby christening in 2013, and a drunk driving arrest of Canadian pop-star Justin Bieber, VOA had only three reports relating to the canonization, and only one on the actual ceremony in Rome. VOA even produced recently a video report for Pakistan showing a blood-thirsty zombie dressed as Uncle Sam attacking a Pakistani.
While VOA report today offered a few basic facts, Al Jazeera report noted that John XXIII "was seen as a peacemaker who saved thousands of Jews when he was a Vatican envoy in Turkey during World War II and he helped put an end to age-old Catholic prejudices against Jews when he became pontiff as well as helping to ease the Cuban Missile Crisis."
The role of Pope John XXIII in helping President Kennedy to reach a negotiated solution to the Cuban Missile Crisis was yet another important American angle that Voice of America failed to notice in its perfunctory news report. VOA report was very short. Al Jazeera report had 689 words compared to VOA report's 364 words.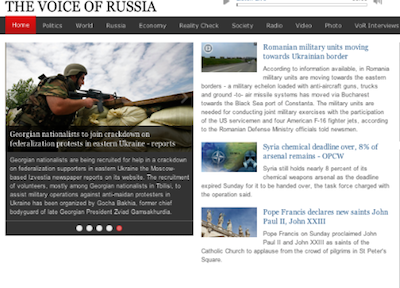 While this may not be the most important piece of news related to this story, today's VOA report made no mention of the U.S. delegation to the ceremony named by President Obama and led by John Podesta, Counselor to the President. The other two members of the delegation were Congressman Xavier Becerra (CA), Chairman of the House Democratic Caucus, and Katie Beirne Fallon, Assistant to the President and Director of Legislative Affairs.
There was no mention in the VOA report of the statement issued by the U.S. delegation. More importantly, VOA reporting was completely divorced from any canonization-related American themes, even though the VOA Charter requires Voice of America to report on U.S. news, U.S. policies, and American institutions. VOA should have at least mention the U.S. delegation sent to Rome by President Obama.
There was clearly a lot more to the American angle on this news story that VOA could have presented.
VOA did post a few days earlier (April 24, 2014) a video report from Krakow, Poland, "Could John Paul II Sainthood Stem Polish Secularization?," about Pope John Paul II, Polish Catholicism and secularization, but this report also had no U.S. references. It would have been a fine additional report, offering some color from a post-communist country that is the homeland of John Paul II, had Voice of America also offered a substantive report from Rome or from Washington. It did not.
Voice of America could have reported, for example, a well-known fact that the election of Cardinal Karol Wojtyla as pope was made possible largely due to strong support for him from American cardinals. Cardinal Wojtyla had visited the United States in 1976, two years before he was elected pope, and was interviewed by the Voice of America. Several American bishops had also visited him in Krakow before the 1978 conclave that elected him.
Another VOA video report, which was even older (April 22, 2014), "Pope Francis Hopes Dual Canonizations Will Reconcile Church," also did not offer much in terms of American themes, although it quoted Richard de Lillio, a professor of homiletics at Catholic University of America in Washington, as saying that the two popes are both examples for clergy today, and also quoted Jesuit priest and Vatican watcher Thomas Reese talking about the Second Vatican Council and its impact on the Catholic Church in general.
Both of these VOA video reports were originally posted well before today's ceremony, but there was no VOA video report today from the Vatican. If VOA management was able to send a VOA correspondent to Krakow a few days before the canonization, one could ask why the correspondent could not report from Rome on today's ceremony and offer more up-to-date insights, in-depth analysis, and some American reactions.
Instead, VOA posted late today yet another video report from Krakow, "Poles Celebrate the Making of Their Latest Saint, John Paul II" without any text. There were no links to this report on the VOA homepage or on the VOA Europe News page and it could not be easily found. We were able to find it only by doing a site search.
VOA could have replaced the old video in today's report on the canonization with this slightly more relevant one, but as of 11:00 PM EDT Sunday it did not. To this day, VOA executives have not worked out a system for managing and updating the VOA English news website.
Today's late report from Krakow included some television footage from Rome, but it was also locally focused. It offered no broader analysis, no substantive historical background, or any American themes related to Poland or today's canonization in Rome. A foreign pilgrim interviewed for this video was not an American but a Catholic from Ireland. Surely, there had to be some Polish American visitors. Millions of Polish Americans have their family roots in southern Poland. As of 10:30 PM EDT, there was no text report on the VOA website associated with this video. For all practical purposes, this video was not accessible.
Voice of America made no effort to show what impact John XXIII and John Paul III had on the American Catholic Church. It had nothing on his dispute feminists and some Catholics, particularly in the United States and in some West European countries, over the role of women in the Catholic Church. VOA also did not offer even a brief reminder of John Paul II's numerous visits to the United States. It made no mention of his both admiring and highly critical comments about the American society, and did not talk about his relationship with various U.S. presidents, of which his relationship with President Ronald Reagan was most significant in terms of its impact on international politics.
The two VOA video reports from Poland were in some respects interesting, but largely only as far as Polish Catholicism and Poland are concerned.
Voice of America did not offer its international audiences any significant historical background, any in-depth analysis, any American themes, or any themes relating to other religions, religious dialogue, or non-violent struggle for freedom that might be of interest, particularly in the Muslim world (including Africa, where VOA has a large audience), in Russia or in China. If there is one single major religious and political theme that defines the papacy of John Paul II, it was his advocacy of religious reconciliation and non-violent struggle for freedom. He was deeply committed to having a dialogue with all other religions and even enemies of religion and freedom. The U.S. Consulate in Krakow posted on its Facebook page not only photos of John XXIII and John Paul II with various U.S. presidents, but also this quote from John Paul II: "There is no peace without justice, and there is no justice without forgiveness," and a quote from John XXII: "Christians count in this world only when they bring peace."
While VOA was silent on such significant themes in today's report on the canonization ceremony in Rome, these themes — minus the American ones — but including historical background and in depth analysis, were found in today's reports by other major international broadcasters. While it is not their job to focus on the United States, most of them offered excellent news coverage and news analysis of today's event in Rome with emphasis on the most significant themes. Ironically, even Russia's RT and Voice of Russia had offered some solid reporting on these themes. Al Jazeera, BBC, and DW did as well. Voice of America, where already for some years there appears to be no top level leadership or ability to manage news reporting, did not. The blame goes to senior VOA executives who have decimated the VOA Newsroom, encouraged production of fluff videos, destroyed employee morale, and are still incapable of managing the organization and its news output.
###
VOA NEWS REPORT

Related video by VOA's Jerome Socolovsky from Krakow, Poland

VOA News

April 27, 2014 12:20 AM

Pope Francis, leader of the Roman Catholic Church, proclaimed two of his predecessors ‒ John XXIII and John Paul II ‒ as saints at a ceremony Sunday in St. Peter's Square.

Officials say as many as one million people crowded St. Peter's and the nearby streets of Rome for the elevation-to-sainthood ceremony.

Francis read the formal proclamation at the canonization Mass also attended by emeritus Pope Benedict XVI.

It is the first time two former popes have been elevated to sainthood at the same time.

Relics of the two new saints were brought to the altar during the ceremony — John Paul's blood used in his 2011 beatification, and a small piece of John's skin taken after his body was exhumed for his 2000 beatification. Relics are used to help the faithful venerate.

Churches throughout Rome were open Saturday night, filled with pilgrims from around the world who came to witness the canonization of the two 20th century popes.

The newly canonized popes are widely seen as representing contrasting factions of the Roman Catholic Church.

John, an Italian also known as the "Good Pope" because of his friendly and open personality, died before the Second Vatican Council ended its work in 1965, but his initiative set off one of the greatest upheavals in church teaching in modern times.

The Council ended the use of Latin at Mass, brought in the use of modern music, and opened the way for challenges to Vatican authority, which alienated some traditionalists.

Jacinta Hamilton, 11, came with her family from Belfast, Northern Ireland, to Krakow, Poland, for the canonization of John XXIII and John Paul II, April 27, 2014. (Jerome Socolovsky/VOA)

John Paul continued some of the reforms but tightened central control, condemned theological renegades and preached a stricter line on social issues.

Groups representing victims of sexual abuse by Catholic priests say he did not do enough to root out a scandal that emerged towards the end of his pontificate and which has hung over the church ever since.

Both canonizations have involved some intervention with the normally strict rules governing the declaration of a saint. Francis ruled that only one miracle was needed to declare John a saint, while Benedict waived a rule that normally requires a five-year waiting period before the preliminaries to sainthood can even begin in order to speed up John Paul's canonization.

Some information for this report provided by AP, AFP and Reuters.
There is no mention in the VOA report of the U.S. delegation.
The White House
Office of the Press Secretary

For Immediate Release April 11, 2014

President Obama Announces Presidential Delegation to the Holy See to Attend the Canonization Mass of Pope John XXIII and Pope John Paul II

President Barack Obama today announced the designation of a Presidential Delegation to the Holy See to attend the Canonization Mass of Pope John XXIII and Pope John Paul II at the Vatican on April 27, 2014.

The Honorable John Podesta, Counselor to the President, will lead the delegation.

Members of the Presidential Delegation:

The Honorable Xavier Becerra (CA-34), Chairman of the House Democratic Caucus

The Honorable Katie Beirne Fallon, Assistant to the President and Director of Legislative Affairs