BBG Watch Commentary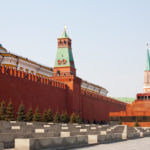 BBG Watch sources confirmed that U.S. taxpayer-funded Voice of America's (VOA) participation in a controversial Russian Business Channel TV program named by the Russians "Cold War?" and designed by them to present America as an aggressor against Russia appears to be over, at least for now.
U.S. and European experts on the Kremlin's disinformation offensive consulted by BBG Watch were appalled that VOA had agreed to such a one-sided and hasty arrangement with a Russian TV channel while the U.S. government is deeply concerned about the Kremlin spreading lies and disinformation in a massive and coordinated propaganda campaign against Ukraine and the West. According to these experts, VOA was being used to allow the Kremlin to propagandize to its own Russian-speaking television audience. In a setting carefully controlled by the Russians, VOA host and U.S. guests were unable to effectively counter propaganda and disinformation and saw their own arguments effectively used by the Russian host against them and against the United States.
Sources told BBG Watch that it was the Russian side that had asked for the suspension of the show citing internal network planning reasons.
The first two shows were a complete propaganda victory for the Kremlin. The Russian host in Moscow also clearly managed to deliver the third program for the Kremlin, but with a little more difficulty. The Russians may have concluded that they have gained as much internal and external propaganda advantage from their cooperation with the Voice of America as they were going to get in light of the criticism of the program in the United States and the possibility that VOA may start to criticize President Putin. In the third program, the Russian host said that U.S. Senator John McCain hated Russia and wanted to fight, kill and arm the Ukrainians. These accusations were not directly challenged by VOA, but the Russian side may have realized that it could not afford similar criticism of President Putin by VOA guests in any future shows.
During the three show, the Voice of America had shown remarkable restraint. VOA Director David Ensor defended the program.
VOA DIRECTOR DAVID ENSOR: When national security stakes are higher, we are ready to accept calculated risks to 
get into markets and to reach people, for example right now, and there are blogs about 
this and controversy about this, fair enough. … We have a new co-production with Russian
 Business Channel called "Cold War?" I don't know whether Putin is long going to allow this 
to continue, but he is at the moment. We have had two broadcast on so far in last two weeks…
which reach 11 percent of the Russian television audience … this audience has watched while 
Russian and American journalists and commentators debate Ukraine and other topics over which they differ. And it is true the Russian anchor uses all the advantages, he has the microphone….the engineers work for him, it is his show, it is his audience, and of course President Putin and his policies are popular in Russia so there are many advantages from the RBC side of the argument, but nevertheless this audience is now hearing something new, both sides. … Those of you who follow this issue know that is not what the Kremlin says, they say they have no troops in Ukraine, but our guests having seen the information that is available in the West, but no so much in Russia, know otherwise.
In commenting on VOA's controversial television affiliate program placement co-production with the Russians, one of the top U.S. experts on Russian disinformation Prof. Paul Goble said:
PROF. PAUL GOBLE: "I think this is a big mistake because it sends the wrong message and becomes yet another reason the BBG [Broadcasting Board of Governors] will use not to move to the next generation of international communications, direct-to-home satellite television. We will be used, I fear."
Prof. Goble has been a lecturer at a number of universities in the U.S. and abroad. He also worked at the State Department, as a CIA analyst, and as program manager and advisor at Radio Free Europe / Radio Liberty and the Voice of America.
A West European expert on disinformation said that "this program will go down in history as the example of Russian triumph in terms of info warfare" and urged the Voice of America "to stop this experiment as soon as possible."
It's not clear whether senior VOA executives were persuaded by these comments, but sources told BBG Watch that at least some members of the Broadcasting Board of Governors (BBG) in charge of U.S. international broadcasting concluded that the VOA management used poor judgement in launching a one-sided program cooperation arrangement in Russia under Putin.
A check of the Russian television channel website on Friday shows that there is no new program with VOA posted on Thursday. These shows were posted previously on Thursdays.
Meanwhile, the White House announced yesterday a launch in mid-October of another Russian language television program over which the U.S. side will exercise complete control. The new U.S. Russian language TV program produced jointly by the Voice of America and Radio Free Europe / Radio Liberty (RFE/RL) is not connected with the VOA – Russian TV project and does not have to rely on affiliates in Putin's Russia for program delivery.
The "FACT SHEET: U.S. Support for Ukraine" issued by the White House on September 18, 2014 refers to a mid-October launch of a daily, 30-minute Russian language television news program that will be a joint production of Radio Free Europe/Radio Liberty and the Voice of America. According to the White House announcement, the program will be shown on television affiliates in Ukraine, as well as in Lithuania, Latvia, Estonia, Moldova, Georgia, and possibly other countries. The Broadcasting Board of Governors (BBG), which oversees the Voice of America and Radio Free Europe / Radio Liberty as well as other U.S. international media outreach entities, will seek to make the program available to Russian-speaking news-seekers worldwide via digital platforms, the White House announcement says.